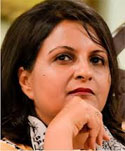 Déjà Vu
By Yasmeen Aftab Ali
February 25, 2014
On February 18, 2014, Pakistan and Saudi Arabia signed a $183 million credit agreement. One dealt with the construction of a hydro-power project in Chitral, while the other pertained to the import of urea fertiliser from Saudi Arabia. This news was accompanied by another; that of Pakistan having decided to support Saudi Arabia in its demand to replace Bashar al Assad's regime with an interim government. Interestingly, on the very same date, Iran issued a threat to Pakistan to send forces within its borders should it fail to rescue the five Iranian border guards abducted 10 days ago. Ten days ago? Whoa!
Enter Syria. Syria will determine the balance of Middle East politics. Syria holds a hugely important position for Iran. With Hezbollah, Iraq and Syria, Iran converges to form a religious school of thought. The US and Saudi Arabia are on the same page on this one, opposing Iran. Vali Nasr in The Japan Times says, "Syria is now a proxy war, the outcome of which will determine the regional pecking order. In the Mideast, aura of power decides strategic advantage." (Published June 8, 2013)
Now enter Afghanistan. Hamid Karzai visited Iran in December 2013. Both countries agreed to sign a "pact of friendship and cooperation". This comes on the heels of a security agreement, which both countries entered into in 2013 to further enhance security cooperation. Trade between them is healthy and is expected to grow further once the Chahbahar Port becomes operative for heavier traffic.
Moving too close to Saudi Arabia at a time when the US is on the eve of pulling out its combat forces from Afghanistan, with increasing Iranian and Indian interest in Afghanistan, unleashing of terror incidents in Pakistan and growing schismatic clashes, one wrong step can lead Pakistan into a more ferocious proxy war on its soil than so far witnessed.
Shopping for a sugar daddy, Pakistan needs to understand that its interests and those of the sugar daddy may converge on some levels and may diverge on others. A pragmatic evaluation of the long-term national interest of Pakistan needs to be made in the light of the changing geopolitical scenario. Pakistan alone should define Pakistan's national interest. When lollipops are accepted from a sugar daddy, there is always a price to pay. Pakistan must strive to build a balanced foreign policy, not based on imbalances. Imbalances lead to skewed relationships. Skewed relationships lead to an inevitable mess and inevitable messes to bitterness and mistrust.
Pakistan and the US, too, have had a relationship marked with varying expectations from each other. The fact that the interests of both diverged on many levels was maybe never appreciated by either. "The relationship needs redefinition, based on recognition of divergent interests …" (Husain Haqqani writing in Magnificent Delusions page 350). Somehow, Pakistan seems to be ready to commit the same mistake all over again with a country, it hopes, may invest in its economy. How economic help can translate on the ground in a country fraught with terrorism, and severe power and gas shortages will be a challenge in itself. Not to forget the dangerously volatile and precarious nature of changing regional dynamics.
It is Déjà Vu!
Yasmeen Aftab Ali is a lawyer and author of the book A Comparative Analysis of Media and Media Laws in Pakistan.
Source: http://tribune.com.pk/story/675635/deja-vu-2/
URL: http://newageislam.com/the-war-within-islam/yasmeen-aftab-ali/shopping-for-a-sugar-daddy/d/35920