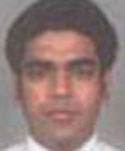 By Tushar Ranjan Mohanty
Volume 12, No. 16, October 21, 2013
On October 9, 2013, four Policemen were killed in two separate incidents of target killing in Karachi, the provincial capital of Pakistan's Sindh Province. The Station House Officer (SHO) of the Sir Syed Police Station, Syed Irfan Haider, and Station Investigation Officer (SIO) of New Karachi Police Station, Shahbaz Ali, were shot dead in the jurisdictions of the Sir Syed Police Station. In another incident of target killing on the same day, two Policemen, identified as Amir Khan (48) and Shabbir Alam (35), were shot dead at a Police post at Ismaili Apartment in the Metroville area of the Sindh Industrial Trading Estate (SITE).
On September 14, 2013, Deputy Superintendent of Police (DSP) Mumtaz Ali Shah was killed near Model Colony in the Malir Cantonment area. Police said that DSP Ali Shah had earlier received threats from the Tehreek-e-Taliban Pakistan (TTP) and Sipah-e-Sahaba Pakistan (SSP).
Indeed, Sindh Police spokesperson Moizuddin Pirzada disclosed, on October 10, 2013, that at least 138 Policeman had lost their lives in Karachi in the ongoing targeted operations against 'criminals' (target killers, extortionists and kidnappers) that was launched on September 7, 2013. The victims included two DSPs, three Inspectors, 13 Sub-Inspectors (SIs), 16 Assistant Sub-Inspectors (ASIs), 26 Head Constables and 78 Constables. More than 162 Policemen have also sustained injuries during these operations. He added that the reaction to the operation was not limited to Karachi alone, as around 16 Policemen had lost their lives and another 31 sustained injuries in other parts of the Province.
The Police spokesperson further stated that the Police had arrested 4741 'criminals', including, 57 target killers, and recovered 1,209 arms and 52 bombs. The Police spokesperson did not, however, mention how many 'criminals' were killed during this period. According to partial data compiled by the South Asia Terrorism Portal (SATP), however, at least 29 'criminals' and terrorists have been killed in Karachi during this period.
The 'criminals' killed/arrested belonged to the Pakistan Aman Committee (PAC) and the Lyari Gang. Those killed/arrested also included cadres of the TTP, Lashkar-e-Jhangvi (LeJ), Ahl-e-Sunnat Wal Jama'at (ASWJ, earlier known as SSP), Sunni Tehreek (ST), Jaish-e-Muhammad (JeM) and Jundullah. TTP's urban mobility and survival in the metropolitan landscape suggest its insidious alliance with local criminal groupings and other sectarian-terrorist outfits. Confirming the linkages, an unnamed official in the Police Department disclosed in 2011, "There are definite signs of some connectivity in Karachi between local criminal gangs and some religious extremist groups with Taliban (TTP) who are well organised and this could be the reason for the upsurge in violence in the city."
Karachi has, in fact, witnessed numerous such operations in past. Each of these, however, failed to stem the blood bath that Pakistan's commercial capital has been witnessing since 2010. According to partial data compiled by SATP, Karachi has recorded at least 5,073 fatalities, including 4,245 civilians, 467 terrorists/criminals and 361 SF personnel since 2010. In 2013, Karachi has already recorded at least 1,339 fatalities, including 1,094 civilians, 124 terrorists/criminals and 121 SFs (data till October 20, 2013).
Terrorism Related Fatalities in Karachi: 2010-2013
| | | | | |
| --- | --- | --- | --- | --- |
| Years | Civilians | Security Force Personnel | Terrorists | Total |
| 2010 | 777 | 61 | 158 | 996 |
| 2011 | 1079 | 61 | 68 | 1208 |
| 2012 | 1295 | 118 | 117 | 1530 |
| 2013 | 1094 | 121 | 124 | 1339 |
| Total* | 4245 | 361 | 467 | 5073 |
Source: SATP, *Data till October 20, 2013
In the meantime, an Army soldier was killed at Kachal along the LoC in the Keran Sector as the Army foiled an infiltration bid by terrorists in the night of October 10, 2013.
More worryingly, in the aftermath of such past operations, the Policemen involved have been selectively targeted. Significantly, on October 7, 2011, the Supreme Court had issued orders to the Inspector General of Police (IGP), Sindh, Mushtaq Shah, to report in a month on the disappearance or murders of all Policemen who took part in the Karachi operations of 1992 and 1996. "[The Police] are conscious of the fact that so many [of them] who took part in the operations of 1992 and 1996 have disappeared or have been eliminated," the Court observed. The Court agreed with assessments provided during the hearings of suo motu proceedings into Karachi's violence that about 30 to 40 per cent of Police officers were 'non-cooperative', not just because of political appointments but also because of fear.
They are punished for doing their duty if it runs counter to the political objectives of the party in power, on the one hand, and on the other, they are afraid of being shot by the men they have apprehended or by their associates. The Court had taken suo motu notice of violence in Karachi. The Sindh Police authorities later came up with a list of 157 Policemen who took part in the 1990s 'Karachi operations' and were assassinated one by one in different parts of the city. Finally, on October 25, 2012, the IGP Mushtaq Shah informed the Supreme Court that 254 Policemen who took part in the operations of 1992 and 1996 had been killed.
An unnamed former Police officer, who reportedly had played an important role in Operation Clean-up, launched in 1992, claimed in a media interview that he was one of the few survivors, as all his men, who took part in that action, had been targeted and killed one by one. "We lost most of our men from 2000 to 2004. The second period was during 2006 and 2008 and then again from 2008 to 2009. They killed with impunity. Only a few of us who spearheaded Operation Clean-up are now alive, but under the threat of elimination," he said, adding that if they too were killed, no one in the entire Force would ever even think of cleansing Karachi of terrorists.
Operation Clean-up was launched on June 19, 1992, by the then Nawaz Sharif Government, with additional assistance from the Pakistan Army, led, at that time, by General Asif Nawaz Janjua, and other security agencies, including the Intelligence Bureau, which was then headed by Brigadier Imtiaz Ahmed alias Imtiaz Billa. The objective was to cleanse the city of 'anti-social elements'. However, Muttahida Qaumi Movement (MQM) chief Altaf Hussain criticised the operation as state-terrorism and extra-judicial killings, and blamed Nawaz Sharif for the killing of 15,000 people in Karachi and the forced disappearances of 'thousands' of his workers. The Army 'concluded' Operation Clean-up on August 16, 1994. However, the Operation was re-launched, when the Benazir Bhutto-led Government came to power in 1996.
Apart from Policemen, other wings of the Security Forces involved in fighting 'crime' in Karachi have also been targeted with impunity. A July 2013 report noted that, other than Policemen, eight Pakistan Rangers were also killed in 2013.
Some of the major attacks (each involving three or more fatalities) targeting SFs in 2013, include the following:
August 15: Three Policemen, including a DSP, Qasim Ghauri, were killed, and another three Policemen were injured during an encounter near Safari Park in Gulshan Town.
August 2: At least four Policemen were shot dead by unidentified militants near a bridge located at Bagh-e-Korangi area in the Shah Faisal Town of Karachi.
June 9: At least three Policemen were killed in an attack on a Police vehicle in the Patel Para area of Karachi.
April 4: Four paramilitary soldiers were killed and three others were injured in a bomb blast near the paramilitary complex in the Korangi area of Karachi. The TTP claimed responsibility for the attack.
March 3: Four Policemen were killed when unidentified assailants attacked a Police check post on the Superhighway in Karachi.
January 24: Quaidabad DSP Kamal Khan Mangan and ASI Akbar Hussain were among four persons killed in a span of several minutes in the Sherpao Colony of the Landhi area in Karachi. Another 12 persons, including five Policemen, were injured in the attack. A low-intensity bomb exploded in a garbage dump and when Police officers gathered there to investigate the incident, the second explosion took place and caused the casualties.
The systematic targeting and assassination of large numbers of SF personnel, primarily Policemen, is a part of the escalating dynamic of violence in Karachi. It is certain to affect the morale of the SFs engaged in counter insurgency operations which have been launched substantially with political motives, and that are bound to fail again, as they have in the past.
Tushar Ranjan Mohanty is a Research Associate, Institute for Conflict Management
Source: South Asia Intelligence Review
URL: http://www.newageislam.com/the-war-within-islam/tushar-ranjan-mohanty/karachi--hitting-the-police/d/14077