By Syed Kamran Hashmi
June 14, 2013
The Mecca of today is different from old times, much more business-oriented and driven by money. It looks more like a commercial hotspot instead of a Divine residence
Muslims disagree on almost everything. From the timing of their prayers or fasts to insignificant nuptial details, on every issue they have managed to somehow lock horns with each other. However, surprisingly, their faith in a Merciful Creator, the Holy Book and the Prophet Muhammad (PBUH) is still unanimous and unambiguous. Besides that, if they agree upon anything else collectively, it is the sanctity of Khana-e-Kaaba, the black cubicle widely venerated as the House of God. The Kaaba therefore is, without a doubt, the most sacred place in the world for the Muslims, a place they surmise is protected by God himself from all kinds of enemy attacks.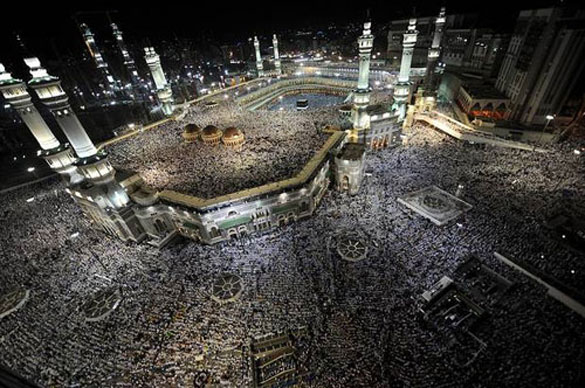 Irrespective of their sectarian preferences and regardless of their geographical location, all Muslims offer prayers in the direction of their revered edifice five times a day. At least once in their lifetime, they perform Hajj in Mecca and look at the monument built by Ishmael and his father Ibrahim. Without any exception, all their lives, while following everyday rituals, every Muslim builds a special association with the Holy Land, a relationship that is tremendously personal and unquestionably romantic. He grows up with the dream to visit the city of the Prophet (PBUH), to circumambulate the Khana-e-Kaaba, to touch the Black Stone and to offer prayers at the mark of Ibrahim. Accordingly, even with meagre resources and poor health, millions of people reach Mecca every year, and show their commitment to their Lord in the words: "Here I am at Thy service O Lord, here I am."
Upon their return, pilgrims pledge to become better persons; they vow to start a new life and promise to stay away from mundane hankerings (at least for a short while). Additionally, almost everyone is excited to tell the story about his/her spiritual rejuvenation. When my grandfather performed Hajj almost 40 years ago, he used to share his recollections with us: "I was constantly looking at it (Kaaba), pondering about the life of the Prophet (PBUH) for hours without realising how far I have been pushed away from my original spot." More than two decades ago when he visited Saudi Arabia, the 67-year-old retired officer vividly remembers every detail of his pilgrimage. He narrates: "I was mesmerised to see it for the first time. Fear of God had taken over my whole body and soul."
Shahbaz, an agriculturalist, went to Mecca at 26, almost 15 years ago, and he says, "I do not remember completely, but something was pulling me towards the Cubicle and tears were rolling down my eyes."
As gifts, pilgrims bring the holy water from the well of Zamzam for their friends and relatives, a packet of dates, and a rosary to recite the names of Allah. But unfortunately those days are probably gone. The Mecca of today is different from old times, much more business-oriented and driven by money. It looks more like a commercial hotspot instead of a Divine residence, as if God has been instructed to evacuate the place on urgent notice. Spirituality is on the run from there, succumbing to worldly desires at a breakneck speed; faith is fading away and the vigour to strive for His ultimate approval is dampening quickly. What is rising in Mecca is a vast assembly of long armed cranes and huge concrete buildings.
Compared to the huge size of these buildings, the Kaaba, physically, seems to be shrinking. "It is not the same any more, it is losing its spirituality," a Pakistani living in Saudi Arabia shared his feelings. "Once, it used to be the centre of attention, but now it is encircled in all directions by multi-storied, elegant and expensive hotels." Indeed, the city is getting packed with luxury outlets, high end brands, top of the line palatial suites and international food chains. If you are rich and willing to spend money, your whole trip, including a visit to Medina, can be arranged in a matter of a few hours instead of days. You can easily stay far above the ground and look directly at the mosque Al-Haram from the enormous glass windows of your five star hotels. Moreover, other than the absolutely necessary ritual, you do not have to go to the mosque since it has come to your door step. All you have to do is to draw your silk curtains apart and start praying.
The tales of the spiritual journey of pilgrims have now been replaced by their shopping experiences. The conversation is about their Rado watches and the discussion is regarding their Gucci wallets. They talk about the top of the line charcoal grilled hamburgers and fried chicken with special spices from the US. Circumambulation is more cumbersome now. The mosque is too crowded; touching the black stone is unnecessary, it is not mandatory; and the prayer on Ibrahim's mark is irrelevant, too small to accommodate a lot of people. Their gifts have also been replaced with authentic Levi's jeans (imported from Pakistan) and Ralph Lauren Polo shirts (from Bangladesh), although they still bring some, to be perfectly honest. In short, the idea of introspection and self-reformation has buried itself in materialism at a place where God lives Himself.
Another place famous in the world for mundane luxuries is Las Vegas, Nevada. The difference obviously is that it is known as 'sin city', while Mecca holds a special place in people's hearts for its holiness. The point is Mecca should never be made comparable to Las Vegas for its luxuries, and simplicity should be encouraged.
Syed Kamran Hashmi is a US-based freelance columnist.
Source: http://www.dailytimes.com.pk/default.asp?page=2013\06\14\story_14-6-2013_pg3_6
URL: https://newageislam.com/the-war-within-islam/syed-kamran-hashmi/mecca--a-city-losing-its-spirituality/d/12099