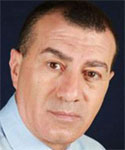 By Shlomi Eldar
November 15, 2017
Israel revealed on Nov. 14 that it has deployed Iron Dome anti-missile batteries along its border with the Gaza Strip and in the greater Tel Aviv area. The move follows assessments that Gaza-based Islamic Jihad is planning reprisals against Israel for blowing up a tunnel dug for conducting terror attacks in Israel and for Israel holding the bodies of those killed during the tunnel's destruction.
On Nov. 11, in a bid to deter Islamic Jihad, Maj. Gen. Yoav Mordechai, head of Coordination of Government Activities in the Territories, recorded a video for uploading to YouTube in which he delivered a warning in Arabic: "We advise the leadership of the Islamic Jihad in Damascus to be careful and to control matters. The commander of the Palestinian Islamic Jihad in Damascus and leaders of the organization — Ramadan Shalah and Ziad Nakhale — take quick control of things, because you will be held responsible." In his urging, Mordechai clearly marked Israel's target. In short, if Islamic Jihad dares attack Israel, its leadership will be wiped out. Plan and simple.
The other side got the message, loud and clear. The Al-Quds Brigades, Islamic Jihad's military wing, issued a statement, saying, "The enemy's threats to harm the organization's leaders are a declaration of war, and we will deal with them. These threats reveal the true intentions of the Zionists."
On Nov. 2, the organization had issued a video showing its fighters setting up missiles and conducting observations of maintenance work by the Israel Defense Forces (IDF) on the border fence with Gaza designed to prevent, or at least make it harder, to tunnel from Gaza into Israeli territory. The clip ended with a message, in Hebrew: "Time is running out." While the time frame is unclear, it could mean that the group's response to Israel's Oct. 30 bombing of its tunnel is near.
An Israeli security source told Al-Monitor that the assessment that an Islamic Jihad strike is near was not the result of the group's video. He noted that the organization had posted the video soon after the tunnel bombing, suggesting that it was aimed at public opinion in Gaza, lest the group's supporters perceive its silence on the tunnel attack as a sign of weakness.
After it was revealed that Israel had the bodies of Islamic Jihad activists, the source said, there were clear indications that the Al-Quds Brigades were planning to retaliate despite a warning by Hamas to refrain from doing so. This led Prime Minister Benjamin Netanyahu to issue a clear threat two days after Mordechai's warning. "There are those who still amuse themselves these days by trying to renew attacks against Israel," Netanyahu said at the start of the weekly Cabinet meeting, adding that Israel would hold Hamas primarily responsible for any attack emanating from Gaza.
The bragging and threats notwithstanding, Islamic Jihad's leadership is well aware of the group's weakness. The organization is small, with a few thousand supporters. Its armed membership numbers less than 1,000, according to Israeli intelligence sources who spoke with Al-Monitor. By comparison, Hamas' military force numbers 20,000 armed recruits.
Islamic Jihad is in constant competition with Hamas over which of them is more loyal to the cause of armed struggle. Their competition over public opinion in Gaza intensified after Hamas took control of Gaza in 2007 and was forced to rein in its own activities and that of other, smaller militant groups. Whereas Hamas has a broad-based organizational infrastructure that includes an institutionalized political leadership and an armed wing that has developed into a quasi-army, Islamic Jihad's capabilities remain limited. Hamas made sure that the group would not develop into a threat to its hegemony, so Islamic Jihad has had no choice but to adhere to Hamas' terms and limits or risk annihilation.
The Hamas leadership is preserving the smaller organization primarily because it is identified with and funded by Iran, but Islamic Jihad also serves Hamas' interests. Hamas' military wing, the Izz ad-Din al-Qassam Brigades, has often used the group as what Israel calls "subcontractors." In the past, when the Qassam Brigades feared Israeli retaliation for rocket attacks, Islamic Jihad would take responsibility for the firing. Cooperation between the two organizations was also evident in the tunnel exposed two weeks ago. Both Islamic Jihad and Hamas activists were killed inside it.
The current head of Islamic Jihad's military wing is Mohammed al-Hindi. He was named to the post after Israel assassinated his predecessor, Mohammed Sheikh Khalil, in September 2005. The IDF also killed quite a number of the organization's other central figures during Operation Protective Edge in 2014 in Gaza. Israel has not, however, harmed the heads of the group's political department in Gaza, who are considered in Gaza to be low level and devoid of influence. The center of gravity, as Mordechai noted, is the group's leader, Shalah, and his deputy, Nakhale, headquartered in Damascus.
Since it's a small organization, every significant attack on its leadership is fatal," an Israeli defense source told Al-Monitor on the condition of anonymity. That is why an Israeli threat against its leadership is considered the most effective. The elimination of its heads in Damascus would completely undermine the group's standing in Gaza.
"Hamas will not shed a tear if the organization's top leaders are eliminated, because despite the cooperation between them, Islamic Jihad is a thorn in their side," a Palestinian security source told Al-Monitor on condition of anonymity. "Islamic Jihad is constantly trying to challenge Hamas, and the leadership in Gaza has no choice but to swallow the bitter pill and keep quiet."
Nonetheless, the Palestinian source believes Egypt and Hamas wield great influence over the organization, and Islamic Jihad would not dare take offensive action against Israel despite pressure by its Gaza supporters and militants. He too said the group's threats are for the benefit of a domestic audience, in a bid to show supporters at home that it has an impressive ability to retaliate for the blow it took, but that Hamas is forcing it to refrain for its own strategic reasons. This is intended to portray Hamas as the weak, subservient link and Islamic Jihad as strong and threatening.
The heads of Islamic Jihad, however, know the truth: It would be a fatal mistake for them to attack Israel.
Shlomi Eldar is a columnist for Al-Monitor's Israel Pulse. For the past two decades, he has covered the Palestinian Authority and especially the Gaza Strip for Israel's Channels 1 and 10, reporting on the emergence of Hamas. In 2007, he was awarded the Sokolov Prize, Israel's most important media award, for this work.
Source: al-monitor.com/pulse/originals/2017/11/israel-gaza-tunnel-islamic-jihad-hamas-deterrence-war-idf.html#ixzz4yfYbcEqO
URL: http://www.newageislam.com/the-war-within-islam/shlomi-eldar/will-islamic-jihad-defy-hamas-to-attack-israel?/d/113249