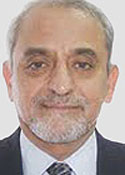 By Sajjad Ashraf
Sep 4, 2013
In a country where a military officer cannot be charged for a traffic offence, a Pakistani court has indicted General Pervez Musharraf, the former head of army who seized political power in 1999, for the 2007 assassination of Benazir Bhutto.
Former Prime Minister Bhutto died in a suicide bombing after she had returned to Pakistan under a deal brokered by Condoleezza Rice, the former US Secretary of State. Mr Musharraf left the country some months after her death, only returning to Pakistan for the general elections in May this year. Those elections brought Nawaz Sharif, Mr Musharraf's nemesis, back into power.
(Full disclosure: I was serving as Pakistan's High Commissioner to Singapore when Ms Bhutto was assassinated in 2007 and when Mr Musharraf departed the following year. Being a career diplomat, the change of government did not affect my position as I continued to serve my country until my term expired in December 2008.)
Mr Musharraf will appear before a Supreme Court headed by Chief Justice Iftikhar Mohammad Chaudhry whom Mr Musharraf dismissed and incarcerated twice. He faces four main charges: that, on November 3, 2007, he declared a state of emergency, suspending parts of the constitution, forcing errant judges out of the court and ordering their house arrest.
Secondly, that he did not provide Ms Bhutto enough security, despite threats to her life.
Thirdly, that he botched the disastrous Red Mosque siege in Islamabad in 2007, which resulted in the deaths of more than 100 people.
The fourth charge relates to the killing of the elderly Baloch tribal chief Akbar Bugti who was reportedly leading a campaign for greater provincial autonomy and control over Baloch resources.
Some speculate that Mr Sharif took the military into his confidence before allowing a plethora of charges to proceed against Mr Musharraf. Others say that Mr Sharif's return to power was conditional upon a commitment to leave Mr Musharraf alone.
Returning to the first of the charges levelled against Mr Musharraf, the constitution empowers the president to declare a state of emergency. He only held some parts of constitution in "abeyance", which became an offence under the 18th constitutional amendment in 2010, so how do you try him retrospectively?
Unsurprisingly logic does not always prevail in Pakistan and Mr Musharraf is not being charged for his original military takeover in 1999. Indeed, the Supreme Court approved that takeover.
Holding him solely responsible for the November 3 actions when the proclamation listed the governors and the top military commanders as partners is a "carefully contrived legal justification for targeting one person alone", according to The Friday Times, an independent newspaper.
As the New York Times has reported, the prosecution's case on the killing of Ms Bhutto appears to hinge upon a statement by Mark Siegel, a friend of hers, who has said she had told him that if anything happened to her, Mr Musharraf would be partly culpable.
It is no secret that Mr Musharraf had cautioned her about her security before and after her arrival in Pakistan, but this is no evidence.
On that fateful day, she made a public address, secured by over 1,300 security personnel, and while on way out opened the roof of the car and sprung out thereby exposing herself to a suicide bomber. Even Mr Musharraf's worst critics do not believe in his culpability.
The Red Mosque deaths occurred while quelling a rebellion against the state. Bugti, in hindsight could have been handled differently, but he too died during an armed rebellion against the state.
Pakistani society is deeply divided on Mr Musharraf. One group wants to punish him to prevent future military takeovers. But, facing multiple issues and threats, from within and without, others contend that Pakistan cannot focus all its attention on one man when hundreds more abetted him.
Many agree that justice must prevail. But it is also widely believed that this is a witch-hunt against Mr Musharraf.
Those who want Mr Musharraf punished also sidestep the reality that in no other country is the army eulogised to the extent it is in Pakistan.
Pakistan is facing increasing militancy in which the army has lost more than 4,500 men. In times like these, unless full backing is given to the army, the ordinary soldier who fights for the chief will not put himself in the line of fire if his chief is seen to be dragged through the courts and insulted.
The state of Pakistan cannot afford this kind of situation. More than ever, it needs a motivated army pursuing an agreed national agenda.
Sajjad Ashraf, an adjunct professor at Lee Kuan Yew School of Public Policy at the National University of Singapore, and an associate fellow at the Institute of South-east Asian Studies, Singapore, was a former member of Pakistan's Foreign Service between 1973 and 2008
Source: http://www.thenational.ae/thenationalconversation/comment/musharraf-trial-exposes-the-cracks-in-pakistans-psyche
URL: http://www.newageislam.com/the-war-within-islam/sajjad-ashraf/musharraf-trial-exposes-the-cracks-in-pakistan's-psyche/d/13368