By S. Akbar Zaidi
July 27, 2018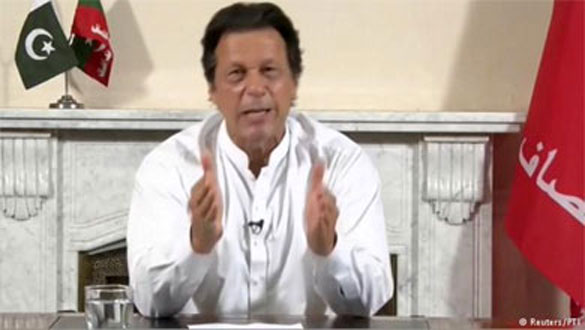 Imran Khan Prime Minister of Pakistan
------
Can he mature fast enough for the requirements of his new office or will he need guidance?
While Imran Khan and his Pakistan Tehreek-e-Insaf (PTI) were fairly confident that they would emerge as the largest party in Wednesday's elections, they could not have imagined that they would make such a strong showing, resulting in Mr. Khan becoming Pakistan's next Prime Minister. Even some academics, supposedly looking at empirical data, got it very wrong. Although all the results have been neither verified nor notified, and many seats will have to be given up since many contenders, including Mr. Khan who had been leading in all his five constituencies, contested and won from more than one seat, no one is going to dare stand in the way of his greatest, crowning moment.
In many cases, the victory margins of the PTI are huge and impressive. The party has even made considerable inroads into former Prime Minister and Pakistan Muslim League (Nawaz) leader Nawaz Sharif's fortress of the Punjab, coming a near second. It will probably form government there as well, with many of the Independents and breakaway members. Many key members of the PML (N), including former national and provincial ministers, have been defeated, including in the party's core constituencies such as Lahore and Faisalabad. The PTI is the first party to be re-elected in Khyber Pakhtunkhwa, increasing its seats. Perhaps the biggest shock has been the rout of the Muttahida Qaumi Movement (MQM) in its perceived stronghold, Karachi, where again the PTI has made significant gains.
The Establishment's Man
There are a number of reasons why the PTI has won. Some of these are part of Pakistan's perpetual political economy and are more standard, and there is one possible explanation which is particularly bizarre. It has been clear for many months now that Pakistan's military establishment, with support from the superior judiciary, did not under any circumstances want Mr. Sharif's party to win. This establishment went out of its way to ensure that he was disqualified and imprisoned, and that many of his former allies and comrades either joined the PTI or contested as Independents. In southern Punjab, several of Mr. Sharif's allies abandoned him en masse. Furthermore, the MQM in Karachi was broken up into many groups. There was much prepoll rigging by the military. Independent commentary in the media was controlled and censored and many journalists and media houses were threatened and shut down. Open discussion and those dissenting were threatened in unprecedented ways, reminiscent of Pakistan's many martial laws.
Despite being the military's favourite representative, Mr. Khan must also be given credit for a forceful campaign. He could not have won without believing that he would. He traversed the country, speaking at multiple events on the same day in different cities. While the leaders of other parties did the same, he was more visible on electronic media and had a huge presence on social media. He was also told that it was important to have winnable candidates and advised to take many dubious candidates into his party who were considered electable. Pakistan's demography — with a large proportion of young and first-time voters, called 'youthias', supporting the PTI — is also likely to have worked in Mr. Khan's favour this time more than in 2013, given a considerably mauled PML(N).
Another Explanation?
There is yet another reason being given for why Mr. Khan won so convincingly. Many months ago, a married woman and a mother of five, Bushra Riaz Wattoo, had a dream. A resident of Pakpattan in the Punjab, Ms. Wattoo was considered to be a Pirni (female spiritual guide). She was believed to have been a 'modern' woman once who then turned to Sufism. She told her husband that Prophet Muhammad appeared in her dream one day and asked her to get married to Mr. Khan. This would not only remove all the hurdles in Mr. Khan's way to become Prime Minister but would also eventually usher in a golden era for Pakistan, she said. It was reported in different newspapers at the beginning of this year that Ms. Wattoo met and told Mr. Khan that he would become Prime Minister only if he got married before January 5. It was later disclosed that having divorced her husband, she married Mr. Khan on or around January 1 this year, and by all accounts her prophecy has come through.
Mr. Khan has shown himself to be abusive, derogatory, misogynistic, arrogant and dictatorial, all within a few weeks. He has said that feminism degrades motherhood and that liberals 'seek blood' and is the most dangerous constituency in Pakistan. At the same time, he has been soft on the Taliban. During his campaign, he stated that he would have a nationalist, anti-U.S. and anti-India foreign policy. He is a born-again Muslim now with a Tasbeeh (rosary) in his hands, a conservative Muslim nationalist who believes in neoliberal economic policies. Since his party has not won a complete majority, he will have to be conciliatory and show a far more inclusive attitude towards other groups in Parliament than he has during his vile campaign.
On the day after the elections, seven losing parties called the elections rigged. One senior leader called them "the dirtiest polls in the history of Pakistan", and the PML (N) rejected the results outright. An all-party conference to discuss the results as well as the next step has been called for Friday. It is possible that the opposition parties may have learnt from the tactics of Mr. Khan in the previous Parliament. First, he did not accept the results, and as the enfant terrible, made much of the claim that the 2013 elections were completely rigged. He took his case to the streets in his famous Dharna of 2014, and to the Election Commission of Pakistan (ECP). The ECP found almost no rigging during the 2013 elections, and he had to reluctantly accept the results.
In Naya Pakistan
The elections might be over — sordid, controversial and rigged as they have been. It is also very clear that Imran Khan is Pakistan's next Prime Minister. Whether his wife's prophecy of Pakistan entering a golden era will come true or not in Naya Pakistan will depend, to start with, on how the Prime Minister-designate handles the immediate expected backlash from the political parties which have lost. Mr. Khan, till now the vitriolic candidate and opposition leader, will have to mature to be a more sobering influence on government and on his many first-time, overly enthusiastic Ministers who are inexperienced in governance, much like himself. Probably the considerable influence of the military and the judiciary on him will go a long way in helping this. Or, perhaps, the current Mrs. Khan's visions will now guide his and the country's future.
S. Akbar Zaidi is a political economist based in Karachi. He teaches at Columbia University in New York, and at the IBA in Karachi
Source: thehindu.com/opinion/lead/prime-minister-imran-khan/article24523386.ece
URL: https://www.newageislam.com/the-war-islam/is-imran-khan-born-again/d/115951