New Age Islam News Bureau
Moradabad: 17 Oct 2011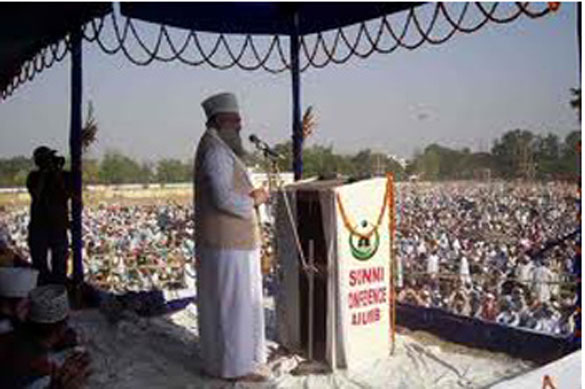 The All-India Ulema & Mashaikh Board (AIUMB), a Sufi Islamic branch claiming to represent 80 per cent of Indian Sunni Muslims, has come out strongly against hard-line Wahhabism, holding the ideology responsible for the radicalization of young Indian Muslims.
Addressing the Muslim Mahapanchayat Maulana Syed Mohammad Ashraf Kichhouchhwi, the General Secretary of AIUMB said, "We clearly want to tell this to everybody that, we won't allow the Deobandis and Wahhabis to grab the Indian soil by terror and violence being fostered through Petro-Dollars."
"Madrasas, which are being run by Deoband school of thought, are radicalising and poisoning the minds of innocent Muslim boys," he added.
AIUMB is a Sufi group formed by more than seventy eight Sufi Dargahs, including that of Khwaja Moinuddin Chisti in Ajmer and Hazrat Nizamuddin Aulia in Delhi besides several other Sufi shrines across the country.
"When an extremist turns up at your door seeking your support, hand him over to the nearest police station," said Board general secretary Maulana Syed Mohd Ashraf Kicchowchwi,, addressing the well-attended Maha Panchayat of Sunni Muslims.
AIUMB general secretary Syed Mohammad Ashraf Kichhouchhwi added in his address that parties and governments had been dominated by propagators of Wahhabism, and the peace-loving Sufi Muslims sidelined. "Muslim leadership in India is in the wrong hands and we want to tell this to parties and governments," he said.
Maulana Kicchowchwi said he would support any party that endorses his demands in its manifesto. "Peace-loving Sunni Sufi Muslims have been living in India for ages and now Wahhabism is being imported from the Middle East to India by some extremist organisations and persons. Government and parties have started to see those hardliners as the Muslim leadership, ignoring the majority of Muslims who belong to the Sufi Sunni sect."
Several representatives of Sufi Dargahs highlighted the fact that Sufism, which accommodates people from every religion, is much more inclusive than Wahhabi Islam which doesn't provide space for followers of other faiths.
Not only that, the rally was an initiative by the Sufi groups, which claim support of more than 80 percent population of Indian Muslims, in order to reclaim the political influence which the group once had in the country.
Vice president of the board Syed Zafar Masood raised the voice of Muslim reservation at the Mahapanchayat.
Representative from Ajmer Dargah Syed Mohammad Mehdi also addressed the gathering.
Representatives' of Dargah Hazrat Nizamuddin Chishti Ajmeri, Hazrat Nizam Sabir Kaliyari, Bareliy Sharif,Badayun, Pindwa, Bhagalpur and Moradabad were among the distinguished participants.
Urdu Press on Muslim Mahapanchayat
The AIUMB clearly raised its voice against Wahhabi extremism at the mahapanchayat but Urdu Press, national as well as local completely ignored it. With this new beginning one can say that the moderate voices within the Muslim community are finally speaking out against the hard line elements but the Muslim Press clearly is in the hands of hardliners.
Roznama Rashtriya Sahara mentioned in its report that it is the ignorance of the political party that is responsible for the backwardness of Muslims. This report focuses on the claim of a hundred thousand of participants made by AIUMB, although perhaps no more than 50, 000 Muslims turned up.
Inquilab , quoted in its report Syed Mohammad Ashraf Kichhouchhvi saying that education only will give solution to all problems of Muslim. It focused on representation in politics, reservation, encroachments on the Waqf properties and support to Central Madarsa Board.
Akhbar e Mashriq also highlighted the demand of reservation to Muslims.
Jadid Mail focused on the marginalistaion of Muslim and quoted Syed Mohammad Ashraf Kichhouchhwi that the government must not ignore it.
Hamara Samaj, Delhi based Urdu daily highlighted the resolution proposed by AIUMB and quoted AIMUB derailed from its agenda by state president of Kausar Hayat Khan.
URL: https://www.newageislam.com/the-war-within-islam/indian-muslims-make-a-new-beginning-to-marginalise-the-wahhabi-islamists/d/5715