By New Age Islam Edit Bureau
28 September 2020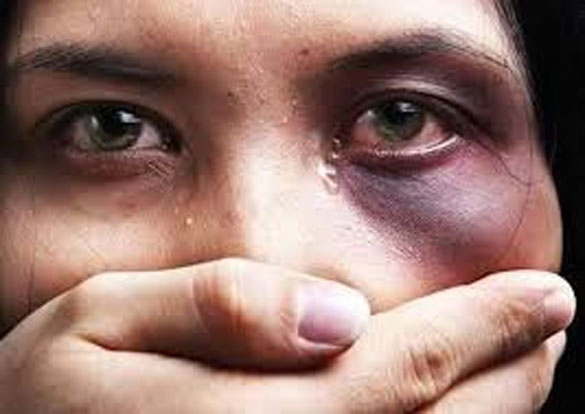 Bangladeshi maids in Saudi Arabia | The Asian Age Online, Bangladesh
----
Saudi Arabia is one of the biggest employment providers for the youth of the poor and developing countries. Youth from India, Bangladesh, Pakistan, Philippines, Indonesia, Malaysia and other Muslim majority countries head for Saudi Arabia for employment. But at the same time Saudi Arabia's human rights record is very poor. There are numerous reports of inhuman treatment of workers, and their physical and mental torture and harassment is well documented. Particularly, the female domestic helps from India, Sri Lanka, Philippines and Bangladesh have been brutalised by their employers. For example, in 2014, a Sri Lankan maid who had been brutally tortured returned to her country with 24 nails inside her body.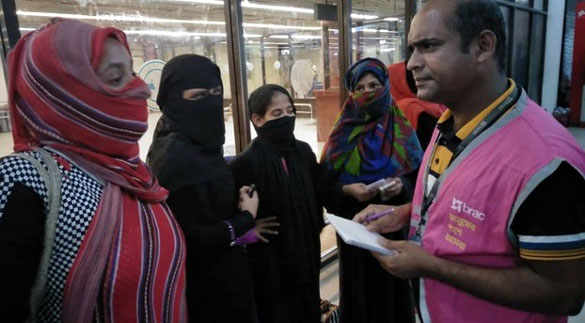 A BRAC official talks to women at Hazrat Shahjalal International Airport in Dhaka following their return from Saudi Arabia, Aug. 26, 2019.
----
In 2015, an Indian female domestic help's hand was chopped off by her employer because she had complained to the local officials about her torture and harassment.
In 2018, a 14 year old Bangladeshi girl Kulsum's dead body came from Saudi Arabia with her arms and legs fractured and her eyes injured.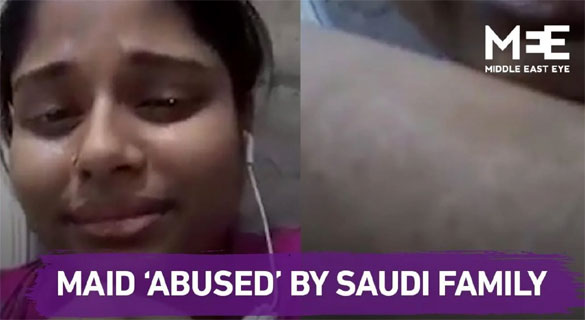 Sumi Akter showed scars from when hot oil was poured onto her arms while working in Saudi Arabia (MEE Graphics)
----
These are some of the incidents of torture and murder of house maids working in Saudi Arabia.
In 2014, an Indonesian woman named Satina was sentenced to death for murdering her employer. She had murdered her employer while trying to save herself from being raped by him. But the Indonesian government paid blood money of $2.1 million to save her and brought her home, and set an example showing to the world it valued the life of its citizens and it paid $2.1 million to save the life of a poor woman of the country. After this incident, Indonesia barred its women from going to 21 Middle East countries including Saudi Arabia as domestic helps.
This caused a crisis of female domestic helps in Saudi Arabia. To solve this problem, Saudi Arabia entered into an agreement with Bangladesh under which Bangladesh agreed to send its female domestic workers to Saudi Arabia. Prior to this agreement, the number of Bangladeshi women workers in Saudi Arabia was very low. According to the Bangladesh Ministry of Labour statistics, the number of women going to KSA in 2009 was 386; in 2010, it was only 44, in 2011 it was only 166; in 2012 it was 484; in 2013, it was 167 and in 2014 the number of Bangladeshi women going to KSA was only 13.
But after the agreement between Bangladesh and Saudi Arabia, there was a surge in the number of Bangladeshi women heading for the Saudi Kingdom. In 2015, a total of 20,952 women went to Saudi Arabia as domestic helps. Next year that is in 2016 the number grew threefold. A total of 68,286 women went to Saudi Arabia as domestic helps. In 2017, 83,354 women went to Saudi Arabia. And in 2018, the number touched one lakh approximately.
These women together with the male workers sent about $3.5 billion to Bangladesh contributing to the economic growth of the country. But the other side of the picture was not only gloomy but horrific and heart wrenching. Many women faced inhuman treatment from their employers. They complained of physical and mental harassment, starvation, confinement, brutal torture and even rape. On the one hand, thousands of poor women were heading for Saudi Arabia in the hope of getting rich and on the other, many women were fleeing Saudi Arabia to save their life and dignity. In 2018, a Bangladeshi maid was raped by her employer and pushed from the roof rendering her disabled. Many women became insane due to mental torture. During the last four years about 6000 women workers have returned to Bangladesh, of them 800 returned in 2019. 950 female workers returned in 2018. The Bangladesh government has acknowledged the fact that many women have returned from Saudi Arabia due to mental and physical torture. During the last four years, 66 Bangladeshi women have died in Saudi Arabia. Out of them 52 women have been declared committed suicide by the Saudi government.
The Saudi employers take the passport and other documents of the women in their custody rendering them helpless and they become virtual slaves. They are exploited and tortured and sexually assaulted. When they complain to the local authorities spurious charges are levelled against them. They are starved as punishment. They are not paid for months despite making them work for 18 hours a day. The Human Rights Watch has described the behaviour of the Saudi employers as racial and religious discrimination.
The pathetic condition of the domestic workers of Bangladesh has caused concern among the public and in the rights circle and they have demanded that like Indonesia and Philippines, Bangladesh also should ban its women from going to Saudi Arabia. The National Human Rights Commission of Bangladesh has also recommended this to the government. But unfortunately, the Hasina government has ruled out banning the Bangladeshi women from going to Saudi Arabia because billions of dollars are more valuable to her government than the life and dignity of her women. While the Hasina government turns a blind eye to the plight of her women folk in Saudi Arabia, women there run away to the Bangladesh embassy in Jeddah and Riyadh where unofficial safe houses have been set up for such women. On an average, 3 to 4 women come to the safe house to seek refuge every day. They stay there for months while their documents are prepared for their repatriation to Bangladesh.
Bangladesh is one of the poorest countries of the world and therefore opportunities for employment for the youth there are less. That's why Bangladeshi youth head for Gulf States for job. About one million men and women from Bangladesh went to the Gulf States in 2017 and 57% of Bangladeshi workforce is based in Saudi Arabia. The revenue they earn for the country is $16 billion. This the reason Hasina government does not want to lose the billions of dollars that comes to the country through these migrant workers. For this the critics of Hasina governments say that she has sold out the dignity of her women for some dollars. While Saudi Arabia has failed to discipline and reign in its employers, unlike the Indonesian government, the Bangladesh government has completely ignored the plight of the female workers in Saudi Arabia and has left them at the mercy of savage and heartless Saudi employers.
URL: https://www.newageislam.com/the-war-within-islam/new-age-islam-edit-bureau/bangladeshi-slave-girls-of-the-arab-masters/d/122973
New Age Islam, Islam Online, Islamic Website, African Muslim News, Arab World News, South Asia News, Indian Muslim News, World Muslim News, Women in Islam, Islamic Feminism, Arab Women, Women In Arab, Islamophobia in America, Muslim Women in West, Islam Women and Feminism