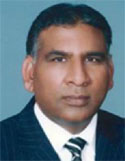 By Nasir Saeed
27-Jul-16
While the continuous misuse of the blasphemy law has become commonplace in Pakistan, and Pakistan's government pays no attention to this urgent matter, the world seems more concerned. Recently, the US Congress Human Rights Commission conducted a hearing on this law's implications, and Malta is the latest country to have repealed its blasphemy law.
Although 71 countries have this law on their statute books, five are considered amongst the worst-scoring. Pakistan is among those where this law is being relentlessly misused, especially against minorities. Now the majority of Pakistanis are aware of the consequences, so only somebody insane would commit such a crime that could cost him his own life. But surprisingly, such cases continue to occur, and their authenticity is always questionable.
If a case is registered against any Christian, it is likely to attract publicity not just in the country but also in international media, as we have seen in the recent case against Nadeem James. He was accused by a Muslim friend of committing blasphemy by posting a derogatory poem on WhatsApp. His case received international attention, and even the BBC has published his story on its website. There is a dreadful history of treatment of Christians in such cases. Although a case is registered against an individual, the whole Christian community comes under attack, as people flee their homes fearing for their lives. And in some cases, even the police encouraged them to flee instead of providing them protection.
Another example of the lack of police efficiency can be seen in James's case. After registering a case under Section 295-C and 298 they raided James' house to arrest him, but when they didn't find him or any other male at home, they arrested two females who hadn't committed any crime. Although according to the police they were taken into protective custody, it is an old police trick to pressurise the family so the wanted person surrenders to the police. This seems to have worked very well in this case too.
James had already fled fearing for his life, as he knew if he was caught he could have been killed or burnt alive as we saw in some cases in the past. Protesters always get furious and emotional, take the law into their own hands, and then become judges and issue orders without knowing that by doing so, they are in fact committing a crime themselves. They commit acts ranging from injuring or killing someone, to rampaging and setting fire to their churches and their homes, while the accused person should be handed over to the police and let the law take its course.
Since law enforcement agencies have never brought any perpetrator of such crimes to justice, and nobody has ever been punished, it is as if the public has been given tacit approval from government, and now they have assumed that it is their religious duty to deal with the alleged blasphemer in their own way. Government has miserably failed to deal with this issue and still seems unconcerned.
But the world seems more concerned about our government's insensitivity, and the continuous misuse of the blasphemy law in Pakistan. Several countries have discussed Pakistan's blasphemy law in their parliaments, and have raised their concerns in the international fora to register their concerns with the government of Pakistan. However, our government is not willing to pay any attention to the issue.
The international community believes that Pakistan's blasphemy laws are a real threat to religious freedom and freedom of expression, and are in contradiction to the Universal Declaration of Human Rights, and the International Convention on Civil and Political Rights, as Pakistan has ratified several international conventions including the ICCPR. Pakistan is under obligation to bring its laws in line with these conventions. This is true particularly of the ICCPR that Pakistan ratified without any reservation for the award of GSP plus status in 2014. Prime Minister Nawaz Sharif had said that gaining access to European markets was the top priority of the government as part of an economic development agenda. But if the present situation of human rights and minorities continues, there is no guarantee of its renewal in 2017. The status was achieved after years of lobbying and hard work. Minister of Commerce Khurrum Dastagir, however, says that the government is well aware of the situation, and is making sure that everything goes well to avoid the withdrawal of the GSP Plus status. But is everything really going well?
Recently, I have seen some reports where the European Parliament expressed its concern over the issue, as despite ratifying 27 UN international conventions there is still no improvement to the situation of minorities and human rights condition in Pakistan. Instead it has deteriorated. Certainly, improving the situation of minorities and human rights is not a priority of Pakistani government, but for the European and other western allies it is. And that is why they monitor the status of human rights in Pakistan, and seem to be concerned.
In November 2015, the International Commission of Jurists published a 60-page long report on the misuse of the blasphemy law in Pakistan. On June 30, 2016, the European Parliament's intergroup on Freedom of Religion or Belief launched its annual report, which appreciated Pakistan Supreme Court's order to stop the ongoing misuse of the blasphemy law, but expressed its concern about the disproportionate and ongoing misuse of the blasphemy law against minorities. According to the group, 37 percent of the blasphemy cases are against Ahmadis, and 14 percent against Christians, who only make up about two percent of the total population.
At the launch of this annual report, UN Special Rapporteur on Freedom of Religion or Belief, Professor Heiner Bielefeldt, US Department of State representative Knox Thames, and Special Advisor for Religious Minorities for the Near East and South/Central Asia US Department of State were guest speakers.
On July 14, the Tom Lantos Human Rights Commission (US Congress human rights commission) heard the testimony of Reverend Thomas J Reese, Chair, US Commission on International Religious Freedom on the blasphemy law, and its global threat to freedom of expression. The commission actively engages in human rights matters, and to carry its mandate forward, it collaborates with congressional staff, the US Senate and executive staff, and also continually engages with national and international civil society organisations. In June, Co-Chair of the Tom Lantos Human Rights Commission and Republican member, Joseph Pitts, and Democrat Representative Sheila Jackson Lee, introduced a House Resolution calling for all countries to repeal their blasphemy laws.
On July 14, Malta, a Catholic country, repealed its blasphemy law. And last year, Iceland and Norway repealed their blasphemy laws. Now there are only eight European countries who still have blasphemy law on their statute books: Austria, Denmark, Germany, Greece, Ireland, Italy, Netherlands and Poland. But I have never heard of blasphemy law being used in any of these countries to take revenge or settle personal scores. It has not been easy for any of these countries, and in Ireland, the discussion to repeal the blasphemy law has going on for the last two years. Malta's Archbishop Charles Scicluna greeted the news with dismay and he tweeted, "Lord forgive them: they do not know what they do."
Egypt is another Muslim country where the misuse of this law has come under international scrutiny, and according to critics it is being used against dissidents and non-Muslims. A parliamentary committee in Egypt presented a bill in parliament, but government rejected it. Nobody has had their life threatened or been killed, though. Mina Thabet, a researcher working with the Egyptian Commission for Rights and Freedoms, has said that there is little political will to change the situation.
But at least there is hope, something that Pakistan does not have at all. Even after the Supreme Court's remarks that criticising a blasphemy law does not amount to blasphemy, we still cannot dare to speak for its repeal or even its amendment. It is the responsibility of government and politicians to create an environment where we can discuss and have a debate without any fear, and at least bring changes where necessary to stop the ongoing misuse of the blasphemy law.
Nasir Saeed is a freelance columnist
Source: dailytimes.com.pk/opinion/27-Jul-16/why-blasphemy-laws-are-a-global-concern
URL: http://www.newageislam.com/the-war-within-islam/nasir-saeed/why-blasphemy-laws-are-a-global-concern/d/108090