By Nadeem F. Paracha
25 Oct 2020
As protest rallies of the recently formed Pakistan Democratic Movement (PDM) gain momentum, many observers are quick to point out that, even though the PDM is only the latest in a long line of opposition movements hoping for regime change through street agitation, this movement has a somewhat unique distinction — of being founded on an anti-establishment narrative underlined by a prominent Punjabi politician. That politician is former prime minister Nawaz Sharif, whose party's stronghold is central and northern Punjab.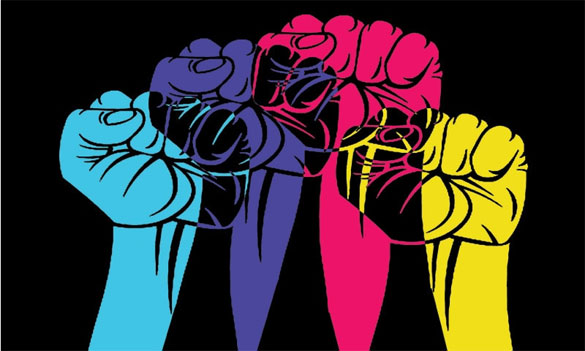 Illustration by Abro
-----
Nawaz was controversially removed as PM by the courts in 2017, and his party, the PML-N, has been at the receiving end of an unabashed crackdown against political opponents unleashed by the current PTI government of PM Imran Khan. State and government institutions have been used to browbeat the opposition and the media into submission, sometimes in the name of 'eradicating corruption', sometimes to 'curb immorality' and save the country's moral fabric, and sometimes for the purpose of 'flushing out traitors.' But all this has been happening during a time when the country's economy is under severe duress, clearly threatening the livelihoods and survival of millions of people in urban and rural Pakistan.
The government's demeanour constantly shifts from being boastful to apathetic to disoriented to being boastful again. This, in fact, denotes a regime that is in flux, even two years after coming to power. And here begins Sharif's and, subsequently, PDM's narrative. The 11-party alliance insists that Khan was brought in by the military establishment through a blatantly rigged election as a 'puppet' who could be easily controlled, compared to the 'stubborn' Nawaz or anyone from the PPP, a party with a long history of antagonistic relations with the military establishment.
During a fiery speech at PDM's first rally in Gujranwala, Nawaz did not hold back in directly attacking certain top-ranked personnel within the military-establishment for continuing the institution's chequered history of political interference, manipulation and engineering, loading and off-loading elected governments and making a mockery of those who voted for these regimes. He also accused the institution of instigating non-Punjabi leaders to revolt after carelessly demonising them as traitors. During the PDM's larger second rally in Karachi, Sharif's daughter mocked PM Khan by insisting that the alliance's battle was with 'larger forces' instead of little fish like him.
These sentiments were being articulated by a mainstream Punjabi politician and not by Baloch, Pashtun or Sindhi nationalist entities, who, historically, have held similar views. What's more, Nawaz was packaged by the establishment to counter the erstwhile popularity of the Sindhi Bhuttos in the Punjab, before he began to tear himself away from the orbit of his benefactors, especially after his second government was toppled in a 1999 military coup d'état.
Indeed, the narrative being put forward by Nawaz and PML-N is unique because it is coming from a party whose main vote bank lies in the Punjab. This narrative has now begun to also find traction in mainstream Punjabi segments. Yet, this narrative, in the context of it coming from a popular Punjabi politician, is not sudden or new. One of its most interesting aspects is rooted in an albeit obscure and oft-ignored intellectual pursuit which is often defined as Punjabi nationalism. This is not the populist Punjabi nationalism of the 1990s, or of the jingoistic 'jaag Punjabi jaag' [Wake up Punjabi] variety which, ironically, was first used in mainstream politics by the PML to portray Benazir Bhutto and her PPP as a Sindhi — and thus anti-Punjabi — party.
Nawaz now seems to have gone the other way and/or towards the other side of Punjabi nationalism, which was first constructed by intellectuals from the left. According to cultural historian Alyssa Ayres, in her book Speaking Like A State, Punjabi nationalism in Pakistan largely emerged in the 1980s. Part of it was a reaction to the emergence of the Seraiki language movement, that looked to separate the Seraiki-speaking areas of the Punjab from the rest of the province. Till the late 1960s, Seraiki was considered to be a dialect of Punjabi, but Seraiki nationalists disagree.
Punjabi intellectuals lamented that, to become the dominant ethnic group in the country, the Punjabi had to let go of his or her culture and adopt 'alien languages' (English and Urdu) to escape economic marginalisation. Just as the purveyors of Sindhi, Baloch and Pakhtun nationalisms of yore had, ideologues and advocates of this strand of Punjabi nationalism too emerged from progressive backgrounds.
They did not attack the non-Punjabi ethnicities for denouncing Punjabis. Instead, they turned their anger towards the Punjabi elite. They accused them of neglecting the Punjabi language and forgetting Punjabi culture to maintain their influence and power, to first appease the British, and then the state-backed promoters of Urdu. In his 1985 book Punjab Ka Muqadma, Hanif Ramay, one of the founding members of the PPP and chief minister of Punjab during the Z.A. Bhutto regime in the 1970s, writes that the Punjabis turned against the Bengalis to safeguard the interests of those who had imposed Urdu upon them. Ramay also claims that, had the Punjabis continued to respect and love their own language, they would've better understood the sentiments of East Pakistan's Bengalis.
The author Syed Farani, in his 1988 book Punjabi Zaban Nahin Maray Gi, describes Urdu as 'a man-eating language' that made Punjabis kill fellow Punjabis and then people of other non-Urdu ethnic groups. There is every likelihood that Nawaz is well aware of this brand of 'Punjabiyat', which is unafraid to castigate the hegemonic follies of Pakistan's Punjabi-centric establishment to prove that Punjabi, as a culture, was marginalised to fit a political and cultural paradigm that was outside of 'real Punjabiyat' — which is closer to the cultures of the country's other ethnic groups.
In his Punjabi novel Bewatna (1995), the poet Fakhar Zaman bemoaned that Punjabis (by adopting alien languages and cultures) have become aliens on their own soil. He too saw Punjabi culture as being closer to non-Punjabi ethnic groups than to the one he believed was imposed upon them by a mixture of hegemonic majoritarian arrogance and the fear of losing this hegemony, and which made them demonise and repress other ethnic communities.
This nationalism's scholars constantly evoke tales associated with various Punjabi Sufi saints and anti-colonial heroes to emphasise the point that Punjabi culture is spiritual (instead of orthodox) and chivalrous (instead of hegemonic or exploitative). This is where Nawaz is now coming from in his bid to not only offer his large Punjabi vote-bank a new existential narrative, but to also add a more universal, and multi-ethnic dimension to the PML-N.
Original Headline: THE CHANGING FACE OF PUNJABI NATIONALISM
Source: The Dawn, Pakistan
URL: https://www.newageislam.com/the-war-within-islam/nadeem-f-paracha/punjabi-nationalism-in-pakistan-nawaz-sharif-adds-multi-ethnic-dimension-to-the-pml-n/d/123343
New Age Islam, Islam Online, Islamic Website, African Muslim News, Arab World News, South Asia News, Indian Muslim News, World Muslim News, Women in Islam, Islamic Feminism, Arab Women, Women In Arab, Islamophobia in America, Muslim Women in West, Islam Women and Feminism