By M. Husain Sadar
November 2, 2012
Osama Bin Laden was a Saudi national and belonged to an extremely rich and powerful Saudi family. In addition, he had close ties with the Saudi intelligence establishment since the beginning of his involvement in the war against the Soviet Army. Consequently, he must be entitled to the needed support for avoiding capture or killing by the Americans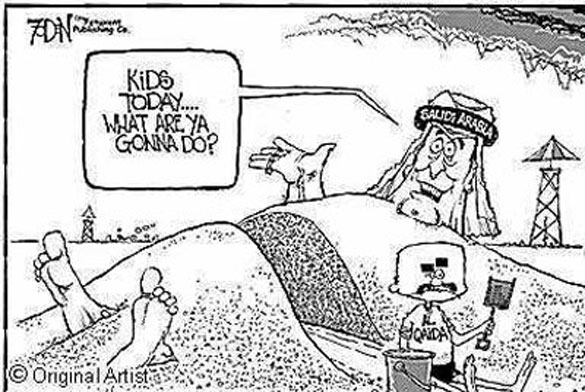 As a result of ongoing enormous Saudi influence as the " custodians of Islam's two holiest places" as well as generous aid giver to the Pakistani military, political and religious elite, the Saudi control as well as Islamic fundamentalism and fanaticism have crept deeply into every phase of the Pakistani society: ( see Viewpoint online, January 27, 2011 issue).
Consequently, the Saudis have the needed capacity and capability to create and manage safe, secure and comfortable hide-outs for Osama bin Laden or any leader of talibans in any part of Pakistan.
These days, Saudi supported religious institutions, imams and so-called "Islamic scholars" are so powerful and vocal that they can publicly oppose and condemn any person or any activity which they consider as un Islamic. Well-organized and very resourceful groups of religious zealots and fanatics are fully capable of intimidating any political party and members of Pakistani military and security forces.
No wonder that anyone including top government officials such as the Governor of a province or a highly respected Federal Minister responsible for Minority Affairs, can be killed, injured or threatened publicly just for saying something which these fanatics describe as "un Islamic".
Osama Bin Laden was a Saudi national and belonged to an extremely rich and powerful Saudi family. In addition, he had close ties with the Saudi intelligence establishment since the beginning of his involvement in the war against the Soviet Army. Consequently, he must be entitled to the needed support for avoiding capture or killing by the Americans.
But more importantly, who in Pakistan will dare to disclose his safe hide-out to any one especially to a foreign power?
Considering that:
1. Osama Bin Laden was living for years so close to Islamabad, home to the Saudi embassy and its diplomats, it seems incredible that the Saudi Embassy was unaware of his presence in the neighbourhood.
2. Confidential Wikileaks documents have confirmed that the major financial support for Al-Qaeda was mainly coming from Saudi Arabia and other oil rich Gulf states.
3. Foreigners residing in Pakistan for long periods are supposed to register with local police but also with the embassies of their home lands.
The question which needs to be asked is: Was he, his two Saudi wives and their children registered with the local embassies of Saudi Arabia?
It is also reported that Osama Bin Laden was getting help from couriers who were Kuwaiti citizens. How did these couriers kept on travelling from Kuwait to Pakistan repeatedly to help Osama Bin Laden without any knowledge or support from Kuwaiti sources especially the embassy in Islamabad?
Equally puzzling is the angry reaction of Pakistani elite about the violation of its "sovereignty". After all, the American military has been sending drones to bomb and kill militants and innocent Pakistani citizens without seeking prior permission from Pakistan.
Finally, the US which deserves credit for getting rid of Osama Bin Laden must also stop using double standards in its dealing with Pakistan. No other country knows more about the domestic conditions and foreign dealings of Saudis and other oil rich Gulf Arab states. However, the Western countries in general and the successive US administrations in particular, keep on treating the Saudis with kid gloves.
People around the world must have seen the high regard and warm affection with which President George Bush, the brave architect of 'war against terror' held gently the hand of visiting King Abdullah of Saudi Arabia.
This picture is a true reflection of the US hypocrisy and duplicity in its claims to promote democracy, human rights and equality for all people. Saudi Arabia and its absolute monarch most certainly are the worst violators of all such noble practices.
The naked truth is that the crucial importance of oil to the US economy, the good work of highly paid lobbyists of the oil companies and the Saudi government, keep on reminding the ruling elite in Washington, D.C. NOT to make the Saudi Royals even slightly uncomfortable no matter what they do or do not do. The most important and the ONLY US objective is ensure a regular flow of Arab oil at the cheapest price possible.
Moreover, the Americans like their "Democracy lovers" European cousins understand perfectly well, the difference between rich terrorists and poor terrorist.
It must be recalled how anxious all Western leaders were to "rehabilitate" self-confessed terrorist, Muammar Qaddafi and then quickly elevate him to a higher level of respectability once he had handed over billions of dollars.
Since Pakistan depends heavily on the 'aid' from the US but Saudis are providing cheap oil and financial investment worth billions of dollars, it is so easy to beat up on Pakistan than even whisper that Saudi Arabia may be involved in protecting Osama bin Laden.
As the saying goes, beggars cannot be the choosers. Hopefully, Pakistani people will rise up and choose honest leaders who can break away from the "culture of dependency" and lead the nation towards the path of self reliance, self-confidence and national dignity and pride.
May be it is time for the Pakistani youth to look for another Tehrir square.
Dr. M. Husain Sadar is a Canadian of Pakistani ancestry. He lives with his Family in Canada's national capital city, Ottawa.
Source: http://www.viewpointonline.net/dont-ignore-saudi-support-for-osama.html
URL: https://www.newageislam.com/the-war-within-islam/m.-husain-sadar/don't-ignore-saudi-support-for-osama/d/9240