By Kareem Fahim
October 24, 201
Feeling defeated by the latest tragic turn toward growing violence, repression and civil strife after the military ousted President Mohamed Morsi, many Egyptians want to emigrate
In his years as a dissident, the book publisher had taken on Egypt's autocratic government and its censors, aided revolutionaries during the uprising and protested in the streets to protect freedoms he thought he had helped the country win.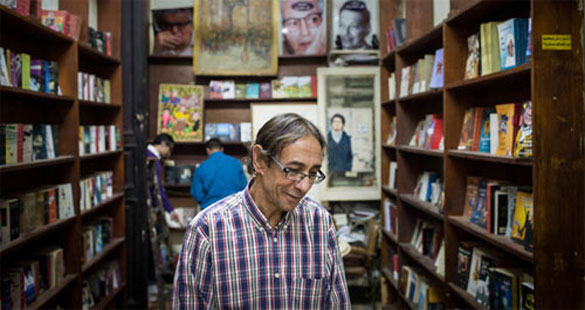 WORN OUT Egypt's persistent turmoil has discouraged Mohamed Hashem, who plans to emigrate after years spent defending freedoms as a Cairo publisher.
-----------
But like many other Egyptians these days, the publisher, Mohamed Hashem, says he feels defeated by the latest tragic turn, toward growing violence, repression and civil strife after the military ousted President Mohamed Morsy in July. Tired of waiting for better days, the publisher announced last week that he would emigrate, stunning his friends and a legion of young fans.
"I won't postpone happiness until I die," he said.
Egypt has surrendered citizens to more prosperous countries for generations, unable to provide much hope or opportunity at home.
But like Mr. Hashem, many Egyptians who say they are joining a new exodus had been loath to give up on their country; some had postponed the urge to leave, hoping the uprising against President Hosni Mubarak in 2011 would pave the way to a better life.
Their change of heart signals a dark moment. Many people said they saw no end to the conflict between the military and its Islamist opponents, and no place for those who did not profess loyalty to either one.
Others lamented Egypt's narrowing political horizons and what seemed like the growing likelihood that a military officer will become Egypt's next leader. Some people said they were shocked at how cavalier their friends and neighbours had become about the rising level of bloodshed.
And for everyone, there was still no relief from the grinding frustrations of daily life, the traffic, the rising prices, the multiplying mounds of trash in the streets.
No Statistical Evidence
There is no statistical evidence that more people are emigrating, and the notion remains far from the reach of most Egyptians, reserved for those with the qualifications or connections to find opportunities abroad. In interviews over several days, though, people said their conversations had turned more frequently, and urgently, to leaving; those who considered travel possible were just deciding when.
As he studied in a café for medical exams, Tareq Nour, 23, reeled from the headaches. His regular commute to work, at a public hospital, was blocked by protests by Morsi supporters, and government checkpoints. His salary, roughly $45 a month, was too measly to even call an insult, he said. The nightly curfew imposed by the military-backed government further constricted his life.
He had faced peril to build a different future, volunteering in a field hospital during the 18-day revolt against Mr. Mubarak, when Mr. Nour was injured by birdshot. "We're going back to the old system," he said. "We didn't change the country." So he said he was preparing to travel to the United States, out of necessity more than choice.
"I need to get out of here," he said.
As citizens grow ever more weary, the government insists that Egypt is moving along a democratic path, and will soon have a constitution that will lead to new elections. At the same time, many fear that elections will simply confirm the restoration of the old order, as the names of generals and security officials are floated as candidates for President, including Gen. Abdul-Fattah el-Sisi, Egypt's powerful Defence Minister.
Fearing that the future is already written, Sarah Radwan, 33, a graphic designer, was waiting to receive her contract to work in Qatar, having few regrets about leaving Egypt behind. After the uprising against Mr. Mubarak, "I had hoped things would get better," she said. "This was a kind of utopia."
Ms Radwan said she had been disappointed by Mr. Morsi's year as president, and was now worried about the return of the military. Frustration over the last two-and-a-half years had led her, as it had others, to damning conclusions about her society's capacity to change — to say things that were unthinkable just two years ago.
"The corruption is deep inside us," she said. "I thought it would take five years. But we're not even taking the first step."
Like generations of Egyptians, her father had worked abroad, in Saudi Arabia, and warned about the loneliness of self-exile. "I never thought I would leave," Ms Radwan said, saying that in the past she had considered moving only as far as the coast, to Alexandria on the Mediterranean or Hurghada on the Red Sea.
"I love this country," she said. "I want people to calm down."
The desperation cuts across ideological lines and threatens to sustain the "brain drain" that stunted Egypt's development for decades. As the government has cracked down on Mr. Morsi's supporters, killing hundreds at protests and imprisoning thousands more, Islamists are being hounded from the country, repeating grim cycles of repression and exile from Egypt's past.
And some who had hoped that the military-backed government would deliver stability — even if it meant using an iron fist — said they were leaving because security had not come soon enough.
Mostafa Sobhy, 32, a pharmacology lecturer, said his salary depended on tutoring foreign students at his university. With Egypt frozen in political crisis, and fears of a militant insurgency growing, the foreigners had all stayed away. Mr. Sobhy said he had taken a job in Najran, a town in Saudi Arabia.
"Mubarak's days were better," he said.
Last Wednesday, Mr. Hashem, the book publisher, announced his decision to leave on Facebook, writing that the "nightmare" of exile would become a reality for him.
"I will refuse, fiercely and until I die, to choose between the bitterness of the military or manipulators of religion," he wrote. "I will emigrate, because I don't find that which expresses the spirit of the great revolution between those conflicting interests."
"Until we meet at the next revolution," he wrote.
Reactions
In an interview a few days later in the tumbledown offices of Merit, his publishing house, Mr. Hashem laughed as he recalled the bitter response to the post.
Some of his friends, including Egypt's best-known poets and artists, had called to curse at him. "They said, 'You're being a coward, and running away,' " he said. Other people understood. One online commenter, Mohamed Abdel Nasser, wrote that Mr. Hashem's was the only proper response until Egypt's "madness" was over.
The walls around Mr. Hashem were lined with the hundreds of books Merit had published, including some about taboo subjects that other publishing houses had been afraid to touch. His Facebook post seemed to have been more a manifesto than a plan: he had not settled on a destination, but thought of going to one of the countries where he had won awards for literary freedom over the years, like Germany or the United States.
Visitors, including young artists who had spent hours in Mr. Hashem's nightly literary salons, stopped by to greet him. He said they made him want to reconsider his decision to leave.
"People are deifying Sisi, and others are deifying Morsi," he said. "All of Mubarak's men are out there as if nothing ever happened. There is no place for the likes of us."
"I am lost," Mr. Hashem added. "I am very, very lost." (
Marwa Nasser and Mayy El Sheikh contributed reporting.
Source: http://www.nytimes.com/2013/10/23/world/middleeast/egyptians-abandoning-hope-and-now-reluctantly-homeland.html
URL: https://www.newageislam.com/the-war-within-islam/kareem-fahim/egyptians-abandoning-hope-and-now,-reluctantly,-homeland/d/14121