The Murder of History: A Critique Of History Textbooks Used In Pakistan
By K. K. Aziz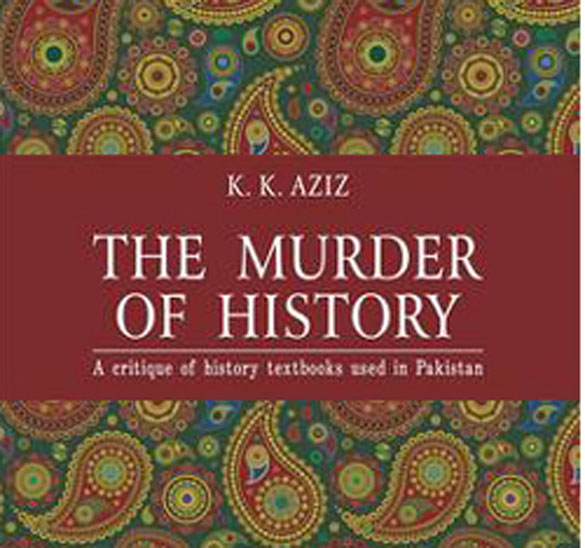 "On the 1971 break-up of Pakistan: "Right from the time of the creation of Pakistan some enemy countries were bent upon separating East Pakistan from West Pakistan. The machinations of such countries bore fruit in 1971, and East Pakistan was separated from the other part of the country and was given the name of Bangladesh" (p.78). This is the complete and exhaustive description in three lines." – From [CLASS VI – Urdu Medium] Mu'ashrati Ulum, Punjab Textbook Board, Lahore, 1st quoted by Pakistani historian K. K. Aziz in The Murder of History: A Critique of History Textbooks Used in Pakistan --
Vanguard
Primary Level
 [CLASS VI – Urdu Medium] Mu'ashrati Ulum, Punjab Textbook Board, Lahore, 1st. experiential edition, second reprint, March 1984, pp. 97. Authors: Bashiruddin Malik, Muhammad Aslam, Azhar Hameed and Abdul Qadeer. Editor: Bashiruddin Malik. Supervisors: Mrs. Hifsa Javed and Sibt-i-Hasan. Published for the Board by Kutab Khana Anjuman-i-Hamayat-i-Islam, Lahore. Print order: 30,000 copies.
 On the 1971 break-up of Pakistan: "Right from the time of the creation of Pakistan some enemy countries were bent upon separating East Pakistan from West Pakistan. The machinations of such countries bore fruit in 1971, and East Pakistan was separated from the other part of the country and was given the name of Bangladesh" (p.78). This is the complete and exhaustive description in three lines.
 [CLASS VIII – Urdu Medium] Mu'ashrati Ulum, NWFP Textbook Board, Peshawar, n.d., pp. 96. Authors: Professor Timur Khattak, Department of Geography, University of Peshawar; Professor Allauddin Khilji, M.A., College of Education, University of Peshawar and Professor Muhammad Nazir Kakakhel, Government College, Nawshehra. Revised and edited by Professor Israruddin, Head of the Department of Geography, University of Peshawar, and Muhammad Halim, Subject Specialist, NWFP Textbook Board. Print order: 55,000 copies
 "The death of the Quaid-i-Azam was followed by several political changes in Pakistan. Internal and external enemies used every method to injure it. As a result of these enmities and conspiracies in 1971 East Pakistan separated from us" (p.86)
 [CLASS IX – X – Urdu medium] Mutala'a-i-Pakistan, Idara-i-Firogh-i-Ta'lim Peshawar, for the NWFP Textbook Board, n.d. p 198. Authors: Professor Dr. Muhammad Nazir Kakakhel, Department of Political Science, University of Peshawar; Professor Faizan Ahmad, Principal, Government Degree College, Mardan. Revised and edited by Professor Dr. Muhammad Nazir Kakakhel, Department of Political Science, University of Peshawar, and Muhammad Halim, Subject Specialist, NWFP Textbook Board. Print order: 40,000 copies.
 The 1971 break-up is summarized in 7 lines thus: "As there were serious differences on the constitutional issue between the two major parties the first session of the Assembly could not be summoned. When the differences became grave (sangeen) and the conditions in East Pakistan went out of control, the Martial Law government took military action there which resulted in civil war situation. Profiting from this state of affairs, India started a military action (fauji karwai) against Pakistan. As a result of a war between the two countries the Pakistan army had to surrender on 16 December 1971, and East Pakistan, sundered from Pakistan, became Bangladesh" (p.51)
Higher Secondary Level – Urdu medium
 Universal Model Test Papers: Islamiat (Lazmi) wa Mutala'a-i-Pakistan (Lazmi), barai Intermediate Students 1987-1988, compiled by Education Specialists and Examiners, Board of Secondary Education of Pakistan, published by Kashmiri Kitab Ghar Educational Publishers, Lahore, n.d., pp.296. Author: S.A. Bukhari, M.A. Prepared in strict accordance with the latest syllabus of the Board(s) of Intermediate Secondary Education of Lahore, Multan, Sargodha, Bahawalpur, Rawalpindi, Azad Kashmir, Peshawar, Hyderabad, Quetta and Gujranwala.
 After the 1970 general elections, "political negotiations between the two majority parties were still in progress when, at Indian instigation, some mischievous elements created disorder in East Pakistan. When Pakistan took steps to bring the situation under control, the Indian Army, on some pretext, attacked East Pakistan in November 1971, and thus East Pakistan separated in December 1971" (p.200)
 Tarikh-i-Pakistan by Professor Sheikh Muhammad Rafique, Head of Department of History, Islamia College (Civil Lines), Lahore, in colloboration with Professor Sayyid Masud Haider Bukhari, M.A. (History and Persian), Government College, Sahiwal, and Professor Chaudhari Nisar Ahmad, M.A. (History and Urdu), Government College, Faislabad, published by Standard Book House, Lahore, new ed. 1989, pp. 560. Written in accordance with the syllabi of the Boards of Intermediate and Secondary Education of Lahore, Rawalpindi, Sargodha, Multan and Gujranwala.
 In the 1971 India-Pakistan war, "the Pakistan armed forces created new records of bravery, and the Indian forces were defeated everywhere" (p. 483). –– If in 1971 the Pakistan Army showed such bravery and the Indians were beaten everywhere, why did the victorious Pakistan Army surrender to India in Dacca? The astounding contradiction is as inexplicable as it is irresolvable.
 "The Hindus of East Pakistan engineered anti-Urdu demonstrations during Jinnah's time and at last the federal politicians accepted the humiliating situation and declared Bengali as the second national language. This movement sowed the seeds of hatred" (p. 487). –– Why was it humiliating for the Government of Pakistan to accept Bengali as the second national language? Demography, democracy and morality dictated that Bengali should be made the only national language of the country, and if West Pakistanis protested too much Urdu would have been given the second place to placate and please them
 Tarikh-i-Pak-o-Hind by Anwaar Hashmi, M.A., Karachi Book Centre, Karachi, 5th ed., June 1984, pp. 600. It has been written in accordance with the syllabus prescribed by the Boards of Secondary and Intermediate Education of Hyderabad, Multan, Lahore and Sargodha. The author has written several other books in Urdu and English
 "In East Pakistan a great deal of propaganda was already being carried on against West Pakistan, and after the announcement of the postponement of the session of the National Assembly great disorder began in the province in which peace and quiet disappeared. Elements which were enemies of Pakistan took advantage of this situation and utilized it for their own poisonous goals. These people had already been inciting the simple folk of East Pakistan to demand separation, and now they assured the Bengalis that the West Pakistani leadership did not want to transfer power to East Pakistan. After this the Bengalis were given the impression that a conspiracy was being hatched against them. Thus the movement of subversion and secession became strong in East Pakistan, and at last things went out of control. West Pakistanis and Biharis were massacred and the province was openly looted… When things were completely beyond his control, Yahya Khan ordered an army action. Within one month the army, to a great extent, cleared every part of East Pakistan of rebels and miscreants and also all the enemies of Pakistan and their agents… After the military action Yahya Khan did not pay any attention to a political solution of the real problem. Therefore the rebel elements once again became active. At last in November 1971 the Indian army invaded East Pakistan in full force (and in December also attacked West Pakistan) and things took such a turn that by the middle of December East Pakistan went into the hands of India" (pp. 579-580).
English Medium Textbooks
 [CLASS III] A Beginner (sic.) History of Indo-Pakistan (sic.) by A.Q. Qureshi, M.A. (Islamic Studies and History), Punjab; Post-Graduate Certificate in Education (Cantab); Senior Housemaster and Head of Department of Social Studies, P.A.F. Public School, Lower Topa, Murree Hills, Imperial Book Depot, Lahore, first published in 1964, revised edition, March 1983 (but actually this book has been brought up to date till September 1986), pp. 104.
 "The people of West Pakistan spoke a number of languages, but chose Urdu as their national language. The people of East Pakistan spoke Bengali and that was their national language. As time passed, the people of East Pakistan thought they would have a separate country of their own and call it Bangla Desh. So in 1972, East Pakistan became Bangla Desh and West Pakistan was called PAKISTAN" (pp.2-3).
 [CLASS IX – X] Pakistan Studies for Secondary Classes, Jamal Book Dept, Lahore, for the Punjab Textbook Board, 1st ed. March 1987, pp.214. Author: Professor Saeed Osman Malick. Supervisors: Sibt-i-Hasan and Hifsa Javed. Produced by the Punjab Textbook Board with reference of (sic) the Education Department, Government of the Punjab, Lahore (,) circular letter N.O.SO © Edu. 10-25/72 dated 15.7.75. Reviewed and approved by the National Review Committee, Government of Pakistan, Ministry of Education and Provincial Co-ordination. Print order: 5,000 copies.
 "The East Pakistan Tragedy in 1970…." (p. 36). Read 1971 for 1970.
 In 1970 East Pakistan "broke away from the mother country" (p.38). East Pakistan broke in December 1971, not in 1970. Was West Pakistan a "mother country" of East Pakistan?
 "In December 1970, Pakistan's first general elections were held under the Legal Framework Order (LFO) for electing people's representatives to frame a new constitution. After the elections, unfortunately, the country fell a victim to political crisis and foreign conspiracies. Pakistan's neighbour Bharat attacked Pakistan. The result was the separation of East Pakistan in December, 1971" (p. 46).
 [CLASS – 11 – 12] Pakistan Studies (compulsory) for Intermediate Classes, published by Sh. Shaukat Ali and Sons, Karachi, September 1983, pp.112. Prepared under the supervision of the Ministry of Education, Government of Pakistan, Islamabad. Approved for the Departments of Education of the Punjab, Sind, NWFP, Baluchistan, Federal Area and liberated Kashmir vide Federal Ministry of Education, Government of Pakistan, Islamabad. Notification No. F. 11-16/81-HST, dated 2nd November, 1981, as the sole textbook for intermediate classes. Authors: Dr. Safdar Mahmood, Dr. Aminullah Vaseer, Saeeduddin Ahmad Dar, Iqbal Bakht and Dr. Azhar Hameed. Editor: Dr. Azhar Hameed
 "historically it (Urdu) is the language of the Muslims of the subcontinent and the symbol of our national identity.. (it) is understood and spoken in all parts of the country" (p.86)
 The 1971 break is described like this: "By early 1971 the law and order condition in East Pakistan had deteriorated seriously. Bharat, taking advantage of the situation, infiltrated her agents who provided arms to saboteurs and anti-state elements who were trained and financially assisted to step up their efforts. Not contented at that, Bharat attacked East Pakistan in November 1971. The Pakistan Armed Forces, despite internal communications being cut off and no reinforcements reaching them from West Pakistan, waged a gallant struggle. As the odds were overwhelmingly against them, they were asked in mid-December to lay down their arms and cease all resistance" (p.97-98).
Degree- Level
 Rahbar-i-Mutala'a-i-Pakistan (Lazmi) brai Tulaba wa Talibat Degree Class Engineering wa Medical wa Commerce aur Zar'i University, in accordance with the syllabus of all Pakistani Universities, written by Professor Ghulam Sarwar Cheemah, Department of History, Government College, Lahore, Professor Rafique Chaudhri, Department of History, Government College, Faislabad, and Professor Nasser Ahmad Chaudhari, Department of Political Science, Government Murray College, Sialkot, published by Qureshi Brothers Publishers, Lahore, 1985, pp. 280
 "The population of the eastern wing of Pakistan was larger than that of the western wing. Therefore, the idea was put (by whom?) in the mind of the Bengalis that the language of the majority area should have the status of the national language. Keeping in view the delicate situation then obtaining in Pakistan, such problems should not have been brought to the public view (manzar-i-am par). But it provided a golden opportunity to the Hindus, who wanted to see another problem added to the already existing ones. Even if we consider the demand of the Bengalis as reasonable, this was not the opportune time to put it forward; moreover, sometimes national requirements demand self-sacrifice" (p. 223).
 On 1971: "Shaikh Mujibur Rahman wanted to enforce a constitution of his own liking and insisted on convening the Assembly. Zulfikar Ali Bhutto wanted the Assembly to meet after some agreement had been reached. In these circumstances, an open revolt erupted in East Pakistan, (the policies of the) foreign powers and the Indian military intervention turned the scales in favour of Mujibur Rahman and his clique, and the Pakistan Army was forced to surrender. East Pakistan became Bangladesh" (pp. 233-234)
 A Textbook of Pakistan Studies for B.Sc., B.Com., M.B.B.S., M.A. and B.E., by Sayeeduddin, Lecturer in Pakistan Studies, Mehran Univerisity of Engineering and Technology, published by Farooq Kitab Ghar, Karachi, 1st ed. 1986, pp. 204
URL: https://www.newageislam.com/the-war-within-islam/pakistan--still-in-denial-of-its-rape-and-plunder-of-its-own-people-in-what-became-bangladesh/d/6165