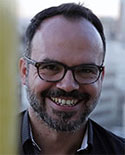 By Hossein Derakhshan
April 15, 2018
If you are Iranian, much of your life for the past few years has depended on a messaging app called Telegram. It has become something of a parallel, but uncensored, internet.
Since 2013, Telegram has replaced email, chat, forums, blogs, news websites, e-commerce, social networks, dating services and, for many, even television. With Telegram, Iranians keep in touch with family and friends, read the news, shop, discuss soccer, babies, marriage and politics. It's the best of Twitter and the most viral videos on YouTube. People use it to download music and films, and, of course, to flirt. They also use it to read speeches from the supreme leader, Ayatollah Ali Khamenei, who blasts out content over his official channel.
Part of the reason Telegram is so popular is it's easy to use. Another reason is more political: Since the pro-reform protests in 2009, the hard-liners in Iran's government, working through their allies in the judiciary and security services, have effectively blocked nearly all foreign-based blogging and publishing platforms, social media and messaging apps.
Now they want to do the same with Telegram. On March 31, Alaeddin Boroujerdi, a hard-line member of Parliament and the head of its National Security and Foreign Policy Commission, announced that Telegram would be blocked for security reasons by the end of April. "This was a decision made at the highest levels, and Telegram will be replaced by a domestic app," Mr. Boroujerdi said. A few days later, Abolhassan Firouzabadi, secretary of the Supreme Council of Cyberspace, which was established by Ayatollah Khamenei in 2012, appended an unlikely economic case against Telegram, which had announced plans to launch its own cryptocurrency: "Telegram is seeking to turn the Iranian economy into an intermediary company, and that will destroy jobs such as in real estate and auto trading," he said. (Telegram doesn't plan to offer its cryptocurrency to countries that, like Iran, are under Western or United Nations sanctions.)
What explains this decision to kick 40 million Iranians off their favourite app? Is it really about security or the economy? No. To many Iranians, Telegram means the whole internet. But to the country's conservatives, it is mostly an electoral threat.
The story goes back to spring 2014, when millions of Iranians downloaded Telegram after another messenger, Viber, was blocked over alleged ties to Israel by a judicial committee that overseas internet censorship. (Viber was created and run by an Israeli company but was sold to a Japanese company three months before it was blocked by Iran.) Telegram, founded by Russian-born Pavel Durov, was slick, fast and secure. When it added a blog-like feature that allowed everyone to easily publish and share text, videos and audio files, its popularity took off.
Initially, this wasn't a problem for the conservatives. Even the hardliner-dominated state television used Telegram to seek viewer feedback. But then, in early 2016, the situation started to change. During parliamentary elections, moderates ended the conservatives' more than decade-long grip on the Parliament, despite the fact that some of their best-known candidates had been barred from running by the hardline-dominated Guardian Council. Given that television and radio are run by the state and are staffed mostly by conservatives, the surprising victory was seen by many conservatives as being delivered by the newly popular Telegram. State television turned against the app, and producers were warned not to utter its brand name on air.
Tension over Telegram rose to its highest level last May. President Hassan Rouhani, a reformer, was running for re-election. The conservatives thought he could be defeated given the slow economic recovery; after President Trump's election in the United States, they reasoned, Iranians would be more ready for their own hard-line government.
Mr. Rouhani was running on a platform of reviving the economy and expanding social freedoms. This platform encompassed a variety of issues, but those two themes were symbolized, respectively, by his commitment to the 2015 nuclear agreement and by his promises to keep Telegram open.
The conservatives weren't going to take chances. In the months before the vote, conservatives made repeated calls on Mr. Rouhani to either block "anti-revolutionary" channels or to shut down access to the messenger entirely. They even arrested a dozen editors of pro-Rouhani channels with hundreds of thousands of members each.
During the campaign, state television favoured the conservative candidate, Ebrahim Raisi, despite the fact that all candidates were supposed to be given equal airtime and fair treatment. Mr. Raisi had been groomed not just to replace Mr. Rouhani as president for the next four years but also to succeed Ayatollah Khamenei as the next supreme leader.
Mr. Rouhani had little unrestricted access to any medium other than Telegram and Instagram, especially for live coverage of his increasingly combative campaign. Instagram Live and Telegram became the president's equivalent of broadcast television, with tens of thousands of viewers. (Mr. Raisi, too, tried to use social media but was never quite as popular.) In the end, Mr. Rouhani won in a landslide.
This was more than the hard-liners could take. They had worked for over a decade to secure Ayatollah Khamenei's succession. The ayatollah is almost 80 years old, so a second term for Mr. Rouhani could ruin everything. They blamed Telegram.
That wasn't reasonable, of course. Elections are complicated affairs, and a candidate's popularity has as much to do with values and narratives as with economics and social policy. Media like Telegram can amplify popularity or dissatisfaction, but they can't fabricate them entirely.
History shows that, too. The 1979 Islamic revolution broke out while its exiled leader, Ayatollah Ruhollah Khomeini, was barred from appearing in Iranian news media. But his fiery sermons and messages found their way to huge audiences inside the country through recorded audiocassettes transmitted through phone calls. In 1997, reformists saw how the word-of-mouth, low-tech campaigning techniques brought about a surprising victory for Mohammad Khatami.
But the hard-liners don't want to reconcile with these hard truths — they want to quash what they see as a dangerous tool.
In late December, a wave of protests swept across Iran. The demonstrations, which were largely leaderless and sometimes violent, targeted the reformist president and the hard-line supreme leader alike. Telegram had been used to spread the calls for the protests, and some channels were encouraging violence and vandalism. Mr. Rouhani agreed to block the app temporarily. The ban shook the entire population. It was lifted after only two weeks, as the president had promised. But the hard-liners had found a crack. They have kept pressing the issue.
In the months since the protests, hard-liners have used state media to argue for more reasons to ban Telegram, such as the damage it does to the teenage psyche and its threat to families. They also began promoting various native-made messaging apps, which have remained unpopular because of public suspicion about data privacy.
Then, some two weeks ago, right before the Persian New Year, rumours were spread about Ayatollah Khamenei's unhappiness with Telegram and its monopoly on Iranian cyberspace. That was the lead-up to the recent explicit warnings against it.
For Mr. Rouhani, Telegram and the nuclear deal constitute the bulk of his political capital. On both issues, he now seems outmanoeuvred by hard-liners — in Tehran and in Washington. If Telegram is banned, there will still be other ways for reformers to reach their voters. But the damage to Mr. Rouhani and his political allies will be severe. And millions of Iranians will lose their access to an app that has come to mean for them a space free from state control.
Hossein Derakhshan is a research fellow at Harvard's Shorenstein Centre. He spent six years in an Iranian prison for blogging and online activism.
Source: nytimes.com/2018/04/15/opinion/iran-telegram-app.html?
URL: http://www.newageislam.com/the-war-within-islam/hossein-derakhshan/iran-lives-on-this-app/d/114961