By Ganesh Saahthevan
06 June 2017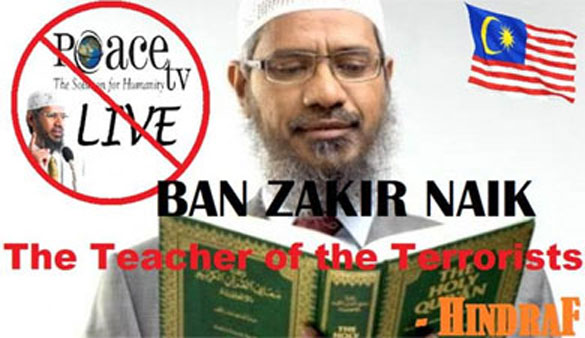 Indian Muslim preacher Zakir Naik
------
Malaysia's state controlled English daily The Star has reported that the Indian Muslim preacher Zakir Naik, wanted in India for terrorist activities, has managed to escape an Interpol Red Notice by relying on his newly gained status as a citizen of Saudi Arabia.
Zakir has been living in Malaysia, where despite public protests, Prime Minister Najib Razak has been happy to have him stay as a permanent resident. The Saudi-Malaysian collaboration to protect Zakir against Indian enforcement agencies and terrorism laws throws new light onto the 1MDB theft ,where Najib ,his family and their associates are subject of US Department Of Justice investigation and asset seizures.
Najib has attempted to explain hundreds of millions found in his private accounts as not the proceeds of crime but a donation from the al-Sauds. The Al-Sauds and their ministers of state ,while not explicitly confirming Najib's story, have been happy to make suitably vague statements that help maintain the lie.
Nevertheless, accepting the Saudi and Najib explanation, one then turns to statements made by Malaysia's Deputy PM Zahid Hamidi ,who is also Minister for Home Affairs, who in defending Najib said that the Saudi "donation" was used to support Muslim causes throughout the region. However, many of those causes involve Jihadi violence. As previously reported by this writer:
Having previously said that a sum of US$681 million found in Malaysian Prime Minister Najib Razak's personal account was only part of what a Saudi benefactor had provided Muslim groups throughout the region, including Muslim separatists in Thailand and the Philippines who have been waging guerrilla warfare against the majority in those countries, Malaysia's Deputy Prime Minister Ahmad Zahid Hamidi now says that the money was contributed by a number of different donors.
Salman and Najib working together to protect Zakir Naik raises the likelihood that the Saudis and Malaysians are running a joint pool of funds to finance terrorism and related activities in the region ,which includes money stolen from 1MDB and from Saudi contributions.PM Najib himself has used the argument of mixed funds in his defence against his theft from another state owned company, SRC International, which was once wholly-owned 1MDB subsidiary.
The DOJ says proceeds from the 1MDB theft have been used to acquire assets in the US and UK. Some of those assets have been seized. Given the likelihood of the assets being later used to finance terrorist attacks, it is hard to see how the assets might be returned to anyone who claims them.
Source: terrorfinanceblog.com/2017/05/-king-salman-pm-najib-collaborate-to-protect-indian-jiahdi1mdb-theft-now-a-matter-of-terrorist-finan.html
URL: https://www.newageislam.com/the-war-islam/king-salman-pm-najib-collaborate/d/111430