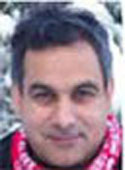 By Farooq Sulehria
24 April 2014
In no uncertain terms Viewpoint condemns the despicable attempt to claim Hamid Mir's life on April 21 in Karachi. Regardless of Hamid Mir's personal role in the promotion of violent ideologies and hate mongering, we at Viewpoint believe that every bullet fired only further brutalizes an already violent society.
The assassination attempt on Geo TV's anchorperson and daily Jang columnist, Hamid Mir, is hardly a novelty in Pakistan. Over eighty journalists have been killed since 9/11 in the country. However holding the ISI's top spy, General Zaheer-ul-Islam, for plotting the murder is unprecedentedly courageous.
Soon after two gunmen attacked Hamid Amir as he left the Karachi airport in a chauffeur driven car, his younger brother, Amir Mir, a noted reporter and author went on Geo TV where he claimed that Hamid Mir, in a recorded message, named Gen Zaheer and a few colonel-rank ISI officials as possible suspects in an assassination attempt on him.
On April 21, Geo TV aired belligerent views as expressed by Najam Sethi and Ansar Abbasi for instance, yet within 24 hours Geo TV and its sister organizations were on the defensive.
Conspiracy Theories and 'Patriotism':
As is often the case, fantastic conspiracy theories began to make the rounds in cyberspace. While a few thought that the assassination attempt was a self-staged 'drama' wherein the intention was to wound but not kill Hamid Mir, others claimed that Hamid Mir was not attacked at all. Parallels with the Malala Yusufzai case were drawn. Here is one representative sample:
http://www.pakprimetime.com/2014/04/21/the-real-story-behind-the-shot-of-hamid-mir-must-watch-this-video/
From social networking sites, the conspiracy theories found space in the mainstream media. In his ARY TV talk show, Khara Sach, Mubashar Luqman, grilled Geo TV for blaming the ISI without any proof.
Among the panellists were firebrand Zaid Hamid whose outright hatred for Hamid Mir is well known, as well as Neelum Nawab (Din TV), Imran Khan (Express TV), columnists Ajmal Niazi and Haroon ur Rashid and a few others.
Hairs were split in a million ways in the attempt to exonerate the ISI and cast aspersions on Hamid Mir's patriotic credentials. The scoop however was Haroun Rashid's claim that 'Indians have a link with every 8thperson in the posh Lahore neighbourhoods and that he knows the journalists who go to Delhi and Kabul to receive money from foreign powers'.
[See:http://www.zemtv.com/2014/04/20/kharra-sach-qaumi-salamti-ke-idaaron-ko-nishana-banane-ka-maqsad-20th-april-2014/#comments].
In the episode of Khara Sach aired on April 22, Hamid Mir's patriotism was questioned. He was declared to be a RAW and CIA agent. Zaid Hamid literally swore at Hamid Mir [which prompted Mubashar Luqman, hardly known for his decency, to intervene] and questioned the patriotism of Professor Waris Mir, Hamid Mir's illustrious father. But Indophobic crude 'patriotism', conspiracy theories [mostly implicating the persecuted Ahmedia sect], Jihadist narratives, implicating of NGOs, popularizing of the term 'liberal fascist' for defenders of human rights, the glorification of Taliban, and other rightwing ideas have been the hallmark of Hamid Mir's journalism for approximately the last two decades. He invoked Jinnah and Iqbal [as his ideals] to establish his patriotism. To discredit his opponents, he declared them 'Mir Jaffars' and 'Mir Sadiqs'.
What about his stand on democracy, Bangladesh and Baluchistan?
Hamid Mir's Contradictions:
No doubt Hamid Mir took a good position on Baluchistan [see: http://bit.ly/1l3f9eK], as he did in the case of war crimes committed by the Pakistan army in East Pakistan, now Bangladesh. Occasionally he would take a liberal, even leftist stand. He was even viewed once on Geo TV chanting the International alongside the Laal band.
Part of his progressive personality can be attributed to his legacy. His father, Professor Waris Mir, earned great respect for his struggle against the Zia dictatorship. Likewise, during his student days, Hamid Mir was part of anti-Jamiat resistance. His younger brother was falsely implicated in a murder case by Islami Jamiat Talba. It was not always possible for him to reconcile baggage from his past with his present chauvinistic, illiberal, and extreme-right journalistic agenda. Hence he would rather sound radical on the 1971 War than contradict his father.
There was another possible reason for his occasional progressivism. Like any clever journalist, he knew the importance of credibility. Therefore, in vague, general terms he would criticize the objects of his praise and glorification [the Taliban, ISI, and Jihadis]. However, his role in Squadron Khalid Khwaja's murder case seriously damaged his credibility. In the aftermath of Khwaja's assassination at the hands of Taliban, Hamid Mir attempted to wear the mask of a progressive. Hence, his stand on Baluchistan, a cause he reluctantly espoused. However, one cannot describe him even as a reluctant progressive. If anything, ideologically he has been an outright opportunist with strong sympathies for the Pakistan military, the Taliban and their Jihadi cousins, the anti-India brigade, anti-US firebrands, and anti-liberal freemasonry.
Now, when he himself has become victim of conspiracy theories; as Zaid Hamids, Mubashar Luqmans and cyber-jihadis busily defame him, he epitomizes the case of Pakistani Seurats [See:http://www.viewpointonline.net/2014/03/vp193/pakistani-seurats/3701-pakistani-seurats].
Therefore, it is understandable that the assassination attempt on Hamid Mir has not invoked the sympathy it deserved. He is not viewed as an undisputed 'martyr'. Despite having the country's biggest media house by his side, he has become a controversial survivor.
Meantime, outright Media Mujahid such as Ansar Abbasi has begun to sound like 'liberal fascists'. Khuda Khair Karay!
Source: http://www.viewpointonline.net/2014/04/vp198/hamid-mir-conspiracy-theories-and-patriotism
URL: https://www.newageislam.com/the-war-within-islam/farooq-sulehria/hamid-mir--conspiracy-theories-and-'patriotism'/d/76766