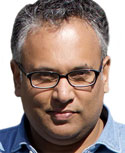 By Fahr Ahmed
September 19, 2018
The removal of Professor Atif Mian — the revered Princeton economist — from the Economic Advisory Council (EAC) is an odious indictment of Pakistan at multiple levels. For one, the majority of the otherwise raging TV anchors and their panelists were at pains to wiggle out of its causes and effects. Euphemisms were abundant and clumsy. But what is most appalling is how Prime Minister (PM) Imran Khan, who never tires of convincing us of his zest to emulate Riasat-e-Madina and Quaid-e-Azam's vision found it convenient to merely let a junior senator and the Information Minister offer a sheepish reasoning for Mian's removal in passing.
Khan perhaps does not appreciate how faith as a factor resonates so powerfully, particularly with Pakistanis in the West, who he is focusing on for dam funds and investments. Most Pakistanis in the US and Europe, with the rise of far right and anti Muslim sentiments, feel under siege. Despite anti-discrimination laws on religion and national origin and large segments of society here remaining steadfast against bigotry, Muslims are seen as inherently problematic and easy scapegoats by far too many. Pakistanis are not comfortable talking about it publicly, but will tell you privately of how they fear for themselves and their children. Discrimination touches a raw nerve with us.
When Naya Pakistan debars a person based solely on his faith, it is telling the minorities of Pakistan that they should not realistically expect to realise their legitimate aspirations within the country. A message that is utterly unacceptable to all those professing any basic values of common humanity and civilized behaviour.
It is embarrassing that 282 top international economists, including eight Nobel Prize winners have publicly stated their disapproval of Pakistan government's religious discrimination against Mian. But what is deeply alarming is that there is not nearly enough protest in the country on this dangerous capitulation.
If the government thinks it has wisely side stepped the exploitation trap by the religious right and other political parties to complicate its governance, it is a folly. The way the government crumpled long before any signs of a nation-wide upheaval, has demonstrated to all detractors how extraction could be had from it quite easily. From the forcible linkage of various public issues with the religious right's particular interpretation of Islam to the necessary effort to widen the tax base in future, this chink in the government's armour will be detrimental.
Khan's personal credibility and popularity are substantially greater than his numbers in Parliament. No Pakistani political leader has demonstrated such persuasive prowess with both the traditional and modern folk. Khan's grassroots support across the spectrum along with the government's honeymoon period place him uniquely to pursue difficult policies.
While he has seemingly lost a golden opportunity in the Mian saga, all is not lost. Just as Khan gave us tremendous pride and joy by snatching victory from the jaws of defeat in cricket, now we want him to surprise the nation again. Khan has the deft and gravitas to illustrate the rich history of Islam and Quaid's vision to explain why inclusion of a minority does not violate Islam. He must elaborate how our religion extols peaceful coexistence. The PM himself should tell everyone clearly that minorities are accorded equal rights by the Constitution. And crucially, he should be seen to mean it when he says that he is the PM of all citizens of Pakistan.
Khan has correct instincts in not coming to the new UN General Assembly session with his expressed focus to first take effective command over national issues. Indeed, the crux of our shortcomings stems from domestic failures. Among those, making it clear that Islam is a religion of peace and fraternity not just in name but practice too, is an imperative.
It is a message that will not cut through everyone right away. But it is one on which if Khan leads from the front, the silent majority will come to rally around. It is an undertaking for the very soul of Pakistan — one that cannot be postponed for there will never be a convenient enough time for it. The country cannot afford to slide further into the morass.
Pakistani expatriates are ready to go beyond Khan's call. But they want him to build a Naya Pakistan, where all of its citizens are equal and safe. Where children of any ilk are confident that if they work hard and prove themselves, they will be treated solely on merit.
While PML-N and ANP were particularly disgraceful in Mian's case, religious parties must also resist the temptation to inflame religious fervour over negative causes. They have a higher responsibility to help Pakistan showcase the essence of our great religion.
With or without other political parties, Khan needs to step forward as a tenacious champion of the rights of all Pakistanis. He has the capacity to wage this essential struggle. The sooner it happens the better it will be for the country, nationally and internationally.
Fahr Ahmed works on UN issues in New York
Source: dailytimes.com.pk/299958/the-essential-fight/
URL: http://www.newageislam.com/the-war-within-islam/fahr-ahmed/removal-of-the-ahmadi-economist-is-an-odious-indictment-of-pakistan-at-multiple-levels/d/116430