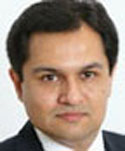 By Dr Mohammad Taqi
2013/04/18
Justice Samdani reached the pinnacle of professional success as a jurist yet conducted himself with the humility and poise of a Sufi
"Judge Sahib will see you now," said an assistant at the Martineau Walker Saleem law chambers located at The Mall, Lahore, as he ushered me into an elegant office. The gentleman behind a stately desk suddenly got up, and said. "Aaiaye, Taqi beta," (come on in my son Taqui), pronouncing my name with an accurate voiceless uvular plosive. The ensuing embrace and handshake put me at an ease with which I could approach the Justice (retired) Khwaja Muhammad Ahmed 'KMA' Samdani for years to come. I had gone to request him to represent me and several other students in a matter that had been resoundingly decided in our favour by the Peshawar High Court but the defendants — the University of Peshawar et al — had gone into an appeal in the Supreme Court. Although cash-strapped at the time, I asked about his professional fee to which he said, "I see merit in your case, you are a friend of the family, and you are from Peshawar, which is very dear to my heart." He waived his fee to represent us as our attorney, but forever remained Judge Sahib for me.
When General Pervez Musharraf deposed Chief Justice Iftikhar Muhammad Chaudhry and other judges in March 2007, the Pakistani-American community, especially the doctors, joined the people of Pakistan in protesting the dictator's action. Many of us were a little ambivalent initially given that the Chief Justice previously had had no qualms about working with General Musharraf and taking an oath under his PCO. I rang up Justice Samdani and sought his advice. He was of the view that while the judiciary's role in validating General Musharraf's coup d'état was not enviable, it deserved a second chance. He said that the judiciary in Pakistan had, unfortunately, found it easier to conform to rather than confront tyranny. "Talk to Aitzaz (Ahsan) and Asma (Jahangir) but support the cause, not individuals," was his counsel. And within days we were in Pakistan participating in the judiciary restoration movement.
Justice Samdani himself conformed neither to a tyrant's dictate nor a friend's request. Serving perhaps as the Sessions judge in the Hazara division he was once asked by a friend to consider a case favourably. The next morning Justice Samdani had the case reassigned to another judge telling his friend that he cannot adjudicate the matter. Justice Samdani, of course, was the one to grant bail to Prime Minister Zulfikar Ali Bhutto in the Nawab Muhammad Ahmad Khan murder case. The Prime Minister ended up being judicially murdered by General Ziaul Haq's handpicked judges, but the bail granted by Justice Samdani would archive for posterity that there was no merit in the case against Bhutto. Justice Samdani was asked by many close friends if anything had influenced his decision to allow Bhutto's bail plea to which he would respond, "Only the merits of the case as presented before us then!"
Zia had Justice Samdani removed from the Lahore High Court bench hearing the cancellation of bail, and posted as secretary law. According to his own account, "After a stint of more than two years as law secretary in the federal government, I came back to my own High Court on the July 1, 1980. It was like a homecoming. But the euphoria did not last long." The dictator had come up with a new oath for the judges, the text of which was not disclosed to them. The judges were asked to report to the Punjab Governor's mansion for the oath ceremony. Justice Samdani along with his brother judges decided to go to the Governor's House with the idea that "if there was anything amiss in the oath, we were always at liberty to resign." While waiting there an emissary of the Chief Justice Shamim Qadri told Justice Samdani that he and a couple of other judges would not be administered oath. He wrote later that he subsequently went home feeling relieved and returned his official vehicle forthwith.
The Chief Justice later called him and then arrived in person at his residence asking him to take the oath, the text of which by then was known. He refused to take oath and remained steadfast in that refusal. He wrote: "My reason for the refusal was that because I had read the text of the oath, which in effect meant an oath of allegiance to the martial law regime as against the constitution." He then collected his belongings all of which, wrapped in sheets, neatly fit in his compact car along with his young children and wife and set off for Peshawar, the city where he had started his career as a teacher in Mathematics and Physics at the Islamia College in the 1950s. He made a phone call to his former student and by then a respected physician, Professor Alaf Khan asking, "Alaf Khan Bhai, will you be home? All of us are coming to Peshawar and would like to stay with you before shifting to Mamoo-jan's (maternal uncle) house in the University Campus." Professor Khan and Justice Samdani's wives were classmates and both hail from Kohat.
After two days at Prof Khan's spacious Dabgari Gardens residence Justice Samdani phoned his Mamoo-Jan — the legendary Professor Dr Ubaidullah Khan Durrani — to tell him he was coming with children and all. Professor Durrani, the pioneer principal of the Engineering College, now a university, had perhaps only a Baithak (sitting room) to spare but that was more than enough for Justice Samdani. Professor Durrani was his maternal uncle, in loco parentis, and above all his spiritual guide (Peer-o-Murshid). The Yale-graduate Justice Samdani sought proximity to his Chishti Sufi master, not material comfort in those turbulent times. And this closeness is what he was seeking when the ailing Justice Samdani went to the picturesque hamlet of Qadir Nagar in Buner, Khyber-Pukhtunkhwa a short while ago. Professor Durrani had established Qadir Nagar as an educational and spiritual community in 1963 held and run under a trust.
Justice Samdani passed away on April 11 in the tranquil Qadir Nagar, and according to his wishes was buried next to Professor Durrani. He was an upright and principled man who did the right thing in the face of brute force. Justice Samdani reached the pinnacle of professional success as a jurist yet conducted himself with the humility and poise of a Sufi.
Rest in peace dear Judge Sahib, you will be sorely missed.
Source: http://www.dailytimes.com.pk/default.asp?page=2013\04\18\story_18-4-2013_pg3_2
URL: http://www.newageislam.com/the-war-within-islam/dr-mohammad-taqi/khwaja-muhammad-ahmed-samdani--the-sufi-judge/d/11214