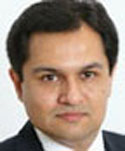 By Dr Mohammad Taqi
April 03, 2014
From meddling in the Middle East at the behest of its Arab patrons to continuing to stoke the fire in Afghanistan, the Pakistani military-intelligence-jihadi complex is not inclined to correct its course in the near to midterm
A rising star of the Urdu electronic media, a reputable English language journalist and a very dear friend, Raza Rumi, narrowly escaped a hail of terrorist bullets last week. One cannot thank the good Lord enough for that. His driver Muhammad Mustafa died of the 11 gunshots sustained in the barrage while his guard remains seriously wounded. Raza is an enlightened person and a balanced analyst who can only be described as a polite, gracious and unassuming man. More importantly, he is someone whom both friends and foes can reason with. The dreaded news, downplayed by most television channels except the Express News that Raza works for, was profoundly disturbing but not surprising. Raza had told me just 24 hours before the attack that apparently hit lists have been prepared and he has been told that his name is also on one of them. It was heartening to see Raza take to the airwaves within hours to speak about the deadly assault with a resolute eloquence; his true grit was truly inspiring. He even penned an op-ed the next day, asking what exactly his fault was.
I think Raza should know his fault, which to me is: chipping away at the obscurantist narrative in a language that most Pakistanis can understand — Urdu. Raza has not said anything that he has not written about before in English but to challenge the jihadist gospel in Urdu is what really gets under their skin. Urdu, television and nonconformist views are a surefire combination to attract the wrath of both state and non-state actors in Pakistan. Raza has not blamed anyone for the hit but does he need to? It cannot be the liberals. When was the last time a liberal — ridiculously called 'liberal fascist' by jihadist media — shot and killed anyone in Pakistan? Preparing hit lists and eliminating intellectual opponents has been a domain of the jihadist enterprise sired by the state itself. The Pakistani state has generously shared a monopoly over violence with the jihadists for as long as one can remember. And it is not about to change any time soon.
A delegation of the Committee to Protect Journalists (CPJ) met Prime Minister Nawaz Sharif after Friday's assault and reported, "We came away impressed with their intent to come to grips with attacks on journalists in Pakistan. As we worked our way down our list of recommendations we found the government was already on the way to addressing many of them, and often planning solutions similar to those we were recommending. It is our duty to remain sceptical, but we left with an entirely different feeling from the Sharif meeting than when we had met with President Asif Zardari in May 2011 or with Interior Minister Aftab Sherpao in July 2006." I have absolutely no reason to share the CPJ's optimism based on a meeting or two. One must indeed be deeply sceptical about the CPJ giving a clean bill of health to an administration when some of those journalists, who literally are marked men, tell one, "The government is not interested in doing much." The CPJ ought to be more careful in choosing its words. It is dealing with a state and society that have a record of impunity against journalists, with over 40 killed in a decade. What behooves the CPJ is due diligence, not undue and premature praise.
The signs are that the Pakistani state remains hooked and high on jihadism. From meddling in the Middle East at the behest of its Arab patrons to continuing to stoke the fire in Afghanistan, the Pakistani military-intelligence-Jihadi complex is not inclined to correct its course in the near to midterm. From the Pakistani government's statement endorsing the Saudi bid for regime change in Syria to turning a blind eye to, if not actively dispatching the Lashkar-e-Jhangvi and Taliban jihadists to achieve that goal, Pakistan's role is plain dubious. The PML-N leadership seems intent on returning personal favours received from the Saudi monarchy by shoving Pakistan into another pernicious conflict that it can surely do without.
In a departure from condemning foreign powers without naming names, the Afghan intelligence service — the NDS — has directly blamed Pakistan for the recent massacre by the Taliban in Kabul's Serena Hotel, in which an AFP journalist, Sardar Ahmad, was also killed along with his wife and two children. Afghanistan said that the "NDS investigations and findings after the tragic incident reveal that Pakistani intelligence services were involved in planning this heinous attack". The so-called spectacular attacks that have unleashed death in major Afghan cities over the past decade have invariably been traced to jihadist terrorists holed up on Pakistani soil but Pakistan has never even slapped their wrist. On the contrary, operations to weed out the Tehreek-e-Taliban Pakistan (TTP) were tweaked or postponed to avoid disrupting the deadly business of the good Taliban. We have argued in this space that the TTP and the Afghan jihadists have always been joined at the hip and, along with Punjab-based jihadists; they are different shades of the regional al Qaeda spectrum.
The Pakistani state, unfortunately, does not plan to cut this Gordian knot of jihadism that it has tied over four decades. The military-intelligence-jihadist complex may actually be getting its ducks in a row for the next round of death and destruction in the region. Kashmir-oriented jihadists like Masud Azhar are being resurrected to undermine improving ties with India. The election of the new ameer (head) of the Jamaat-e-Islami (JI), Mr Sirajul Haq seems like the second coming of his jihadist mentor the late Qazi Hussain Ahmed. Mr Ahmed was an intellectual lightweight compared to his JI predecessors, who was promoted out of turn largely due to his ethnic Pashtun background and connections to the Afghan jihadists to boost the jihad next door. Under Mr Ahmed's tutelage, Mr Haq led the JI's student wing, Islami Jamiat-e-Talaba (IJT) from 1988 to 1991 when IJT members were dispatched to wage war in Khost and Jalalabad. I was at Peshawar University at the time when the IJT, under Mr Sirajul Haq, was recruiting boys on campuses for 'jihad and martyrdom' in Afghanistan. Mr Haq's elevation dovetails with the scheme of things wherein the Taliban are being legitimised at home.
The CPJ's optimism notwithstanding, the Pakistani state is unlikely to kick its jihadist drug habit. The space for those citizens, especially media persons who do not conform, will continue to shrink. Raza Rumi, and others like him, will be left to fend for themselves.
Source: http://www.dailytimes.com.pk/opinion/03-Apr-2014/hooked-on-jihadism
URL: http://newageislam.com/the-war-within-islam/dr-mohammad-taqi/hooked-on-jihadism--pakistani-military-intelligence-jihadi-complex-is-not-inclined-to-correct-its-course/d/66399