By David D. Kirkpatrick
July 3, 2013
CAIRO — Egypt's military officers removed the country's first democratically elected president, Mohamed Morsi, on Wednesday, suspended the Constitution and installed an interim government presided over by a senior jurist.
Tahrir Square, where tens of thousands of opponents of the government had gathered each night since Sunday to demand Mr. Morsi's removal, erupted in fireworks and jubilation at news of the ouster. At a square near the presidential palace where Mr. Morsi's Islamist supporters had gathered, men broke into tears and vowed to stay until he was reinstated or they were forcibly removed. "The dogs have done it and made a coup against us," they chanted. "Dying for the sake of God is more sublime than anything," a speaker declared.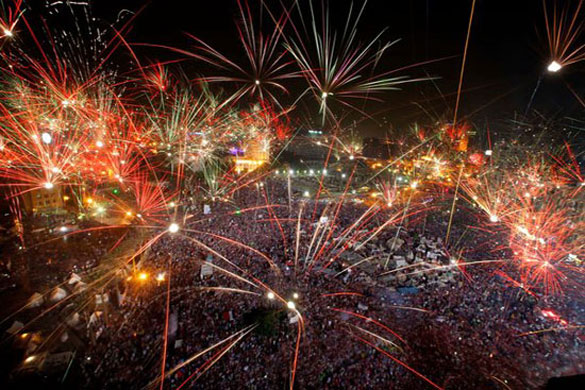 Mr. Morsi rejected the generals' actions as a "complete military coup."
Military vehicles and soldiers in riot gear had surrounded the rally in the hours before the takeover, and tensions escalated through the night. Within hours, at least seven people had died and more than 300 were injured in clashes in 17 provinces between Mr. Morsi's supporters and either civilian opponents or security forces.
By the end of the night, Mr. Morsi was in military custody and blocked from all communications, one of his advisers said, and many of his senior aides were under house arrest. Egyptian security forces had arrested at least 38 senior leaders of the Muslim Brotherhood, including Saad el-Katatni, the chief of the group's political party, and others were being rounded up as well, security officials said. No immediate reasons were given for the detentions.
For Mr. Morsi, it was a bitter and ignominious end to a tumultuous year of bruising political battles that ultimately alienated millions of Egyptians. Having won a narrow victory, his critics say, he broke his promises of an inclusive government and repeatedly demonized his opposition as traitors. With the economy crumbling, and with shortages of electricity and fuel, anger at the government mounted.
The generals built their case for intervention in a carefully orchestrated series of maneuvers, calling their actions an effort at a "national reconciliation" and refusing to call their takeover a coup. At a televised news conference late on Wednesday night, Gen. Abdul-Fattah el-Sisi said that the military had no interest in politics and was ousting Mr. Morsi because he had failed to fulfill "the hope for a national consensus."
The general stood on a broad stage, flanked by Egypt's top Muslim and Christian clerics as well as a spectrum of political leaders including Mohamed ElBaradei, the Nobel Prize-winning diplomat and liberal icon, and Galal Morra, a prominent Islamist ultraconservative, or Salafi, all of whom endorsed the takeover.
Despite their protestations, the move plunged the generals back to the center of political power for the second time in less than three years, following their ouster of President Hosni Mubarak in 2011. Their return threatened to cast a long shadow over future efforts to fulfill that revolution's promise of a credible, civilian democracy. But General Sisi sought to present a very different image from the anonymous, numbered communiqués from the Supreme Council of the Armed Forces that were solemnly read over state television to announce Mr. Mubarak's exit, and the general emphasized that the military had no desire to rule.
"The armed forces was the one to first announce that it is out of politics," General Sisi said at the start. "It still is, and it will remain away from politics."
Under a "road map" for a post-Morsi government devised by a meeting of civilian, political and religious leaders, the general said, the Constitution would be suspended, the chief justice of the Supreme Constitutional Court, Adli Mansour, would become acting president, and plans would be expedited for new parliamentary and presidential elections under an interim government.
Still, there was no mistaking the threat of force and signs of a crackdown. Armored military vehicles rolled through the streets of the capital, surrounded the presidential palace and ringed in the Islamists. The intelligence services put travel bans on Mr. Morsi and other top Brotherhood leaders. The Brotherhood's satellite television network was removed from the air along with two other popular Islamist channels. The police arrested at least two prominent Islamist television hosts and many others who worked at those channels, as well as people who worked at a branch of the Al Jazeera network considered sympathetic to Mr. Morsi, security officials said. And state television resumed denouncing the Brotherhood as it once did under Mr. Mubarak.
Moments after the General Sisi spoke late Wednesday, Mr. Morsi released a short video over a presidential Web site delivering a final, fiery speech denouncing the ouster. "I am the elected president of Egypt," he declared. "I am ready to sit down and for everybody to sit with me and to negotiate with everybody."
"The revolution is being stolen from us," he repeated.
Minutes later, the Web site was shut down, the video disappeared and he e-mailed journalists a statement "as the president of the Republic and the Chief Commander of the Armed Forces" urging all to follow the rules of the recently approved Constitution. Then he called the takeover "a complete military coup which is categorically rejected by all the free people of the country who have struggled so that Egypt turns into a civil democratic society."
And in a sign of how little Mr. Morsi ever managed to control the Mubarak bureaucracy he took over, the officers of the Presidential Guard who had been assigned to protect him also burst into celebration, waving flags from the roof of the palace.
Although the tacit control of the generals over Egyptian politics is now unmistakable, General Sisi laid out a more detailed and faster plan for a return to civilian governance than the now-retired generals who deposed Mr. Mubarak did two years ago. General Sisi made no mention of any period of military rule and granted the acting president, Mr. Mansour, the power to issue "constitutional decrees" during the transition.
Mr. Mansour was named to the bench by Mr. Mubarak two decades ago, before Mr. Mubarak sought to pack the court with more overtly political loyalists or anti-Islamists. Mr. Mansour ascended to the post of chief only a few days ago and, while he is said to be highly regarded, not much is known of his views or how much authority he will truly wield.
General Sisi called for the formation of a "technocratic government" to administer affairs during the transition and also of a politically diverse committee of experts to draft constitutional amendments. It was not clear who would form the government or the committee. The general said that the constitutional court would set the rules for the parliamentary and presidential elections, and the court would also "put forward a code of ethics to guarantee freedom of the press and achieve professionalism and credibility" in the news media.
The general's plan bore a close resemblance to one proposed in recent days by the ultraconservative Islamist Nour Party, and suggested that he was seeking to bring in at least some Islamists as well as liberals and leftists to support the overthrow of the Muslim Brotherhood. The Nour Party, which quickly endorsed the plan, had joined other political groups in accusing Mr. Morsi and the Brotherhood of monopolizing power at the price of a dangerous political polarization.
But unlike liberals, the ultraconservative Islamists were keen to avoid the installation of a liberal like Mr. ElBaradei as a transitional prime minister, or to see the current Constitution — with its prominent recognition of Islamic law — scrapped instead of revised. It was unclear if the generals planned to allow the Brotherhood to compete in parliamentary elections and potentially retake its dominant role in the legislature, which could give it the ability to name a new prime minister.
Brotherhood leaders urged Islamists to resist. "The people will not surrender," Essam el-Erian, a senior Brotherhood political leader, declared on the group's satellite channel before it disappeared from the air. "The military will reach the point when the conflict is no longer between political opponents. Instead the military will be in confrontation with a large sector of the people — I daresay the bigger part."
Reporting was contributed by Kareem Fahim, Mayy El Sheikh and Ben Hubbard from Cairo; Mark Landler from Washington; Alan Cowell from London; and Mona El-Naggar from New York.
Source: http://www.nytimes.com/2013/07/04/world/middleeast/egypt.html?pagewanted=2&_r=0&hp
------------
For Egypt's Islamists, Confusion and Fear amid Celebration
By Kareem Fahim
4 Jul, 2013
Over speakers, the news came Wednesday and some people fainted. An hour later it had settled in, and President Mohammed Morsi's supporters sat dazed on sidewalks or walked home, glassy-eyed.
As he left the sit-in in front of Cairo University, Khaled Mohamed found himself suddenly, and painfully, facing Egypt's new reality. In front of him were soldiers, and beyond them, people who seemed to revel in his misfortune. They celebrated Morsi's fall and the dramatic eclipse of Mohamed's party, the Muslim Brotherhood.
He did not know whether the soldiers were there to protect him and his fellow Islamists, or to watch them. Worse, he was once again out of place in his own country, a condition that the last revolution supposedly cured.
"I'm scared," Mohamed said. "I feel oppressed."
As much of Cairo exploded in euphoria Wednesday, parts of the city fell silent where Morsi's loyalists had protested desperately for days, to stave off what they saw as a threat to democracy and the legitimacy of Egypt's first free presidential election. Their disappointment was a symptom of a nation still far from healed. In their anger was a warning, of unsettled days ahead.
Mohamed said the Brotherhood's members still had not received instructions about what to do next. Many of his comrades said they would maintain a peaceful resistance. Others could not contain their rage.
"There will be a civil war," said Abdullah Mohamed al-Sayed, a teacher. "A grinding, civil war."
The day began in anger. During overnight clashes near the sit-in at the university, at least 18 people were killed, part of a wave of violence in the days before Sunday, when Morsi's opponents rallied around the country demanding that he leave power. Blood stained the sidewalk in front of the university, and formed patches on the shirt of Sherif Fouad, a lawyer.
Birdshot had left a hole on his forehead - fired, he said, by police officers collaborating with thugs who had attacked the sit-in. As they nursed their wounds on a mat in the morning sun, he and his friends awaited a decision from the military on the future of the country.
None of the signs had been good. For days, the army had seemed to flirt with Morsi's opponents, dropping flags on their protests from helicopters.
"Aren't we from the Egyptian people?" Fouad said. "Why is our voice not heard?"
Rage simmered in a tent nearby, where three other men ate breakfast, and seemed to be expecting that the army would take over. The reaction of one of the men, Abu Mohamed, hinted at the danger facing Egypt as it deposed its second president in two years: that some Islamists, feeling their political gains had been thwarted, might turn to violence to regain their rights.
"There will be a strong reaction," Abu Mohamed said, as he ate his eggs and his friends warned against speaking too frankly. "It is either the ballot box, or the bullet box."
There was even greater unease across town, at another protest by Morsi's supporters, a few hours before the Wednesday deadline the army had given to Egypt's political forces to resolve their differences. People spoke of a conspiracy to strip Egyptians of their power, ignoring the millions of other Egyptians who had marched in recent days, fed up with what they saw as a hapless president.
At the protest, the army was the villain, for daring to challenge not just the president but Egypt's new civilian authority.
"Who gives orders to whom?" said Sami Aweida, a French language professor.
Half an hour later, when the army descended, the balance of power between Egypt's two most powerful forces, the military and the Islamists, was tested.
The confrontation was awkward and explosive. Protesters met the armored vehicles as they arrived and shoved the commanding officer who had drawn his pistol. Soldiers fired their weapons in the air. A protester lifted his shirt, daring soldiers to shoot.
Then it calmed, as some protesters, desperate for an ally, tried to bring the soldiers to their side.
"Take care of Egypt!" one man said.
Some of the soldiers were distracted by the pleas and seemed torn. Then the commander spoke, saying the army was there to protect the protest.
"I will not fire," he said. "I don't want to go to hell."
By 10 p.m., soldiers had surrounded the entrance to Cairo University, where the despondent included Ahmed Ali Ismail, who did not belong to any party and saw hope even in Egypt's flawed new politics. He had voted for Morsi because of the powerful movement behind him: He thought it might shake up Egypt's ossified institutions, and would help the country "get rid of the military."
Source: http://www.nytimes.com/2013/07/04/world/europe/for-egypts-islamists-confusion-and-fear-amid-celebration.html?hp&gwh=682E74364D1B6A05B1C6471E1EA52156
URL:
-----------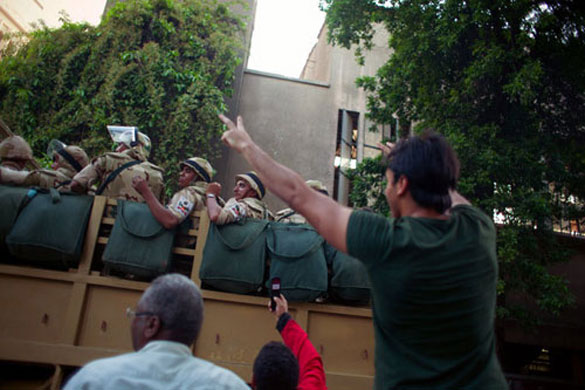 Egyptian Military Tanks Near Palace; Morsi Aide Sees Coup
By David D. Kirkpatrick, Ben Hubbard and Alan Cowell
July 3, 2013
CAIRO — With a potentially violent showdown looming between Egypt's military and the Islamist backers of President Mohamed Morsi, the country's top generals summoned civilian political leaders to an emergency meeting on Wednesday to discuss a new interim government while moving tanks toward the presidential palace and restricting Mr. Morsi's travel — new signals of an impending military takeover. A top presidential adviser said a coup already was under way.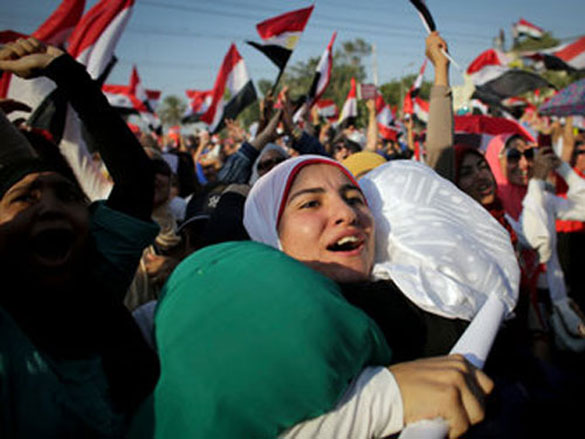 The developments came as street tensions intensified and a 48-hour deadline imposed by the military generals on the increasingly isolated president to meet the demands of millions of unhappy Egyptians came and went.
By 6:30 p.m. military forces began moving around Cairo. Tanks and troops headed for the presidential palace — although it was unclear whether Mr. Morsi was inside — while other soldiers ringed the nearby square where tens of thousands of the president's supporters were rallying.
Many of the Islamists had armed themselves with makeshift clubs, shields made of potcovers or metal scraps and plastic hard hats, and there were small scuffles with the better-armed soldiers. Some soldiers fired their weapons in the air. But the military forces held back.
Soldiers also were seen erecting barbed-wire fences and barriers around a barracks were President Morsi may have been working, Reuters reported, quoting witnesses.
Mr. Morsi's senior foreign policy adviser, Essam el-Haddad, issued an open letter Wednesday afternoon on his official Web page lamenting what he called the imminent takeover of Egypt's first freely elected government.
"As I write these lines I am fully aware that these may be the last lines I get to post on this page," he wrote. "For the sake of Egypt and for historical accuracy, let's call what is happening by its real name: Military coup."
Security officials said the military's intelligence service had banned any travel by President Morsi and senior Islamist aides, including the Muslim Brotherhood's supreme guide, Mohamed Badie, and his influential deputy, Khairat el-Shater.
People close to the president said at around the same time that talks with the generals continued but looked increasingly futile. A decisive move was expected within hours, these people said, although the president and his advisers remained at liberty.
With millions of Egyptians waiting to see what the military would do, Mr. Morsi reiterated in a Facebook posting what he had said in a long and rambling televised speech Tuesday night, vowing to stay in power as Egypt's first democratically elected president following the 2011 revolution that overthrew Hosni Mubarak.
"The presidency reaffirms that violating constitutional legitimacy threatens democratic practice by veering off the right track and threatens the freedom of expression that Egypt has lived since the revolution," the statement said.
Among those called to the meeting with the generals was Mohamed ElBaradei, the former United Nations diplomat who has been tapped by the protesters demanding Mr. Morsi's ouster as one of their negotiators over a new interim government, Reuters reported, citing unnamed official sources.
Mr. ElBaradei has been an outspoken critic of Mr. Morsi and his allies in the Muslim Brotherhood, the Constitution they pushed to a referendum and the previous period of military rule. He has declined to comment in his current position. News agencies reported that top Muslim and Christian religious authorities were invited as well.
Gehad el-Haddad, a Brotherhood spokesman, vowed that the group would not bend in its defiance of the military. "The only plan," he said in a statement posted online, "is to stand in front of the tanks."
The Obama administration, which has been watching the crisis with increased worry, reiterated that it had taken no sides and hoped for a peaceful outcome. "We do, of course, remain very concerned about what we're seeing on the ground," a State Department spokeswoman, Jennifer R. Psaki, told reporters a daily briefing. "And we do realize, of course, that is an extremely tense and fast-moving situation in Egypt."
The escalating tensions between Mr. Morsi's Islamist supporters and their opponents continued to spur street violence overnight. Egyptian officials said at least 18 people had died and more than 300 were injured in fighting near an Islamist rally in support of Mr. Morsi near Cairo University. State media reported that the dead included victims from both sides and that most died of gunshot wounds.
Even before the military deadline expired, there were signs of a new crackdown on Mr. Morsi's allies in the Muslim Brotherhood. Police officials said Wednesday that they had arrested six bodyguards protecting the Brotherhood's spiritual leader.
The police initially reported that more than 40 Islamists were wounded by birdshot, and Islamist witnesses later said that the police had begun shooting at them as well. But after the initial attack, the Islamists began lashing out and beating people suspected of being assailants. Opponents of the Islamists said they too were shooting as the fighting continued through the night.
By morning, the area around Cairo University was filled with burned cars, smoldering piles of garbage, makeshift barricades, and torn textbook pages in English, French and German. Campaign posters from last year's historic presidential election still hung on the walls.
A few hundred Islamists and a smaller crowd of their opponents clustered in opposing camps, both sides armed with clubs and sticks. A sign hung by Mr. Morsi's supporters declared: "To the coup supporters, our blood will haunt you, and you will pay an expensive price for every spilled drop of our blood."
Some of the Islamists gathered belong to more conservative factions than the Muslim Brotherhood and said the efforts to oust Mr. Morsi demonstrated that democracy itself could not be trusted. "Isn't this the democracy they wanted?" asked Mahmoud Taha, 40, a trader. "Didn't we do what they asked?"
"We don't believe in democracy to begin with; it's not part of our ideology. But we accepted it and we followed them and then this is what they do," he said. "They're protesting against an elected democracy."
His friend who gave his name as Abu Hamza, 41, said: "This is a conspiracy against religion. They just don't want an Islamist group to rule."
All said they were bracing for a return to the repression Islamists endured under the former government of President Hosni Mubarak. "Of course. What else are they going to do?" said Ahmed Sami, 22, a salesman.
Their opponents were vitriolic. "God willing, there will be no Muslim Brother left in the country today," said Mohamed Saleh, 52, a laborer armed with long shaft of timber labeled "martyr in the making."
"Let them get exiled or find rocks to hide underneath like they used to do, or go to prisons, it doesn't matter," he said. "No such a thing as 'an Islamist party' shall exist after today."
The confrontation on the streets reflected an equally bitter clash at the most senior levels of state and military power.
"We swear to God that we will sacrifice even our blood for Egypt and its people, to defend them against any terrorist, radical or fool," the armed forces said on a military-affiliated Facebook page early on Wednesday in a posting titled "Final hours." It was published shortly after Mr. Morsi delivered an angry, impassioned speech pledging to uphold the legitimacy of the elections that brought him to power last year.
The posting quoted Gen. Abdul Fattah el-Sisi, Egypt's top officer, as saying "it was more honorable for us to die than to have the people of Egypt terrorized or threatened."
Mr. Morsi insisted late Tuesday that he was the legitimate leader of the country, hinted that any effort to remove him by force could plunge the nation into chaos, and seemed to disregard the record numbers of Egyptians who took to the streets demanding he resign.
ut before the president's speech, Egypt's generals took control of the state's flagship newspaper, Al Ahram, and used it to describe on Wednesday's front page their plans to enforce a military ultimatum issued a day earlier: remove Mr. Morsi from office if he failed to satisfy protesters' demands.
The military's vow to intervene raised questions about whether Egypt's revolution would fulfill its promise to build a new democracy at the heart of the Arab world. The defiance of Mr. Morsi and his Brotherhood allies raised the specter of the bloody years of the 1990s when fringe Islamist groups used violence in an effort to overthrow the military government.
Under the banner headline "removal or resignation," Al Ahram reported that the generals would "abolish the controversial Constitution" and form a committee of experts to write a new charter, form an interim presidential council with three members led by the chief of the constitutional court, and put a military leader in charge of the executive branch as an interim prime minister.
Mr. Morsi refused to back down. In an impassioned, if at times rambling, midnight address broadcast on state television, he hinted that his removal would lead only to more violence.
"The people empowered me, the people chose me, through a free and fair election," he said.
"Legitimacy is the only way to protect our country and prevent bloodshed, to move to a new phase," Mr. Morsi said. "Legitimacy is the only thing that guarantees for all of us that there will not be any fighting and conflict, that there will not be bloodshed."
"If the price of protecting legitimacy is my blood, I'm willing to pay it," he said. "And it would be a cheap price for the sake of protecting this country."
Mr. Morsi was responding to the threat by the military issued a day earlier that he had 48 hours to meet the protesters' demands. With the clock still ticking on that deadline — set for about 3 p.m. Wednesday Egyptian time — it still remained possible that the sides could reach some compromise or power-sharing arrangement. But the vehemence of the president's speech and the official reports of arrests made the possibility seem remote.
Faced with the huge protests against Mr. Morsi and the growing paralysis of Egyptian politics, a more conservative Islamists party, Al Nour, also broke with the Muslim Brotherhood to join the call for early presidential elections. But Al Nour and other ultraconservatives, known as Salafis, have sought to preserve the newly approved Constitution because they cherish its provisions regarding Islamic law, and a military-backed constitutional panel may well revise them.
Brotherhood leaders have sounded increasingly alienated and determined to fight. "Everybody abandoned us, without exception," Mohamed el-Beltagy, a senior Brotherhood leader, declared in a statement posted Tuesday on the Internet. "The police looks like it's assigned to protect one group of protesters and not the other," he wrote, "and maybe instead of blaming the thugs they will shortly accuse our supporters of assaulting themselves in addition to their alleged assault on the opposition."
"They want us to go away to prevent bloodshed," Ahmed Aref, a Brotherhood spokesman, declared to a crowd of Morsi supporters not long after the president's speech. "We tried that before in the fifties, and people's blood was shed in prisons, detention centers and by the hands of dawn visitors for 20 years. Do you want this to happen again?"
"No!" the crowd cheered.
David D. Kirkpatrick and Ben Hubbard reported from Cairo and Alan Cowell from London. Kareem Fahim and Mayy El Sheikh contributed reporting from Cairo, and Rick Gladstone from New York.
Source: http://www.nytimes.com/2013/07/04/world/middleeast/egypt.html?pagewanted=3&hp
-------------------
Coup under way in Egypt, President Morsi's aide says
Reuters, Jul 3, 2013
CAIRO: Egyptian President Mohamed Morsi's national security adviser said a military coup was under way on Wednesday after an army deadline for the Islamist leader to yield to street protests passed without any agreement.
In a show of force, several hundred soldiers with armoured vehicles staged a parade on a main road near the presidential palace, and security sources said Morsi and the entire senior leadership of his Muslim Brotherhood were banned from leaving the country.
"For the sake of Egypt and for historical accuracy, let's call what is happening by its real name: military coup," national security adviser Essam El-Haddad said in a statement, warning of "considerable bloodshed" .
A presidential aide said Morsi was working at a Republican Guard barracks in a Cairo suburb, near to his office, and had chosen to stay there. Other close advisers were allowed to leave the compound after the 5pm (1500 GMT) deadline expired.
The aide, Yasser Haddara, a communications adviser, said it was unclear whether Morsi was free to return to the palace where he spent the previous night. His message to supporters was to resist the "military coup" peacefully and not use violence against troops, police or other Egyptians.
Military chiefs, vowing to restore order in a country racked by protests over Morsi's Islamist policies, earlier issued a call to battle in a statement headlined "The Final Hours". They said they were willing to shed blood against "terrorists and fools" after Morsi refused to give up his elected office.
Armoured vehicles took up position outside the state broadcasting headquarters on the Nile River bank, where soldiers patrolled the corridors and non-essential staff were sent home.
There was no immediate sign of military action to remove the president. However, security sources told Reuters that the authorities had imposed an international travel ban on Morsi and at least 40 leading members of the Brotherhood in a list sent to airport police.
In a last-ditch statement a few minutes before the deadline, Morsi's office said a coalition government could be part of a solution to overcome the political crisis. But opposition parties refused to negotiate with him and met instead with the commander of the armed forces.
Celebrations
As the ultimatum expired, hundreds of thousands of anti-Morsi protesters in Tahrir Square in central Cairo let off fireworks, cheered and waved Egyptian flags in celebration.
There was no immediate comment from the armed forces, and a spokesman said no fixed time had been set for a statement. Egyptian blogger Su Zee tweeted: "And in typical Egyptian fashion, #egypt is late for its own coup."
The Arab world's most populous nation has been in turmoil since the fall of Hosni Mubarak as Arab Spring uprisings took hold in early 2011, arousing concern among allies in the West and in Israel, with which Egypt has a 1979 peace treaty.
US oil prices rose to a 14-month high above $100 a barrel partly on fears that unrest in Egypt could destabilise the Middle East and lead to supply disruption.
The massive protests showed that the Brotherhood had not only alienated liberals and secularists by seeking to entrench Islamic rule, notably in a new constitution, but had also angered millions of Egyptians with economic mismanagement.
Tourism and investment have dried up, inflation is rampant and fuel supplies are running short, with power cuts lengthening in the summer heat and motorists spending hours fuelling cars.
Less than three hours before the deadline for Morsi to agree to share power or make way for an army-imposed solution, the president's spokesman said it was better that he die in defence of democracy than be blamed by history.
"It is better for a president, who would otherwise be returning Egypt to the days of dictatorship, from which God and the will of the people has saved us, to die standing like a tree," spokesman Ayman Ali said, "Rather than be condemned by history and future generations for throwing away the hopes of Egyptians for establishing a democratic life."
Yet despite Islamist talk of martyrdom and warnings of civil war, the dominant mood in Cairo streets was one of elation rather than foreboding.
Earlier, in an emotional, rambling midnight television address, Morsi said he was democratically elected and would stay in office to uphold the constitutional order, declaring: "The price of preserving legitimacy is my life."
Liberal opponents said it showed he had "lost his mind".
The official spokesman of the Muslim Brotherhood said supporters were willing to become martyrs to defend Morsi.
"There is only one thing we can do: we will stand in between the tanks and the president," Gehad El-Haddad told Reuters at the movement's protest encampment in a Cairo suburb that houses many military installations and is near the presidential palace.
Consultations
Armed forces commander General Abdel Fattah al-Sisi held a lengthy meeting with the main liberal opposition leader, Nobel peace laureate Mohamed ElBaradei, the top Muslim and Christian religious authorities and leaders of smaller Islamist parties and of the youth protest movement that led the anti-Morsi protests, the military said.
The Brotherhood's political arm, the Freedom and Justice Party, refused an invitation to meet Sisi, saying it only recognised the elected president.
The Egypt25 television station owned and run by the Brotherhood broadcast live coverage of pro-Morsi demonstrations. The biggest was in a Cairo suburb where tens of thousands of protesters displayed posters of the president and cheered Islamist speakers.
The state-run Al-Ahram newspaper said Morsi was expected to either step down or be removed from office and the army would set up a three-member presidential council to be chaired by the head of the Supreme Constitutional Court.
A military source said the army was first holding consultations with political, social and economic figures and youth activists on its draft roadmap for the country's future.
At least 16 people, mostly supporters of the president, were killed and about 200 wounded when gunmen opened fire overnight on pro-Morsi demonstrators at Cairo University.
The Brotherhood accused police of the shooting. The Interior Ministry said it was investigating and the governor of Giza province, where the clash occurred, submitted his resignation.
Police Back
In central Cairo, many stores were shuttered and traffic unusually light. The stock market index recovered losses to close just 0.3 percent lower on hopes of a rapid solution to the crisis.
The Egyptian pound weakened against the dollar at a currency auction, and banks closed early, before the army deadline.
For the first time in many months, uniformed police were back patrolling the streets, and the interior ministry said in a statement it would "confront all forms of violence".
"I could tell that the police are back with their full power on the streets like the old days before the Jan. 25 revolution," said Amir Aly, 25, a protester outside the presidential palace.
Military sources told Reuters the army had drafted a plan to sideline Morsi, suspend the constitution and dissolve the Islamist-dominated upper house of parliament.
Coordinated with political leaders, an interim council would rule pending changes to the Islamist-tinged constitution and new presidential elections, the military sources said.
The opposition National Salvation Front, an umbrella group of liberal, secular and leftist parties, and the "Tamarud — Rebel!" youth movement leading the protests nominated ElBaradei to negotiate with army leaders on a transition.
Source: http://timesofindia.indiatimes.com/world/middle-east/Coup-under-way-in-Egypt-President-Morsis-aide-says/articleshow/20899521.cms
----------
Egypt army deployed amid Cairo tension
3 July 2013
The Egyptian military has moved into key sites in Cairo hours after its ultimatum passed for President Mohammed Morsi to resolve a political crisis.
Tens of thousands of pro- and anti-Morsi protesters have gathered in areas of the capital, as Egyptians await a televised statement.
Opposition figure Mohammed ElBaradei and religious leaders will make this statement, the state news agency said.
Before the deadline passed, Mr Morsi repeated his refusal to step down.
His aides took to social media to describe the events as a military coup but there was no confirmation of this.
There are unconfirmed reports that Egyptian officials have placed an international travel ban on Mr Morsi and other senior members of the Muslim Brotherhood.
Armoured personnel carriers
The army is involved in a show of force, fanning out across Cairo and taking control of the capital, BBC correspondent Quentin Sommerville reports.
He described seeing eight armoured personnel carriers heading for Cairo University in Giza, where one of the main pro-Morsi demonstrations was being held. At least 16 people were killed and about 200 wounded at the university when gunmen opened fire on protesters on Tuesday night.
Another pro-Morsi protest was being held in Nasr City, where New York Times reporter Kareem Fahim tweeted that soldiers had fired into the air to disperse demonstrators.
Opponents of the president gathered in Tahrir Square in their tens of thousands. When the army's 48-hour deadline passed, cheers echoed across the square.
Whether it is a military coup or not, on the streets of Cairo it certainly looks like one, our correspondent says.
Before the army's ultimatum to President Morsi expired at 16:30 (15:30 GMT), he posted a Facebook message calling for a roadmap involving an interim coalition government.
His whereabouts were not immediately clear but BBC Arabic confirmed that he was at the Cairo headquarters of the Republican Guard, a military site where he has stayed since the start of the protests.
One of Mr Morsi's aides, Issam al-Haddad, wrote on his Facebook page that he was "fully aware" his words might be the "last lines I get to post on this page", adding that what was happening was a "military coup".
Defiant Speech
The army had earlier held meetings with political and religious leaders to discuss the crisis.
But the ruling Freedom and Justice party - the political arm of Mr Morsi's Muslim Brotherhood - stayed away from the talks.
Mr Morsi's opponents have accused him and the Muslim Brotherhood of pushing an Islamist agenda onto Egypt, and say that he should stand down.
In a defiant televised speech on Tuesday evening, Mr Morsi said he would give his life to defend constitutional legitimacy, and blamed the unrest on corruption and remnants of the ousted regime of Hosni Mubarak.
Army chief Gen Abdel Fattah al-Sisi was reported to have met his top commanders on Wednesday - and a source close to the military told AFP news agency they had been discussing details of a post-Morsi roadmap.
Members of the Tamarod (Rebel) movement, which has mobilised millions of demonstrators onto the streets to demand Mr Morsi's resignation, were also part of the meeting. So too were leading religious figures and Mr ElBaradei.
Egypt in 90 seconds: How did we get here?
The president was put under further pressure by the resignation of six ministers from his government on Monday, including Foreign Minister Kamel Amr.
Elected President
Mr Morsi became Egypt's first Islamist president on 30 June 2012, after winning an election considered free and fair following the 2011 revolution that toppled Mubarak.
But dissent has been growing, with protesters angry at the lack of change in post-revolution Egypt and accusing the Brotherhood of trying to protect its own interests.
"This is a president threatening his own people. We don't consider him the president of Egypt," said Mohammed Abdelaziz, a leader of Tamarod.
However, Mr Morsi and the Brotherhood still have significant public support, and both sides have drawn huge numbers to rallies in recent days.
At least 39 people have now died since the protests began on Sunday.
The instability has also hit global oil prices, sending US light crude above $100 a barrel for the first time since September last year, amid concerns supply routes through the Suez Canal could be affected.
Source: http://www.bbc.co.uk/news/world-middle-east-23157801
URL: https://newageislam.com/the-war-within-islam/david-d-kirkpatrick/army-ousts-egypt's-president;-morsi-is-taken-into-military-custody/d/12420