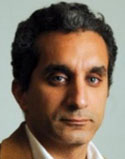 By Bassem Youssef
24 May 2013
"And even this lamp is 'Haram'!" Egyptian actress Yasmin Abdelaziz ironically said in a movie where she portrays a woman going through a phase of extremism. Of course, the filmmakers exaggerated the extent of extremism, thus her character believed everything was "Haram" (prohibited in Islam), the television included.
Such a scene, mimicked in several movies and TV series throughout the years, has contributed to creating a stereotype of Salafists and Islamists in general.
Conservative youths were not the reason behind this exaggerated stereotype. The real reasons behind the exaggerated portrayal were the statements people had heard from clerics; religious figures who chose to alter religious life in Egypt with alien concepts.
Before the 1970s, the so-called "satellite clerics" did not exist. There weren't even satellites to begin with.
Allow Me to Remind You
When I was in prep school, I remember there were these audio cassettes sold in front of mosques. They were full of Fatwas (religious edicts). It went something like this: "This is prohibited because it's heresy. That is prohibited because it is misguiding." And in the end, everything ends up in hell. Those born in the 70s like me remember this phase. During our teenage years (in the 80s and beginning of the 90s), the current satellite stars were stars on cassettes. If you rode a cab or a bus or entered a shop, you would hear the intimidating scream of a cleric reminding you of your sins and listing the bad actions you are committing, which will surely take you to hell.
One of the things that were extremely prohibited was the TV, and therefore, of course, satellite dishes. Those influenced by such Fatwas were not only the people who returned to Egypt from working in the Gulf. The influence of these clerics was neither limited to the poor categories of society. Those who lived throughout this phase may remember that such Fatwas influenced the wealthy category as well as private university students. For example, there was a clear Salafist tide at the American University in Cairo, even if it was only limited to a small percentage when compared with the entire student body.
A female friend of mine, whom I have known since high school and who graduated from the American university, chose to wear the Niqab. She married a conservative friend of hers from the university. Part of her routine was attending these clerics' sermons. She and her husband even hosted religious lessons at their house. Years after that, I met her and she had divorced and stopped wearing the Niqab. She told me that one of the things that was forbidden at their house was the TV and satellite dish. The religious gatherings she attended described the TV and the satellite dish as the devil's entrance into the home. Her husband even accused her of "wanting to harm his faith" because she wanted to have a TV in the house.
Exploitation of Religion
This is of course before the exploitation of religion went viral through satellite channels.
After many religious channels began to make huge profit, Fatwas prohibiting the TV disappeared. Suddenly, the TV was no longer prohibited! More than one fourth of Egypt's satellite channels are religious, in which the same clerics - who used to be held captive of cassettes and who used to prohibit the TV describing it as a heresy - appear! I am just wondering about this. Don't those who attend these clerics' sermons at mosques ask about this? Or is talking about this is not welcomed upon the basis of the Quranic verse: "O those who believed do not ask about things which, if they are shown to you, will distress you." These things appeared in the form of high salaries (paid out in various currencies) to present shows or host guests. Owners of channels engaged in the business with great rigor. And so, there are now commercials marketing Islamic bedcovers and Islamic phones and ringtones. This is a business that operates through the TV, which was formerly forbidden, and which was deemed a product of the devil.
Islam and the Issue Of Music
With the TV, the issue of music must surface. But how will they deal with Fatwas that forbid musical instruments? There are vocals and chants that do not use musical instruments. To be frank, I respect this commitment. If some people think that music is to be prohibited, it is their business. They are free to believe that human voices are "Halal" whilst music produced by musical instruments is "Haram." It is okay to use other alternatives. But what has provoked me throughout the past years is the extent of "development" that the human voice has been subjected to.
Try watching some religious channels. Observe the introductions and the channel's Islamist commercials that have been modified to suit the channel's style. You will realize you have been deceived more than once when it comes to the digitally-altered music that is played. And you may wonder whether this music is truly produced by a person's voice or a musical instrument playing. You will realize that it has been produced with high standards at recording studios that produce "prohibited" music.
I remember meeting an American woman who announced she converted to Islam years ago. She commented on this issue saying: "Okay, fine. They are fooling us but do they think they will fool God?"
This is the point here. They claim piety and conservatism when it aligns with their interest. But when the interests change, they twist religious texts and rules. So at some point, the TV is prohibited, and at another it is a means to spread their word. Music was prohibited yesterday. But today, studios that cost a lot more money than musical instruments are producing digitally altered voices so as you cannot differentiate them from musical instruments.
Last year, loans were prohibited. This year, the interest on loans is seen as administrative fees. Elections were prohibited, but it is okay to resort to them now to attain authority. Females going out to vote is prohibited, but if the candidate is an Islamist, then we need the vote of every sister for the sake of God's victory.
At this point, I cannot help but repeat the question of the Muslim American sister:
"Okay, fine. They are fooling us, but do they think they will fool God?"
Bassem Youssef is an Egyptian doctor, satirist, and the host of El Bernameg ("The Program"), a satirical news program broadcast by a private Egyptian television station. The press has compared Youssef with American comedian Jon Stewart, whose satire program The Daily Show inspired Youssef to begin his career. Despite all controversy and legal debates it has sparked, El Bernameg has been a major success. It is constantly topping the regional YouTube charts, making Youssef's YouTube channel one of the most subscribed to in Egypt.
Source: http://english.alarabiya.net/en/views/news/middle-east/2013/05/24/Tele-clerics-and-custom-made-fatwas-.html
URL: http://newageislam.com/the-war-within-islam/bassem-youssef/tele-clerics-and-custom-made-fatwas/d/11842