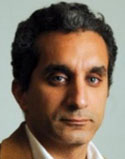 By Bassem Youssef
7 June 2013
Eight months ago, I wrote my first article in Egypt's al-Shorouk newspaper, which discussed the spread of atheism, or at least the weakness of faith. I entitled the article "The benefits of atheism," because I realized that the spread of this phenomenon may carry unperceived benefits, such as modernizing and altering religious rhetoric in order to confront new challenges, instead of burying our heads in the sand.
Many people attacked me, thinking I was encouraging atheism and infidelity, all because I dared to speak about something that is discussed day and night on social networking websites, during private gatherings, and even during public ones sometimes. I did not come up with anything new.
Apostasy Becomes A Phenomenon
There are requests to discuss atheism at the Shura Council, Egypt's upper house of parliament, but no one attacks those who make these requests. Heated debate about this phenomenon has appeared on Islamist websites, YouTube and religious TV programs. As usual, extremist people have surfaced who know nothing other than insults. Some of them have even called for punishment for apostasy.
In all fairness, such calls have not only been made during Islamist rule, but also under former presidents Anwar Sadat and Hosni Mubarak. In August 1977, a draft law stipulating punishment for apostasy was discussed. But this law was not implemented. Those who submitted the draft were a group of lawyers who based the draft law on the second article of the constitution, which states the principles of Islamic law are the main source of legislation.
This happened when the Islamists were far from power. Perhaps now, during Islamic governance, there is more chance of a repeat such calls, especially that now there are more people calling for implementing a punishment for apostasy.
In this article, I will not confront calls for implementing punishment for apostasy by resorting to slogans on human rights and freedom of expression. But I will make a humble attempt to refute these calls by resorting to my humble knowledge in the Qur'an and Sunnah. As usual, some will criticize me and make comments such as: "as if we need you to speak about religion," and "leave talk about religion to experts." It is as if talking about religion is a certain category's monopoly. Religion is a topic that everyone has the right to talk about. We are expressing our opinions, and everyone has the right to do so.
Anyway, let's go back to the topic. Those who support punishing apostasy base their argument on three or four Hadiths (A collection of traditions containing sayings of the prophet Mohammad.). The most famous of them is "whoever changes his religion, kill him." The other talk is that it is not Halal (permissible by Islam) to kill a Muslim unless in three cases: in Qisas (equality in punishment) for murder, a married person who commits adultery and one who reverts from Islam (apostate) and leaves the Muslims.
The Hadith of "whoever changes his religion, kill him." is narrated by Ibn Abbas as Ikrimah narrated later. The problem here is that Imam Muslim ruled out Ikrimah from his Hadiths. Only one Hadith for him was announced in Hajj. He left out that one Hadith so scholars of a certain sect labelled him as a liar.
As for the Hadith on the one who reverts from Islam (apostate), there are many stories on it linked to Abdullah Min Masaoud's narration that ties apostasy to a declaration of war and harming Muslims.
Some scholars say that he who abandons Islam is doing only that, while many others believe apostasy is a declaration of war on Muslims. But since its people's lives that we are talking about here, many scholars do not think that converting is enough of an excuse to murder, but that apostasy is a threat facing Muslims or Islamic nations as a whole.
But what is the Qur'an's clear and frank opinion regarding the issue of apostasy? How did the prophet deal with Muslims who became apostates?
Bassem Youssef is an Egyptian doctor, satirist, and the host of El Bernameg ("The Program"), a satirical news program broadcast by a private Egyptian television station
Source: http://english.alarabiya.net/en/views/news/middle-east/2013/06/07/Islamic-debates-on-apostasy-in-Egypt-.html
URL of the 2nd part of the article:
http://newageislam.com/the-war-within-islam/bassem-youssef/the-quran-and-punishing-apostasy/d/12090
URL: http://newageislam.com/the-war-within-islam/bassem-youssef/islamic-debates-on-apostasy-in-egypt/d/12052