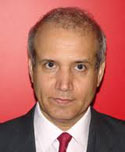 By Abdulrahman al-Rashed
15 January 2014
Those who are defeated dream of a saviour coming even from afterlife. They exalt Salaheddine who died before 900 years and they carry the pictures of Turkish Prime Minister Tayyip Erdoğan. This is the state of some Arabs who invent images from the history or the present and decorate them, hoping that these will inspire change.
Establishing a perfect image for leaders is a trap. This trap has closed on Erdogan after he enjoyed few years of popularity in the Arab world due to his stances that eventually backfired. Before cheering for him, they cheered for Iraq's dictator Saddam Hussein and then to Hezbollah chief Hassan Nasrallah. All these enjoyed massive popularity among Arabs but this popularity eventually withered as a result of their death or defeat.
Erdogan: All Talk, No Teeth
Erdogan is a character worth appreciating for his accomplishments in Turkey. Then he tried to engage in regional conflicts when he supported Turkish ships trying to break Gaza's siege and the mission failed as a result of the Israeli attack. He lost the naval battle but gained the affection of many Arabs - just like Saddam who launched few missiles on Israel.
Erdogan also adopted a progressive and firm stance against Syrian President Bashar al-Assad's regime when it began to suppress protesters at the beginning of the Syrian revolution. But many were disappointed about a year later because he didn't act on any of his threats against the regime. Hopes were big on Turkey, because it is the biggest country bordering Syria and has the 9th military power in the world. Erdogan didn't get involved in the war and settled for condemnations.
Erdogan thought that his support of the Muslim Brotherhood in Egypt would end up with the Brotherhood's victory but he involved himself in the mud of Egyptian politics. His friend, Abdullah Gul, the Turkish president, attempted to decrease the tension with the new Egyptian regime by making calm statements and meeting the Egyptian ambassador after he was ordered to leave.
Hostilities against Erdogan grew especially inside Turkey, peaking at the corruption scandal regarding the Iranian gold deal and the exchange of billions of dollars - a scandal which his ministers and party's affiliates were accused of being part of.
The Unravelling Of the Arab-Adored Leader
Erdodan's Arab allies resorted to the customary means to defend his mistakes, claiming that the judiciary and the police are corrupt, that Gulen's Islamic movement has conspired against him and that the media is against him too. If the judiciary is corrupt, then how did Erdogan brag that he was managing a state of institutions and how did he resort to the judiciary to get rid of military men and media figures for about 10 years?
If the judiciary, police and media are all corrupt, then what state did Erdogan govern? If the Gulen movement is suspicious and is taking orders from the American government, then how did he ally with it and achieve governance all these years? Now, not only are the police, judiciary and Gulen are against him but even his friends within the Justice and Development Party, including President Abdullah Gul, are as well.
Using his jurisdictions as prime minister, Erdogan fired those who investigated him, his ministers and their sons in the case of the Iranian funds. He also presented a draft bill to place the judiciary under the supervision of the head of the government - that is under his supervision!
This move of course increased the anger of different political parties in Turkey forcing Erdogan's party to negotiate with them in search for solutions, which included the possibility of excluding Erdogan altogether.
Erdogan's Arab allies are in a tough situation. They are losing their beloved leader. Saddam left, Nasrallah disappointed them and Mursi was ousted. And just like that, this may be the end of the Turkish leader whom many Arabs loved despite the fact he never really confronted Israel, did not bring Mursi back to power and did not fight al-Assad.
In the end, we found out that he was helping the Iranian regime by laundering its money and oil at a time when it was killing the Syrian and Iraqi people.
Abdulrahman al-Rashed is the General Manager of Al Arabiya News Channel. A veteran and internationally acclaimed journalist, he is a former editor-in-chief of the London-based leading Arab daily Asharq al-Awsat, where he still regularly writes a political column. He has also served as the editor of Asharq al-Awsat's sister publication, al-Majalla. Throughout his career, Rashed has interviewed several world leaders, with his articles garnering worldwide recognition, and he has successfully led Al Arabiya to the highly regarded, thriving and influential position it is in today.
Source: http://english.alarabiya.net/en/views/news/middle-east/2014/01/15/Erdogan-s-Arab-allies-disappointed--1880.html
URL: http://www.newageislam.com/the-war-within-islam/abdulrahman-al-rashed/erdogan-s-arab-allies-disappointed/d/35302