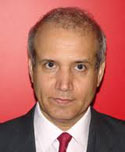 By Abdulrahman Al-Rashed
11 April 2013
Electronic forgery, an easy job of any Photoshop user, has tampered with facts and made documents bearing official seals mean nothing anymore.
In the Syrian conflict, stacks of documents have been spread around, but we do not know how real they are. The last of these documents was about Saudi Arabia, and it was published twice with amendments. It was marked with the interior minister's signature. The document states that he agreed to releasing hundreds of jailed al-Qaeda fighters and send them to fight in Syria.
This would actually be a good idea to watch al-Qaeda and the Assad's regime fight each other until they both die. But if they don't eliminate each other, al-Qaeda fighters will pose a major threat. They may turn back and threaten their countries and the allies of their countries.
This is what we have tried in Afghanistan, and this is what Bin Laden did to us. He was sent to fight the Soviets and returned to fight the people of Saudi Arabia, Muslims and others.
The above mentioned document is most probably a fabrication of the Syrian regime as part of its propaganda war aimed at spreading deception. But why? Let us remember that the war in Syria is between three parties; the regime forces, rebels – who are the people of Syria – and extremist groups. It is a complicated triangle, and it will become more complex when battles intensify and reach a decisive phase.
Assad and His Extremist Allies
The two original parties engaged in fighting were the regime forces and the rebels. Extremist parties pose a shared problem for both Assad forces and rebels. They were allies of Assad's regime before the uprising. At the same time, they opposed everyone because of their Takfiri [accusing others of apostasy] way of thinking. Assad has embraced and supported these groups during the years of war in Iraq against the Americans. He also used them in his battles against Sunnis in Lebanon. He additionally claimed that they were the ones who assassinated Rafiq Hariri, a former Lebanese premier. Assad then tried to topple Siniora's Lebanese Cabinet by mobilizing the extremist Fatah al-Islam group, which is widely known to sympathize with the Syrian president. He sparked fighting that lasted for months. The Lebanese army put an end to it by destroying the Naher al-Bared camp, causing the displacement of tens of thousands of Palestinians.
Intimidation
In order to intimidate Arabs and the West, the Assad's regime pushed these extremists to take part in the revolution so he can claim fighting al-Qaeda.
It is the same lie that Assad told the Americans before. However, this time, al-Qaeda slipped out of his control and turned against the regime. As a result of al-Qaeda's participation in the war, hundreds - some say thousands - of Arab and Western jihadists flocked into Syria. And thousands of Syrians joined groups that carry black flags and not the Syrian revolution's flag. They seek to establish an extremist Islamist state!
Two days ago, an alleged document emerged announcing that the al-Qaeda organization in Iraq is united with the Syrian al-Nusra Front. This has not been verified yet. It could be a fabrication of the besieged Syrian regime seeking to intimidate the West, particularly those who support the armed opposition, which is steadily encroaching upon Assad's regime from all directions. The document could also be true, thus reflecting the failure of the Syrian state as well as the sectarian division in Iraq - the two neighboring countries in crises.
Who Stands To Gain?
The truth is, announcing that Iraq's al-Qaeda is united with the Syrian al-Nusra Front benefits two parties; Assad's regime and the Cabinet of Maliki, who depicts his rivals as al-Qaeda members too.
Unlike the Syrian regime, it does not make sense for Saudi Arabia to push hundreds of al-Qaeda prisoners to support the Syrian opposition, because Saudi Arabia is also a target of these evil men. And as we see, al-Qaeda members are currently present in Yemen, a country which neighbors Saudi from the South. These members did not leave Yemen to fight in Syria because al-Qaeda considers Saudi Arabia a major target. Furthermore, the group is linked to Iran, which controls them via mediatory Islamist groups. Also, let us not forget that Saudi Arabia has banned its citizens from joining the fighting in Syria; it has previously issued warnings that it will punish anyone who does so. This is because the kingdom knows that there are groups, in Syria, who would embrace newcomers, these groups aim to target Saudi Arabia, not liberate Syria.
Abdulrahman al-Rashed is the General Manager of Al Arabiya News Channel. A veteran and internationally acclaimed journalist, he is a former editor-in-chief of the London-based leading Arab daily Asharq al-Awsat, where he still regularly writes a political column. He has also served as the editor of Asharq al-Awsat's sister publication, al-Majalla. Throughout his career, Rashed has interviewed several world leaders, with his articles garnering worldwide recognition, and he has successfully led Al Arabiya to the highly regarded, thriving and influential position it is in today.
Source: http://english.alarabiya.net/en/views/2013/04/11/Did-Saudi-Arabia-send-Qaeda-prisoners-to-Syria-.html
URL: http://www.newageislam.com/the-war-within-islam/abdulrahman-al-rashed/did-saudi-arabia-send-qaeda-prisoners-to-syria?/d/11143