By Abdul Hamid Khan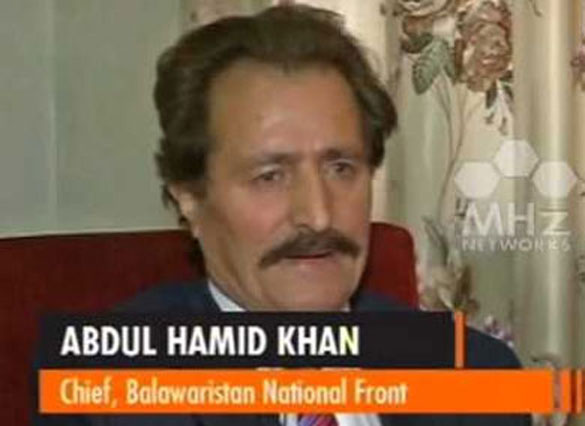 Chairman
Balawaristan National Front (BNF)
Head Office: Majini Mahla, Gilgit, Balawaristan (Pakistan & China Occupied Gilgit Baltistan)
18th September 2017
His Excellency,
Mr. António Guterres,
Secretary General
United Nations,
New York
I have the honour to submit some chilling facts about the atrocities committed by Pakistani regime against the two million indigenous people of UN disputed region, Pakistan occupied Gilgit Baltistan (PoGB). Political activists, religious persons and students of Pakistan occupied Gilgit Baltistan (PoGB) who do not comply with occupation regime's dictation have been framed under the controversial anti-Terrorist act and Schedule 4. On the other hand, real terrorists who actually kill innocent civilians by bombing shrines, highways, and other places of peaceful social gatherings, roam freely despite video evidence and eye-witnesses. Those terrorists who killed thousands of innocent citizens of PoGB on KKH and in Gilgit on the basis of their faith have not been brought to Justice to this day.
The New Definition of Terrorism in PoGB
It's not necessary to impose anti-terrorism law in PoGB if (or when) anybody kills indigenous people or poses threat to humanity through bombing or any other means of violence. But this anti-terrorist law is instantly imposed against anyone who seeks help and raises voice against any injustice, or tries to hold a Press Conference, or writes letters to the UN, or demands for UNCIP declared rights, or the rights given by UN in The Universal Declaration of Human Rights.
In spite of no presence of any UN declared terrorist organizations here in PoGB, more than a hundred and fifty people of PoGB are facing Schedule 4 (this is a China-Pakistan draconian law). Schedule 4 accused are subject to worst conditions than a prison, whereby the accused persons are even barred from dropping their own minor children at schools, or taking them to a Hospital for treatment. Anyone who attempts to violate these senseless restrictions is put behind bars without bail for years. Qayoom Khan of BNF is languishing in Gilgit Jail, along with several others, for the past one year without bail under this new definition of terrorism.
Those who disobey Pakistani orders by making peaceful demands for their rights are declared as terrorists. On the one hand, in an utterly disgraceful move to ensure its own colonial control over PoGB, Pakistan has deployed its citizens in all the departments including Administration, Police, and Judiciary to deprive the indigenous employee from their due rights. These Pakistani deployed senior officials are prejudiced and have evil designs against the indigenous people, who bully and defer fundamental rights of the people of occupied Gilgit Baltistan. On the other hand, Pakistan shamelessly keeps blowing the siren for self-determination for Indian controlled Jammu &Kashmir, at almost every international forum where it is invited. Since there does not exist a free, fair and legal/constitutional Judicial system in this UN-declared disputed part of J&K, the indigenous people of PoGB and BNF particularly have no place whatsoever to file an appeal/writ against any of these Pakistani allegations, slanders, and atrocities. Even in Pakistan the Judiciary is subservient to its Military. To make things worse, here inPakistan occupied Gilgit Baltistan (PoGB) the whole Judiciary is under the control of Military and its intelligence agency, besides its imposed Administration. The consequence is that no Judge dares to deliver any judgement on his own against the will of Pakistan Military and its Administration (which is appointing Authority).
BNF (Balawaristan National Front) has been banned and our books, brochures, and newspapers, including the daily Baang-e-Sahar and weekly Baang have been banned and its Editor-in-Chief Daulat Jan has been put behind bars by imposing Schedule 4 and anti-terrorist act, while religious hatred and anti-Gilgit Baltistan propaganda is openly and fully supported by Pakistani occupation regime.
The lives, property and freedom of the people is under serious threat due to Pakistan and China's joint conspiracy to strengthen their occupation under the garb of CPEC (China Pakistan Economic Corridor).
Pakistani forces have choked legitimate voices and grabbed our lands to build cantonments and torture cells for Pakistani and Chinese forces and their intelligence agencies. We may recall that under UNCIP resolution, Pakistan has no right to remain in this disputed land. Pakistani forces and its civilians had to withdraw within a period of 3 months after this UNCIP resolution passed on 28th April 1949. After a lapse of 69 years of non-compliance, Pakistan has now virtually changed the whole demography and converted 72000 Sq KM area of this UN declared disputed region into a Nazi-style Torture Camp.
People of PoGB have no Right of vote, freedom of speech, or access to impartial Justice:
i. Our people have no right to choose their representatives, either in India or in Pakistan parliament.
ii. Freedom of speech is 100% denied
iii. Access to Justice is denied, because there is no Legal/Constitutional High Court and Supreme Court. The Judicial system of PoGB is under firm control of Administration and Military regime.
iv. The right to their land and resources is violated.
v. There is no free Media and Human Rights Organization.
vi. Shia religious majority of PoGB is under threat.
Pakistani political and religious parties are fully sponsored by its Military power and civil Administration to practice on their will, but the voices of indigenous nationalist political parties are choked by imposing terrorist laws, and labeling those who dare to oppose CPEC and Pakistani occupation as anti-nationals and traitors. The tyranny of Pakistan against indigenous people is not only a flagrant violation of UNCIP resolutions but it also ridicules The Universal Declaration of Human Rights and even violates Pakistan's own constitution and Supreme Court verdicts.
BNF members and others who have been sent to Jail in false cases can be hanged or kept in prison for life without giving them the right to appeal in any fair, impartial and legal/constitutional High Court and Supreme Court. One Naveed Hussain from Bargo, Gilgit was hanged in a fabricated crime case, which, according to documents, astonishingly transpired after he was put in Jail. Baba Jan, Iftikhar and many others have been given life imprisonment, when they protested the killing of an innocent father and his son who were demanding help.
Many people including political workers and religious workers and leaders are facing death sentence in Gilgit and Chilas Jail and other areas without giving them the right to appeal in any Legal/Constitutional High Court or Supreme Court.
It's the duty of the UN to send Fact Finding Mission to ascertain the truth of its own declared disputed region as per UNCIP 13 August 1948, 5th January 1949 and 28th April 1949 resolutions.
Finally, BNF appeals to the UN and UNSC to take over the control of this disputed region, or, at least, ask Pakistan to give the cases of the above mentioned political workers and other activists to the International Court of Justice or any other impartial Court for a fair trial. Clearly, Gilgit Baltistan (according to UNCIP resolutions of 13th August 1948, 5th Jan. 1949, and 28th April 1949 and so on) does not fall under the ambit of Pakistan's constitution and its imposed Administration and Judicial system.
BNF and other Political and religious workers in Pakistan occupied Gilgit Baltistan are facing death sentences in fake cases without right of appeal in any High Court and Supreme Court.
Abdul Hamid Khan
Chairman
Balawaristan National Front (BNF)
Head Office: Majini Mahla, Gilgit, Balawaristan (Pakistan & China Occupied Gilgit Baltistan)
Website: www.balawaristan.net
Email: balawaristan@gmail.com
balawaristan@hotmail.com
Ph: 0032 22311750
APPENDIX:
The following BNF (Balawaristan National Front) workers and leaders are languishing in Jail for the last one year without bail:
1. Majeedullah Khan (from Yasen) arrested on 2nd Oct 2016, seriously tortured by JIT (Joint Investigation Team, includes all the Pakistani agencies and Police under the ISI). A staged drama was played out alleging recovery of weapons from his possession. He was tortured until 25th October 2016 and then sent to Jail on the same day by labelling him as an Indian agent. Constant rounds of malignant rumors were spread around against him, BNF, and the whole disputed GB region, with the help of the Pakistani media.
2. Sanaullah Khan, a student who was living in Rawalpindi for his college was arrested by ISI and Police on 4th Oct 2016 from Rawalpindi, and sent to Jail on 25th October 2016 on judicial remand on terrorist charges. His only fault was to dispatch Brooshaaski language books from Rawalpindi, Pakistan to Gahkuch of PoGB.
3. Inayat Karim was arrested on 30th September 2016 and sent to Jail on 25th October 2016 , charged on collecting books on Brooshaaski language and pamphlets.
4. Qayoom Khan GS, BNF Ghazer and candidate GBLA, arrested in Schedule 4 on 26th August 2016 from Yasen, because he participated in a meeting without permission.
5. Qoowat Khan President BNF Yasen Unit, once released and re-arrested on 12th Oct 2016 and sent to Jail on 25th October 2016 in fake arms act.
6. Marooko (Haveldar retired) from Yasen on 8th September 2016 was sent to Jail, when he denied to quit BNF.
7. Mahboob Ali Advocate arrested on 12th Feb. 2017, when he was going to address the Media, along with Safdar Ali, to refute IG Police Zafar Awan's false allegations against BNF Chairman and its members. Both Safdar and Mahboob were sent to Jail, after 7 days of JIT torture, by labelling their intended action of holding a Press Conference as an act of terrorism.
8. Safdar Ali Central President BNF arrested on 12th Feb. 2017, just before his Press conference in Gilgit.
The list below consists of members of BNF who were arrested under Schedule 4.
9. Qayoom Khan, General Secretary district Ghazer, president Yasen unit and ex candidate GBLA, is in Jail, arrested on 26th August 2016, tortured by JIT with false cases registered against him.
10. Daulat Jan, Chief Editor Daily Bangesahar (Urdu) and weekly Baang (Eng) was arrested under schedule 4, because of his journalistic endeavors. His newspapers were banned.
Those who are facing Schedule 4 and can be detained any time if and when they dare to speak for their rights.
1. Asif Ali Ashraf, Leader of BNSOB hails from Yasen
2. Aslam Inqalabi, from Yasen
3. Burhan, General Secretary, Gilgit
4 Liaqat Ali (N.Sub. Ex ISI) from Yasen
5. Mohammad Rafiq, Vice Chairman, BNF from Gilgit
6. Mohammad Wali (Ex-Soldier), from Yasen
7. Saqib Umar, Kashorot, Gilgit
8. Wazir Shafi (Advocate), from Yasen
Those who fled the country due to dire threats to their lives:
1. Advocate Shokoor Khan was forced to flee PoGB on 14th December 2016, due to severe threats to his life. His only crime is being my brother, and refusing to take ISI's order to be their agent against me and BNF.
2. Sher Nadir Shahi fled on 22nd October 2016, because of severe threat to his life. He is Coordinator of BNSOB (Balawaristan National Students Organization).
3. Shahid Hussain, BNF leader and Chief Coordinator of BNSOB & G and ex candidate of GBLA from Gilgit
4. Aafaq Ahmed (Aafaq Balawar), leader of BNSOB from Gilgit
URL: https://www.newageislam.com/the-war-islam/political-activities-considered-terrorism-impunity/d/112580