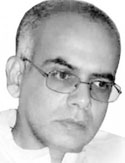 By Syed Mohammad Ali
February 19th, 2016
It has been well over a year since the Army Public School attack, which prompted the government to announce the National Action Plan (NAP) to combat terrorism. The NAP aimed to use a comprehensive approach to tackle the menace of extremism and terrorism, and recognised the need for a national narrative to counter extremism. It is encouraging to see a growing conceptual consensus that the prevailing extremist narrative in Pakistan must be tackled as part of a counter-extremism strategy, since emphasis on the use of force alone to combat terrorism cannot succeed. Developing such a counter-narrative has, however, not proven easy.
A significant proportion of scholars, policymakers and opinion-makers within our country, as well as abroad, have now pointed to the tangible relationship between narrowly constructed Islamic curricula and religious extremism, militancy and violence. Madrasas in particular have come under increasing scrutiny for promoting intolerance within their curricula. While all madrasas are obviously not considered centres of Jihadi militancy, even those without direct links to violence are suspected of promoting an ideology that provides religious justification for sectarian and Jihadi violence.
Madrasas may, however, have become a convenient scapegoat for the problem of religious extremism and violence. Unfortunately, the use of religious rhetoric goes beyond madrasas, and has been deployed in repeated regional conflicts, including the proxy war in Afghanistan during the Cold War context. As a result, it is not just madrassas but the curriculum of the education sector as a whole, which may be held responsible for creating an atmosphere of intolerance that is used to fuel violence.
Pakistan's government, encouraged by the international community, has tried to bring madrasas under its control for the past decade. Besides attempts to register madrasas, or scrutinise their sources of funding, sporadic attempts have been made to introduce modern subjects like mathematics, science and social studies alongside the existing religious curriculum. To date, the oversight of madrasas and their activities remains difficult. While a majority of them have registered with the government, they are reluctant to cede their autonomy, especially in terms of what they teach and how. This resistance is understandable since madrasa networks and mosques are the main constituencies of not only sectarian organisations, but also religio-political parties, which look towards madrasas to expand their support base.
On the other hand, there are evident divergences between our political parties on what is terrorism and how it should be countered, which makes it challenging to develop a cohesive narrative to counter intolerance and extremism within the educational curriculum across the provinces, especially since the devolution of power under the 18th Amendment.
Creating an effective counter-narrative, in fact, goes beyond educational reforms, given that such rhetoric is part of our public discourse and propagated through a range of public and social institutions ranging from the Council for Islamic Ideology to the pulpit of neighbourhood level mosques.
One thing is for certain: myopic narratives based on narrow interpretations of faith have to be countered with relevant ideological counter-messaging. Administrative or surveillance oriented measures to deal with extremist narratives are not enough, be they in the form of regulating madrassas, or trying to discourage hate speech during Friday sermons, or even preventing dissemination of literature that promotes militancy or sectarianism. Effective countering of the extremist narrative must necessarily engage with and challenge the myopic faith based on ideological assertions in our education curricula and in public institutions, using the Islamic tradition itself, rather than secular ideas, which are more readily deemed imported, irrelevant or illegitimate.
There are many progressive Muslim scholars who can help utilise over 1,400 years of knowledge production from within the Islamic faith to help build an effective counter-narrative. It is about time that such religious scholars are actively engaged by the state and its relevant public institutions to highlight intrinsic principles of moderation, tolerance and critical thinking from within the Islamic tradition, which can refute and override the essentialising elements of the currently dominant religious narrative holding sway over our public and educational domains.
Source: tribune.com.pk/story/1049892/reassessing-our-counter-narrative/
URL: http://www.newageislam.com/the-war-within-islam/syed-mohammad-ali/reassessing-pakistan's-counter-narrative/d/106399