By Sultan Shahin, Editor, New Age Islam
21 May 2010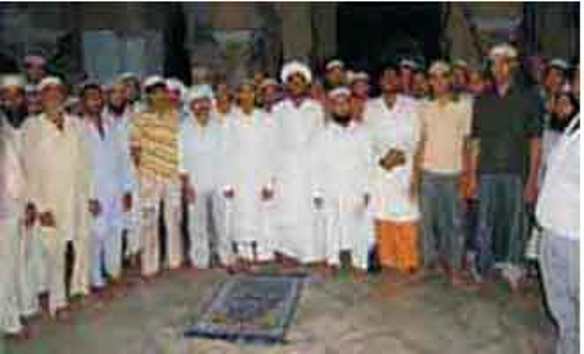 Quoting a press release of Majlis-e-Ahrar, Punjab, the Daily Sahafat, Delhi (18 May 2010) reports that Muslims are proud of the fact that, with the intervention of Majlis-e-Ahrar chief Maulana Amanullah and the Shahi Imam of Punjab Maulana Habeebur Rahman Saani Ludhianawi, they were able to raise their heads high in this Kufristan, the land of Kafirs. Ahrar volunteers raised the war cry of Allah-o-Akbar when the local administration removed the film shooting apparatus of a movie company that was trying to shoot a film "Tanu weds Manu" reportedly without any permission inside the premises of a mosque. [Urdu paper report published below]
It is possible that, as reported, the movie-makers were doing something unauthorised. If so, local Muslims were right to protest and Majlis-e-Ahrar was right to come to their aid if the administration was reportedly not listening to them as there are few Muslims in Kapurthala. It is quite possible that the administration went into action only when they apprehended a law and order problem following the involvement of Majlis warriors. If true the administration should be taken to task by the higher authorities for allowing this unauthorised shooting to continue within the mosque premises despite the local Muslims' protest.
But the proud victory celebration in this "Kufristan" was amazing. As reported, this victory "not only stopped the shooting of the film but restored the prestige of the few Muslims who live in Kapurthala", said Dr. Abdur Rasheed and other Muslims thanking the Shahi Imam of Punjab Maulana Habeebur Rahman Saani Ludhianawi and Majlis-e-Ahrar. They said: "we are proud of our lion-hearted leader whose courageous intervention raised our heads high with pride in this Kufristan."
Clearly there are people in our community who are not happy living in what they call Kufristan, the land of infidels, even though the overwhelming majority of people in India are believers. But a believer for them is one who believes in their narrow interpretation of a religion that had come to this world as a blessing for the entire world. Not for them is the Quranic dictum lakum deenakim waleya deen (For you your religion and for me mine). The only Deen for them is the one they think they possess. There are no other deens in the world. God has sent to this world no prophets other than Prophet Mohammad (S) as far as they are concerned. It means nothing to these people that the Holy Quran has repeatedly demanded that we believe in all the prophets (1, 24, 000, according to one account,) as a part of our basic faith and give them equal respect as Prophet Mohammad (S) and treat their followers as Ahl-e-Kitab (People of the Book) and have close social interaction with them including establishing marital relations. Indeed even within that Deen, for them the only correct interpretation is the one they believe in. No one else has the right to interpret Islam according to his own light and live by it.
These Kufristanis apparently believe they are living in the Mecca of Prophet Mohammad's early years of prophethood. But if that is the case, should they not be following the policy of Prophet Mohammad in those days. Are they aware what horrendous atrocities the Prophet and his followers had to face day in and day out? And do they know what the Prophet and his followers did? They did not even raise a finger in their defence. So, if you believe you are a Muslim living in early seventh century pre-Hijri Kufristan of Mecca, behave like one. Don't go to the administration protesting shooting of a movie in your masjid precincts. Be grateful for having a masjid in the first place. Muslims in Kufristan Mecca didn't have a mosque at all.
However, the question for us, the mainstream Muslims, to ponder is: do we want people like this living in our midst? Can we live peacefully in this multi-cultural, multi-religious Darul Aman with some in our midst treating it as Darul Harb? Would the confrontationist behaviour of these people not embroil us all in a conflict with other people in our multi-religious, multi-cultural society? How would people from other religions distinguish between mainstream Muslims and these Kufristanis? How would they know this Muslim is a HIndustani and this one is a Kufristani? Is it not time we asked the few Kufristanis among us to leave us and migrate to the land that was specifically created for them? Obviously when Pakistan was created it was clear that it would not be able to accommodate all Indian Muslims. So who was it created for? Apparently the founders of Pakistan, whether they were Muslims or Hindus, must have thought this new country will be a haven for those who were uncomfortable living among Kafirs and want to live among the "pure." How come we still have people among us who consider this land Kufristan? What are they doing here? What is there motive in living in our midst? How come they are allowed to run major warrior organisations, mosques and newspapers?
A popular Dawn columnist Nadeem F. Paracha writes in a recent column: "A few weeks ago I got an email from a reader about a Pakistani in the US who (on Facebook) accused me of being a "Zionist-backed agent of secularism". When someone asked the gentleman that, if he hated the US so much why was he living there, he conveniently (and without any hint of irony) claimed that his mission was to convert (to Islam) as many Christians and Jews in the US as possible." Now, is it possible that these Kufristanis are living in India with a similar motive? After all, Jamaat-e-Islami and Jamiat-ul-Ulema did not support the creation of Pakistan with a similar motivation.
But can we mainstream Muslims, who are proud of and happy living in multi-religious India, allow these Kufristanis to live in our midst? Should we not ask them to leave for the "land of the pure," where there would be no "kafirs" (the Hindus have been practically weeded out), only Shias and Sunnis, Deobandis and Barelwis, Salafis and Ahl-e-Hadeesis and, of course, Ahmadis, both the Lahoris and the Qadianis?
URL: https://www.newageislam.com/the-war-within-islam/why-live-in-kufristan?-go-to-pakistan;-it-was-created-for-the-likes-of-you/d/2870

URL: https://www.newageislam.com/the-war-within-islam/why-live-in-kufristan?-go-to-pakistan;-it-was-created-for-the-likes-of-you/d/2870