By Greg Constantine
19 Jun 2013
B
idoon women sell clothing at a market outside of Kuwait City, but cannot obtain business licenses.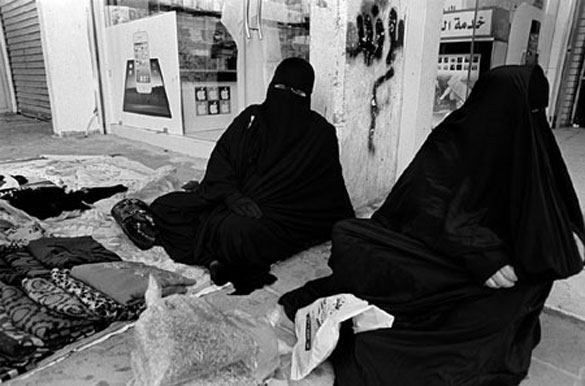 After Kuwait's independence in 1961, one-third of its population was granted Kuwaiti nationality, another third was naturalised as citizens, and the rest found themselves without nationality and considered "bidoon jinsiya".
Since then, generations of Bidoon, as they are now called, have been stateless in their own country. Translated from Arabic, "Bidoon" means "without". It is estimated that some 100,000 people from the Bidoon community in Kuwait are without the right to citizenship.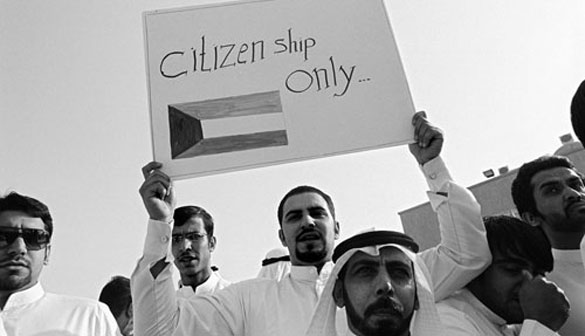 Gregory Constantine/Al Jazeera
-----------
Bidoon gather for a demonstration in the Taimaa area, 45 minutes outside of Kuwait City to demonstrate for their right to equality and citizenship.
Up until the 1980s the Bidoon worked in government jobs: in the military, in the police, and as workers for the Kuwait Oil Company. Since the mid-1980s - and especially after Kuwait's liberation from Iraq after the first Gulf War in 1991 - the Kuwaiti government has adopted policies that have taken away or denied the Bidoon a number of rights.
Though they have lived in Kuwait for generations and have played a vital role in its development, they are considered foreigners by the government.
While international human rights organisations such as Refugees International and Human Rights Watch have criticised the Kuwaiti government for policies that have marginalised the Bidoon community for decades, it continues to stand by its right to determine who is a citizen and who is not.

Gregory Constantine/
-------------
Three men from the Bidoon community sit at a dewaniya, or gathering that is an indispensable feature of a Kuwaiti man's social life.
"There are conditions to take up Kuwait nationality. Some of these conditions are not met by the people in this community," says Saleh al-Saeed from the government agency that handles all issues related to the Bidoon.
"The main condition, not the only condition," al-Saeedi told Al Jazeera in a phone interview, " is that you had to be registered with the Kuwait government in 1965. The majority of the people from this community were not registered then."
As the Arab Spring swept across the region two years ago, the Bidoon became more vocal in demanding equal rights and citizenship. Even though their demonstrations in 2011 and 2012 were met with violent crackdowns by the authorities, the Bidoon community is still determined to be recognised as citizens in the country they call home.
Source: http://www.aljazeera.com/indepth/inpictures/2013/06/201361417936140789.html
URL: https://newageislam.com/the-war-within-islam/greg-constantine/kuwait-s-people--without---prior-to-1991-the--bidoon--community-enjoyed-the-same-rights-as-all,-but-now-they-re-treated-as-second-class-citizens/d/12173