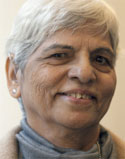 By Zubeida Mustafa
May 08, 2020
THE world would have been denied the richness and scholarship of some of Franz Kafka's literary work — especially The Metamorphosis — had his friend and executor, Max Brod, not decided to ignore Kafka's instruction in his will to destroy the unpublished manuscripts he left behind. Kafka died young in 1924.
Other writers have generally been pragmatic by not leaving a will. There are quite a number of them though we hardly note it. Albert Camus' A Happy Death as well as Agatha Christie's Sleeping Murder saw the light of day when the authors were no more.
Such books usually have a story behind them. Those who take the responsibility of ensuring that a work is not figuratively buried with the author not only have faith in the latter but are also erudite enough themselves to appreciate the value of the writing. One such instance is that of Naveed Ahmad Tahir who put together the incomplete memoirs of her father, Dawn's former editor-in-chief Ahmad Ali Khan, in 2014. In Search of Sense did not tell the whole story when death took away its author in 2007.
Naveed tried to leave no questions unanswered by putting together her father's copious notes and some published and unpublished material in the book which also contains some commissioned articles by family members and fellow journalists.
Naveed describes Khan Sahib as a "shy and self-effacing" person who was reluctant to write about himself. She managed to persuade him to embark on his autobiographical mission by suggesting that a decision about its publication could be taken later. So it was basically Naveed's own decision to publish it. She has dedicated the book to the "young and aspiring journalists" who will definitely benefit from it. The book reflects fully Khan Sahib's ideological ethos and journalistic "moral boundaries" that made him one of the greatest editors in Pakistan.
I have recently learnt of one more book by another Dawn colleague published posthumously that proved to be a challenge of another kind. When Shama Askari presented me with three slim volumes she has had published I was curious. Authored by Ibn-i-Said, one of them was a collection of short stories that appeared in literary magazines more than five decades ago.
In effect, they had been lost to the world until they surfaced again in 2018, thanks to Shama's efforts at playing detective. I had never heard this name till I was told that it was our own M.H. Askari who had been a leader writer and columnist in Dawn.
Askari Sahib, as we called him, was a gem of a person, affable and helpful with profound knowledge and information of current affairs and personalities. He was so closely embedded in the world of English journalism that it was a discovery for me that his forte was also Urdu literary writing. He never spoke about it and how would we know as he used the pen name Ibn-i-Said (Mirza Mohammad Said was his father).
Why did he want to hide his identity, I asked Shama (who incidentally is his daughter-in-law)? She at once sent me a quote by Askari Sahib himself explaining his choice of being anonymous, "…in the presence of an accomplished writer (the well-known Urdu critic Hasan Askari) I thought it was better to write under a pen name".
Normally having a collection of published afsanas compiled in one book would not be regarded as a major feat. But in this case, it was. Askari Sahib left no record and it was backbreaking work to trace stories with the by-line of Ibn-i-Said scattered in six literary magazines spanning a period of 25 years, with the first one having appeared in 1945. There was no clue that would help Shama to even start her search.
After 10 years, she had nearly given up when she found an issue of the Mah-i-Nau in Askari Sahib's papers that he had entrusted to her shortly before his death in 2005. Then it took her two years with support from Dr Asif Farrukhi and unending visits to libraries (from Bedil to KhwajaMushfiq and Ghalib libraries) to trace out 40 stories. Some of these subtly record the underlying sentiment of resistance against the colonisers in whose army the author was himself serving during the closing months of the Second World War.
Shama doesn't describe her work as a labour of love but says she actually felt "honour bound and compelled" to search for the stories and have them published. "He had almost entrusted me with this job and I implicitly believe that the written word or inspired work cannot die, it has a life of its own," she adds passionately.
Whatever one's motivation for publishing a work posthumously, a sense of commitment must be there. It clearly exists in both cases mentioned in this column. For the readers what matters is that they have not been denied the chance of reading these works that now enrich the book world.
Original Headline: Posthumous works
Source: The Dawn, Pakistan
URL: https://www.newageislam.com/spiritual-meditations/whatever-ones-motivation-publishing-work/d/121810