By Yoginder Sikand, New Age Islam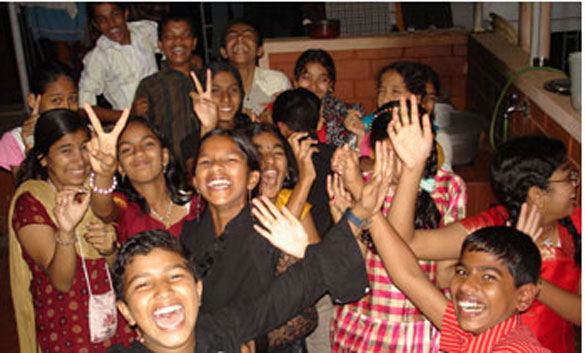 Modern 'mainstream' education is faced with a major crisis of meaning. Although it may seem to do well in imparting information, it miserably fails in inculcating positive human values in students. While it seeks to cram children's heads with facts and figures, it does little, if anything at all, to make them better, more loving, joyful and compassionate human beings. Contemporary education being geared essentially to training students for the job market, children are carefully schooled in such values as aggressive competition, self-centredness, blind imitation of Western culture and unbridled materialism and consumerism. Positive values, such as concern for society, particularly the under-privileged, love, sharing, handling relationships, dealing with insecurity, failure, rejection, jealousy, anger and conflicts within and without the family, respect for cultural and religious diversity, caring for the environment and so on, receive little or no attention. If at all these values are taught, it is in a boring and preachy fashion, unrelated to the rest of the educational system, and fails to make much of an impact. How values should be integrated into modern education thus remains a pressing dilemma.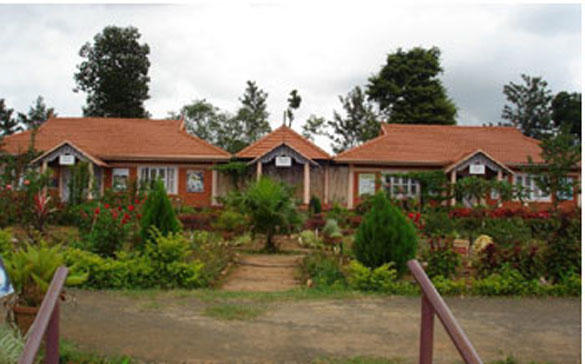 Set up in 2003, the Kerala-based Vishwa Seva Education Trust (VSET) spearheads what it calls the "Living Values Movement" which seeks to enable students appreciate and internalise positive values using innovative methods of facilitation that steer clear of the authoritarian teaching methods used in most schools. VSET's slogan 'Together For a Joyful World' neatly sums up its mission.
VSET operates through a network of facilitators, who are trained free of charge. VSET facilitators now work in almost 200 schools, private as well as government-run, mostly in Kerala, Tamil Nadu and Karnataka, but also in Maharashtra, Gujarat and Chhattisgarh, and reaching some 45,000 students. In some of these schools, VSET pays the facilitators a modest remuneration, out of the funds that it receives from public donations. In other cases, two or more schools share the cost of the facilitator among themselves. Facilitators can be just about anyone--including housewives, college students, businessmen and others who like interacting with children and who also want to transform themselves in the process. Any school can arrange to have a VSET facilitator.
VSET facilitators interact with batches of students from the seventh grade onwards in 40-minute sessions in what are called 'Joy Clubs'. Each Joy Club session is devoted to a particular theme or value. VSET volunteers have prepared a detailed list of some sixty values, which the programme seeks to promote awareness about. These include not just positive values but also adverse situations which students might not be comfortable discussing with their parents, peers and teachers. The values the programme focuses on as well as the material that is used for this purpose are carefully designed to be non-sectarian so that the programme has a universal appeal and is not biased in favour of or against any community or religion.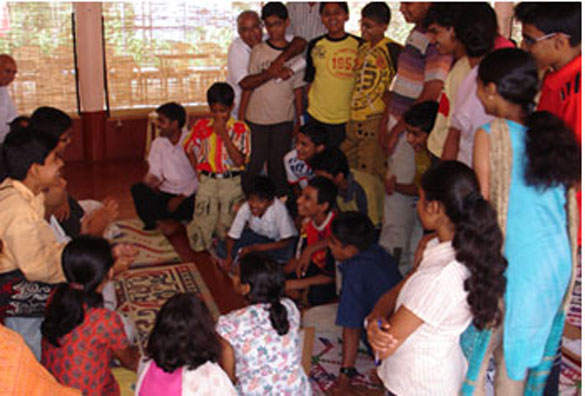 Drawing on the real-life experiences of the students themselves, supplemented by material freely accessible to the public on the VSET website, skits, video clippings, fun-filled games and interactive stories, VSET facilitators encourage students to reflect, discuss and voice their own opinions on a range of values and situations in a non-judgmental and non-authoritarian manner. The process is designed to inspire the interest the students by making Value Education fun-filled and joyful. There are no exams to be passed or textbook lessons to be crammed, and so there is no fear of failure. The facilitator's role is that of a co-learner along with the students, and she considers herself as their friend, whom they can be free with and fully trust. Rather than seeking to impose her views on the students, she enables them to explore and think for themselves, in the process also learning from them.
VSET facilitators also interact with teachers and parents of students, seeking to promote awareness of positive values as well as the ability to properly handle troubling situations. Plans are underway to extend the Living Values Movement to corporate offices and to reach the theme of the movement to people from all walks of life. VSET is also approaching various educational bodies and boards to promote awareness about its programme and to encourage them to implement it in the schools affiliated to them.
Recently, VSET set up a small, picturesque campus in the mountains in Waynad in Kerala, where facilitator enablement workshops are regularly conducted and camps are held for students from schools in nearby towns and villages.
Judging by the feed-back that VSET has received, the impact of the "Living Values Movement" on children's awareness, confidence and ability to positively deal with others has been impressive. The movement has also enabled many shy or reticent students overcome their inhibitions. Without having been preached to, scores of students have, through VSET's Joy Clubs, been enabled to become more socially conscious, positive-minded, creative and better equipped to handling adverse situations.
Says one enthusiastic parent, 'The VSET programme provides children a platform to understand more about values, which will help them make the right choices to succeed in life, and to prepare them to serve humanity.' Another parent relates how through her daughter, having gone through the VSET programme, was able to teach her the dignity of labour. When she asked her daughter, why her teacher was seen walking with the school sweeper, she replied 'Every work has its own dignity.' Adds another approving teacher, 'Our students have become more open, confident and broadminded and joyful, better prepared to face the realities of life' the students, too, readily express the changes that the VSET programme has wrought in their lives. One student relates that she now takes care not to waste food and makes it a point to help her mother in household chores. Another student relates how the programme has helped a school-mate of hers become more loving and friendly. 'The programme has helped me stop using abusive language', says yet another. A fourth student chips in, 'I now know that to build a good society, every individual has to change and contribute, and for that we ourselves have to become role models.'
URL: https://newageislam.com/spiritual-meditations/value-education-non-preachy-way/d/7672