By Trisha Sertori
11/19/2009
Descended from Berber, Arab and African slaves who once answered the Islamic call to prayer, generations later Wadud would be born to an open-minded Methodist pastor.
She grew up witnessing African Americans sawing off the shackles of racial inequality during an often brutal period of US history.
As a 16-year-old, Wadud would have watched in horror the assassination in Memphis of Nobel Peace Prize winner and human rights activist, Martin Luther King Jr. in 1968.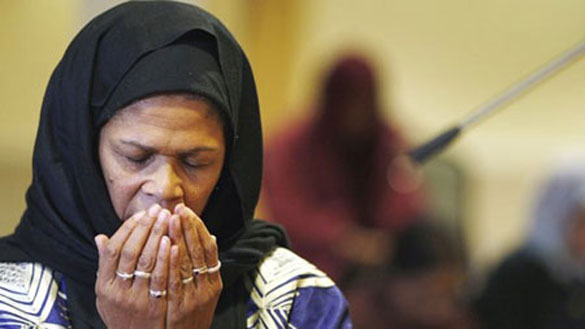 The Islamic scholar, author, imam and activist — Dr Amina Wadud — started life as Mary, a Methodist child of the US borderline Southern State of Maryland in 1952.
-------
Perhaps it was this monumental tragedy in the formative years of an African American, who had tasted too often racism's bitter fruit that led her in later life to work toward justice and equality with the foundation of that equality, housed in Islam's Sharia which translates as justice.
Her father's questioning mind led Wadud to examine religious doctrines and philosophies from early in life.
"I was closer to my father than my mother. I got a lot of inspiration from him on the sacred. I was a seeker and practiced Buddhism for a year, then I started reading about Islam and that's where I am now," says Wadud.
This scholar and feminist, who was a panellist during the interfaith International Bali Mediators Festival last weekend, is perhaps best-known internationally for her leading of Friday prayers at a New York church in 2005 — like all women, Wadud was banned from leading the mixed-gender Jumuah prayer in mosques.
She is also well-known for her progressive position within Islam and seeking justice for women under Sharia.
Her first book, Quran and Woman: Rereading the Sacred Text from a Woman's Perspective, and its sequel, Inside the Gender Jihad: Women's Reform in Islam, are seen as definitive texts in progressive Islamic thought on the role of women in Islam.
"I'm talking about the subtleties of reforming the [Islamic] laws for equality and justice, not just for today but forever. My first book is on the Koran and attempts to address the tension in certain Quranic passages, of justice – the interpretation of justice, or Musawah," says Wadud,
A visiting professor at Gadjah Mada University's Centre for Religious and Cross-Cultural Studies in Yogyakarta, Wadud says Indonesia is one of the leading nations on progressive Islamic thinking, well in advance of the "lazy" Liberal Islamism of the United States, where Islam is the fastest growing religion.
"When I led the Friday prayer [in March 2005] there was huge controversy, but scholars here in Indonesia studied the Hadith of the Prophet. They researched two competing hadith; one on the woman the Prophet appointed to lead prayer and another that said women could not lead.
"The Hadith that wrote a woman can lead prayer was found to be the stronger. To me that is taking the research and saying let's truly examine this, with the discovery that women can lead prayer. This [study and research] was something that did not happen anywhere else," says Wadud.
That dedication to researching the traditions of Islam to achieve a "progressive Islam which is a wedding of traditional Islamic thought and postmodern thinking", allows for the reformation of Islamic laws to achieve greater justice and equality for women and children, according to Wadud.
Working with the Musawah movement, made up of Islamic scholars and activist from around the globe, Musawah examines the Koran and Sunnahs to redefine and reform Islam's laws on family. All research highlights the notion of Sharia, "justice and equality" for all.
And this progressive thinking of Islam is best practiced in Indonesia, explains Wadud of her choice to live in the archipelago after having taught at Malaysia's International Islamic University.
"I love Malaysia because it is multicultural and multi religious, but there is so much tension between these groups.
"Indonesians, on the whole, are more progressive and well-versed in Islamic thought. Indonesians bring together Islamic thought, culture and postmodern thinking, so I was really impressed by what was going on in Indonesia," says Wadud of Indonesia's Islam of the 21st Century.
In an almost physical expression of this Islamic thought married to postmodern thinking, Wadud lightly straddles the Islamic dress code. In conferences and interviews, she wears the Jilbab and long sleeves, when visiting monkeys in Ubud's Sacred Monkey Forest it's a T-shirt, trousers and exposed long dreadlocks.
"I straddle this intentionally; scarf on, scarf off. For thirty years I wore the Julbab just to collect the mail outside my front door. I wore the Julbab when exercising, all the time."
Now, in response to women's right of choice — not force, Wadud wears the Julbab on her own terms. Of the niqab, Wadud explains this dress is cultural, not Islamic.
"When women from these countries [where Niqabis are cultural] perform a pilgrimage [the Haj] they must uncover their faces, so it is not Islamic," Niqab-wearing in countries like Indonesia tends to be temporary, Wadud says.
"What I find is the wearing of the Niqab is transitory. When it is not part of the cultural dress it never lasts long."
This recognition of a woman's right to choose is based on the "need to embrace diversity. At the end of the day, if someone decides to wear the black Niqab in Indonesia, it's her choice", says Wadud.
With much of her work dedicated to gender equality, based on studied knowledge of the Koran, Hadith and Sunnahs, she is appalled at the current push for a Polygamy Club in Indonesia and Malaysia.
However, dragging such conservative and "weak" behaviour into the light is, explains Wadud, better
than festering in the dark, where it cannot be addressed.
"Unless we are honest about a weak tendency — the desire for more than one wife is a weakness, to make a joke of it in terms of a club, to bring it out into the open, can lead to transparency."
She points to the most conservative, who use violence to enforce their viewpoint and numbers polygamists not far above these.
"At one end of the spectrum is progressive Islam; at the other end are the violent conservatives. The worst are the violent ones who say you should be killed, but although the polygamist club is not that extremist, it is untenable in Islam," says Wadud.
Her hope for the future is an embrace of diversity of religions and cultures, an increasing awareness and practice of spirituality and the dismantling of patriarchy as a social paradigm.
"Patriarchy got us out of the caves but it can now be retired in favor of equality and compassion," says Wadud who challenges that patriarchy from within the beating heart of Islam in the leading of Friday prayer.
Source: http://m.thejakartapost.com/news/2009/11/19/dr-amina-wadud-for-a-progressive-islam.html
URL: https://newageislam.com/spiritual-meditations/trisha-sertori/dr-amina-wadud--for-a-progressive-islam/d/12282