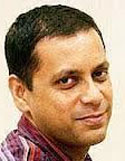 By Samar Halarnkar
March 13, 2013
The most poignant moment in the story I heard recently about the 12-year-old devotee of a self-styled Godman was how she shrank from the grandparents she once loved. According to a family friend who talked to me, she said: "We are not supposed to love strangers."
The girl lives in the ashram of Swami Nithyananda, a wealthy 35-year-old Godman with a global spiritual empire that stretches from Malaysia to Canada. He faces numerous criminal charges, including rape, and possesses a power list of devotees, including prime ministerial hopeful Narendra Modi, former Karnataka chief ministers BS Yeddyurappa (BJP) and Dharam Singh (Congress) and former Bollywood star Juhi Chawla.
The girl's brother is six years old, too young to be sent to the ashram (in due course, he will go), 30 km southwest of Bangalore near a giant Toyota factory. But his parents have already indoctrinated him into what I can only call the cult of Nithyananda.
There is the boy, on Facebook, smiling. He's dressed in a dhoti with Vibhuti, or holy ash, on his forehead. He cannot do without the Vibhuti, says the family friend. Sometimes the boy wakes up at night, yelling that the ash is gone.
Are the parents short on education or learning to make their children take refuge in such extreme religiosity?
Actually, the parents could not better represent emerging India and its global aspirations. They are techies who live in a prosperous foreign country, which, to hide their identity, I will not name.
Let me tell you another story that unfolded in a playground near my home in cosmopolitan, supposedly globalised Bangalore.
When two young boys vacated a swing for his six-year-old daughter, a neighbour urged her to thank them.
"They are your friends, aren't they?" he said to his daughter. The two boys watched from a distance, then walked back to my neighbour.
"Uncle, aap Musalmaan hain (uncle, are you Muslim)?" No, he said, puzzled: "Kyon (why)?"
"Nahin, aap friend bolen na?" one of them said in Dakhni, the patois spoken by Muslims.
"Ghar main bolten ke sirf Musalmaan friend ho sakte (you said 'friend', at home they say only Muslims can be our friends)."
I bring to your attention these stray stories because they are more than straws in the wind. India has always suffered religious hatred and riots, but the rise of the middle class and its global aspirations was supposed to transcend ancient hatreds and divisive beliefs.
In my experience of living and reporting in Mumbai, Delhi and Bangalore over the last decade, the opposite appears to be happening. Every religion is witnessing a flood of expression from the new aspiring class. Temples, mosques, churches and Gurudwaras overflow at times of worship.
In itself, this is no bad thing. Religion is clearly a refuge from the stress of tumultuous modern Indian life, and faith in its own way can be a beautiful strength.
What is not so good is that the middle class, retreating into its frantic life and home-loan-bought flats, is increasingly cutting itself off from those who do not share its religious convictions.
Rife with insecurity, it rediscovers and accentuates religious beliefs, suspicious, fearful or openly hostile to those who do not share their convictions. The most dangerous aspect of this insular middle-class is how it not just thrusts ideas on its children, but actively indoctrinates them.
I see the result of that indoctrination under way at my neighbourhood park and the local toy store, where above the aquarium with its gaudy, golden fish you will find mannequins of smiling children in Hijabs.
I have nothing against Islamic head coverings, but there is a singular purpose to forcing Hijabs on the two-year-olds who play with my daughter in the park: to make sure daughters get used to them. Sometimes, I look around and realise my daughter, who will turn three in May, is one of the few without a toddler Hijab.
The exclusionary society thrives in my Bangalore neighbourhood, despite the uncommon phenomenon of apartment buildings shared by Hindus, Muslims and Christians. Everyone is friendly, but chattiness often stops by the door. Only a handful of neighbours invite us into their homes.
Some celebrate their children's birthdays in seclusion. They are fearful of contamination, spiritual and culinary. I do not believe it is a coincidence that most of those who do not mingle sport overt signs of religiosity, such as scriptures above the door, signs on their cars and symbols on their bodies, from Vibhuti to head coverings.
To middle-class Indians of a certain generation - well, such as myself - today's segregated reality is hard to face. I was brought up in a Hindu family by a devout mother and a father versed in Sanskrit scripture. We did not speak of secularism or know of it as a concept, save for a school reference to "secular, socialist, democratic republic".
Secularism was, unknowingly, a way of life. We had, and have, close friends from every religion. Some are extremely devout. Some sport Vibhutis and Hijabs. We have been enriched by these friends because they are a part of our lives, because we can talk to them.
Devotion to their beliefs does not include shunning those not of their religion. Sadly, this accommodative spirit - though there is no data to confirm it - is declining.
The process of segregating India's middle-class in its largest cities is now well under way. This physical segregation is being reinforced by a more insidious mental separation. They are entitled to their seclusion, these prospering people who by dint of their hard work have cashed in on the Indian dream.
But for rapidly urbanising India at large, their version of the dream is a dangerous sign of the exclusionary, national reality that lies ahead.
Samar Halarnkar is a Bangalore-based journalist. The views expressed by the author are personal.
Source: http://www.hindustantimes.com/editorial-views-on/Samar/Excluding-the-rest/Article1-1025937.aspx
URL: http://newageislam.com/spiritual-meditations/samar-halarnkar/excluding-the-rest/d/10779