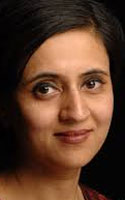 By Sagarika Ghose
October 27, 2019
Lamps glow and sparkle on Diwali. It's the time when the victorious king Ram returned home to Ayodhya and then went on to establish the Ram Rajya, or the kingdom defined by universal citizenship and justice for all. In 2019, the legend of Ram has acquired a special significance. This year, there's a growing sense of anticipation among the ranks of political Hindus that the Supreme Court will soon clear the way for a Ram Mandir in Ayodhya. UP CM Yogi Adityanath has planned a grand 'Deepotsav' and Diwali with a Ramayana theme. In TV studios, Sadhus and Sants are speaking in triumphalist tones, referring to the Ram Mandir as a 'victory' even before a judicial verdict is pronounced.
BJP MP Sakshi Maharaj has announced that the construction of the Ram temple in Ayodhya will begin on December 6. The gentle salutation 'Jai Shri Ram' has been converted into such an aggressive chant that a group of citizens recently lamented it has become a "provocative war cry". But have those who call themselves Ram's warriors acquainted themselves with the spirit of Ram?
Ram's divinity came from his intense humanity —throughout the Ramayana he is presented as a flawed human striving for excellence. Ram lost his kingdom, was forced to fight long wars, yet was never depicted as angry or wrathful. Instead the Ramayana is full of moral dilemmas and exploration of human bonds. Ram's tribulations in his closest relationships are one of the reasons the Ramayana speaks so powerfully down the generations, and why it is so uniquely modern. Should the richly philosophical Ram be used to assert angry politicised Hindutva on the street? How can a text which exudes so much humanity be used to foment hatred and rage?
Manufactured Hindu victimhood surrounds the Ram Mandir agitation, one that keeps harking to medieval wars and harps on Hindu places of worship being attacked by marauding Islamic invaders of past centuries, emphasising that the Hindu is still in perpetual siege from the enemy within. The recent murder of the Hindu Mahasabha leader Kamlesh Tiwari has only bolstered this campaign. Yet while the Tiwari murder case has been cracked and the killers caught in swift police action, the murderers of intellectuals like M M Kalburgi, Narendra Dabholkar, Govind Pansare and Gauri Lankesh have still not been traced. There is justifiable outrage on the slaying of Tiwari. Yet when those accused of lynching in the name of cow protection are granted bail or when police investigations into violent acts of "Gau Raksha" are slow and half-hearted, arguments are mounted that so called "cattle smugglers" deserve punishment by mobs. With the Kashmir Valley placed under a harsh lockdown and daily reports of human suffering and misery coming, is it the Hindus who are the victims of today? Ram's capacity for empathy seems to have deserted those who speak in his name.
Ram is a personification of the human, and thus of the divinity within every human being. He embodies the individual capacity to strive for excellence, for goodness. Ram possesses no magical powers, instead his powers come from his own struggle to build his own capacities. It's this heroic struggle to be his best self — from his relationships with his parents, to being forced into penury to a lonely war to the dilemmas of the battlefield, to his troubled marital relations and estrangement from his sons — that makes Ram the Maryada Purushottam or the perfect man.
Can a figure whose entire life is about achieving one's best self, now be used to give licence for the worst kinds of aggression and sharp politics? Or to browbeat minorities in his name when Ram's kingdom was one of justice? The tragic politicisation of Ram has prevented us from becoming true legatees and inheritors of the Ram legend. In 1992, the demolition of the Babri Masjid sparked terrible riots in which hundreds were killed. Those responsible got away with their act of criminality, some even using it as a political ladder to ascend in public life. Should a modern nation in 2019 be obsessed with avenging the acts of a 16th-century invader and blame today's Indian Muslims for the burdens of history? This Diwali, lets rejoice in the spirit of Ram, the inclusive humanist, rather than prepare to play dangerous political games that are divisive and potentially violent.
Let's not reduce an inspiring text like the Ramayana to an empty slogan. If we imprison Ram in a political agenda, we grow distant from the empathetic hero who constantly strove for truth. If Ram becomes hostage to violent street armies, we do a terrible injustice to the god-king's persona and the ideal he has represented down the generations.
DISCLAIMER: Views expressed above are the author's own.
Original Headline: This Diwali, let Ram's spirit bring out best in Hindus
Source: The Times of India
URL: http://www.newageislam.com/spiritual-meditations/sagarika-ghose/should-the-richly-philosophical-ram-be-used-to-assert-angry-politicised-hindutva-on-the-street?/d/120125