By Nick Squires and Jon Swaine
November 30, 2013
Sage: In Story 1 the Pope may be sneaking out at night to deliver alms to the poor just like he did as a bishop in Argentina. In Story 2, a US Bishop has donned the disguise of a homeless man and faced prejudice in the one place he thought he would never see it.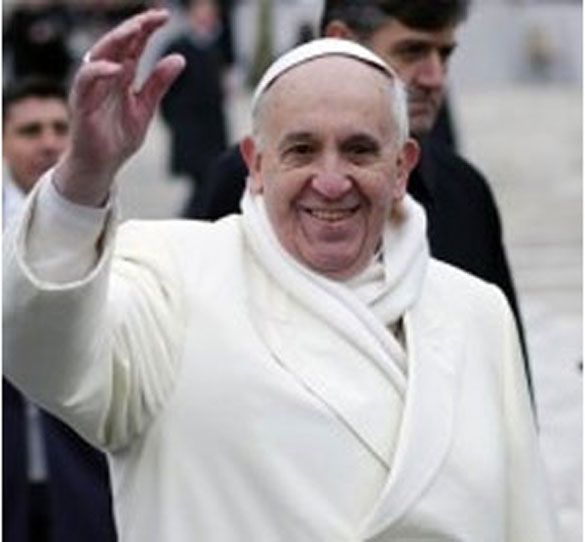 The Jesuit Pope ventured out unannounced when he was archbishop of Buenos Aires to meet the homeless on the streets of the Argentine capital Photo: REUTERS
---------
Story 1 – Pope May Have Snuck Out at Night to Give Alms to Poor, Vatican Hints
By Nick Squires
November 29, 2013
The Vatican's alms-giver suggests Pope Francis may have accompanied him on night time missions
He is known to have sent money to struggling pensioners and poverty-stricken immigrants but Pope Francis may have taken his charity efforts one step further, secretly sneaking out of the Vatican at night incognito to distribute alms to the poor.
The Jesuit Pope ventured out unannounced when he was archbishop of Buenos Aires to meet the homeless on the streets of the Argentine capital, and now comes the suggestion – couched in a familiar Vatican mix of opacity and reading-between-the-lines – that he has been doing the same thing in Rome.
The intriguing possibility emerged from an interview with Konrad Krajewski, an archbishop and trusted confidante of the Pope who is the Vatican "Almoner" or alms-giver – a little-known but centuries-old post that involves distributing some of the Holy See's vast wealth to the poor and marginalised.
The South American pontiff has encouraged Archbishop Krajewski to be much more pro-active in the job than his predecessors, roaming the streets of Rome at night and offering help to people down on their luck.
When asked if Pope Francis had ever insisted on accompanying him in his modest white Fiat Qubo, the 50-year-old archbishop became elusive but smiled enigmatically.
"Next question, please," he told a group of Vatican correspondents.
The implication was that the South American Pope, who has described himself as "a priest of the streets", had snuck out of the walled city state on at least one occasion, before Vatican authorities told him it was too grave a security threat.
A spokesman for the Vatican said he was "not aware" of the Pope ever going out on such expeditions and insisted that Archbishop Krajewski had not meant to suggest that he had.
But the Polish cardinal did say that the Pope, who clearly chafes at the constraints imposed upon him by his office, had often expressed a desire to come along on the nocturnal sorties.
"When I say to him 'I'm going out into the city this evening', there's the constant risk that he will come with me," the Polish cardinal said.
"That's what he's like – at the beginning (of his papacy) he didn't think of the awkwardness that he might create."
As archbishop of Buenos Aires, when he was known as Cardinal Jorge Mario Bergoglio, the future pontiff "would go out at night … to find people, talk with them, or buy them something to eat. He would sit with them and eat with them on the street. This is what he wants from me," said the cardinal.
When he was appointed Vatican Almoner in August, the Pope gave him characteristically blunt, hands-on advice.
"The Holy Father told me at the beginning: 'You can sell your desk. You don't need it. You need to get out of the Vatican. Don't wait for people to come ringing. You need to go out and look for the poor,'" Cardinal Krajewski, who is known in the Vatican by the Italianised name of Don Corrado, said.
Each morning, a Vatican gendarme arrives at the cardinal's office with instructions from the Pope, who lives in the Casa Santa Marta, a guesthouse for visiting clerics on one side of the Vatican gardens.
The gendarme hands over a pile of letters that Francis has received from ordinary Catholics pleading for his assistance be it financial or spiritual.
On each envelope he scrawls a brief instruction to the cardinal, such as "You know what to do" or "Go and talk to them".
When a boatload of African immigrants capsized off the tiny island of Lampedusa in October, killing more than 360 people, the Pope despatched the Polish prelate to see what help he could provide.
Rather than giving the traumatised Eritrean survivors cash, he handed out 1,600 phone cards so that they could call home and tell their families they were alive.
The cardinal also gave rosaries to the Italian police and navy divers who had the distressing task of bringing up bodies from the sunken hull of the fishing trawler.
The post of Vatican Almoner dates back to at least the 13th-century.
Cardinal Krajewski's alms-giving office, officially known as "Elemosineria Pontificia", employs 11 people.
It raises funds by producing hand-made parchment certificates, priced up to 30 euros each, which bear the papal coat of arms and which are bought by Catholics to celebrate occasions such as weddings and baptisms.
Last year the office donated one million Euros to around 6,500 people, but those numbers will probably double this year, after the Pope was elected in March.
"The Pope said to me, 'the balance of the account will be correct when it reaches zero, then we can start again. Don't invest it – spend it all on the poor.' And every time he sees me, he says 'Do you need more money?"
Donations have included a cheque for 200 Euros that the Pope had sent to an elderly woman in Venice last month after she wrote to tell him a pickpocket stole her purse, and money for people who could not afford to pay their rent.
*******
Story 2 - US Bishop Dresses up as Homeless Man to Expose Congregation's Lack of Compassion
By Jon Swaine, The Telgraph
November 29, 2013
An American bishop has taken on the prejudices of his church congregation by dressing up as a homeless man
An American bishop who disguised himself as a homeless man to give a sermon about compassion was asked to leave his church by unknowing congregants.
David Musselman disguised himself as a homeless man Photo: FACEBOOK
--------
David Musselman, a Mormon cleric near Salt Lake City, Utah, said he wanted to teach members of his church to be kind to all people. "To be Christ-like, just acknowledge them," he said.
Mr Musselman recruited a professional makeup artist to transform his face and wore a wooly hat, thick spectacles, a false beard and a fake scar. Even his own family did not recognise him.
"The main thing I was trying to get across was we don't need to be so quick to judge," Mr Musselman told his local television news station.
"Many actually went out of their way to purposefully ignore me, and they wouldn't even make eye contact," he said. "I'd approach them and say, 'Happy Thanksgiving'."
After being asked to leave by five people, Mr Musselman walked to the pulpit during a service and disclosed his true identity by taking off his wig, fake beard and glasses.
"It had a shock value that I did not anticipate," he said. "I really did not have any idea that the members of my ward would gasp as big as they did."
Jaimi Larsen, one of the congregants, said she was surprised. "I started feeling ashamed because I didn't say hello to this man," said Ms Larsen. "He was dirty. He was crippled. He was old. He was mumbling to himself".
Mr Musselman said he was touched by the reaction of younger members of the church. "I was impressed by the children," he said. "I could see in their eyes they wanted to do more".
Tara Starling, the makeup artist who transformed Mr Musselman's appearance, said it was the most rewarding job she had done.
"I used to dream that the pinnacle of my career would be to work on a film and the film would get nominated for an Academy Award of makeup," she told The Deseret News.
"But I would have to say that somebody writing a Facebook comment saying, 'Thank you for sharing this. It's changed my mind. It's changed my heart, and it's changed the way that I'm living,' that's worth more than all of the Academy Awards in the world to me."
Mr Musselman, whose stunt came just before the Thanksgiving holiday, said that he did not intend to embarrass the members of his church or make them feel ashamed.
Instead, he said, he wanted them to remember to be kind all year long to people from all walks of life.
Source: http://goldenageofgaia.com/2013/11/pope-and-bishop-go-incognito-to-fight-poverty-and-prejudice/
URL: https://newageislam.com/spiritual-meditations/two-stories-worth-noting-pope/d/34670