By Madhusree Chatterjee
November 10, 2012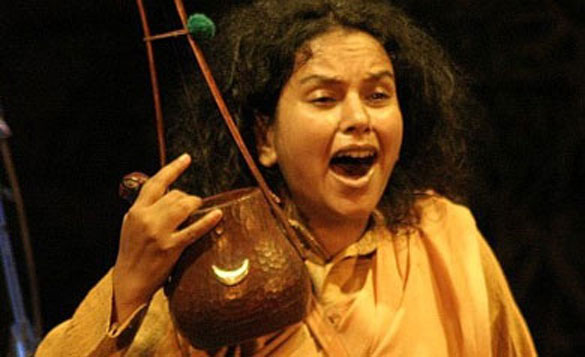 Parvathy Baul
-------
Baul exponent Parvathy Baul at a concert (Photo: IANS)New Delhi: Art, performance and regional integration merge in the folk music of Parvathy Baul, one of the country's top Baul musicians from Bengal, who balances her training as an artist from Shantiniketan's Kala Bhavan with the devotional music of the wandering minstrels that she has carried down south to Kerala.
Parvathy has found the true meaning of her music and life as a Baul bard under her guru, Muslim fakir kalandar Abdul Salam, in Kerala capital Thiruvananthapuram.
"Abdul Salam has taught me the spiritual meaning of Baul music while my mentor in Bengal, Sanatan Das Baul of Bankura, showed me the way to sing early in life," Parvathy told IANS after a performance in the capital.
A Bengali Brahmin by birth, 36-year-old Parvathy bridges the cultural divide between southern India and Bengal with her traditional folk music that draws its sustenance from Birbhum district, described as the land of red earth and sonorous bards who sing their freedom ditties in villages along the banks of the Ajay river to invoke the divine.
Parvathy's world, however, stretches beyond the idyllic confines of rural Bengal like the illustrious pioneers Rabindranath Tagore, Kshiti Mohan Sen, Purna Das Baul and Pavan Das Baul, the faces of Baul music outside India.
The musician, who has been living in Kerala for the last 15 years, performs live in remote villages of Kerala, where ordinary villagers host her at soirees, she says.
Parvathy is married to Ravi Gopalan Nair, a theatre activist and spiritualist. She manages a Baul music gurukul, "Ektara Kalari," in Thiruvananthapuram, where she teaches youngsters, including girls, the devotional music of rural Bengal and its complex nuances.
Singing in her mother tongue is a crusade for Parvathy even though she lives outside Bengal.
"If we take away the language from our lives, we will kill our thought process. If we cannot preserve our language, where will we stand? I understand Malayalam and as a Baul practitioner, I expect the people of Kerala to understand my language. I am acknowledged in Kerala," Parvathy said.
Every year Parvathy travels to Rome to teach Baul music at the International School of Theatre Anthropology.
The musician says she uses "Cantastoria, an Italian craft of singing history with gestures, sign, images and paintings" to make her Malayalam audiences understand her music.
"I was inspired by Peter Schumann of the Bread & Puppet Theatre in the US. Schumann is a sculptor, painter of large-format pictures and a puppeteer, who brings all the three art forms into his performances. I was also influenced by the 'patachitra' (ethnic scroll painters) story-tellers of Bengal to introduce visual elements in my music," Parvathy said.
She often performs against the backdrop of paintings and acts out her music with long explanatory speeches in English.
"I have written a pictorial book about my music, 'Songs of Great Soul' with woodcut prints of Baul musicians and the spiritual myths surrounding the music. All my art is about my music," Parvathy said.
The musician is an accomplished art print-maker grounded in the Bengal school of art.
Attired in saffron sari with an "Ektara" (single string lyre) and a "Duggi" (a small percussion instrument) strapped to her waist, Parvathy sings in a free-flowing soprano that touches on a wide range of octaves that she says comes from her training in Hindustani classical music in childhood.
Her music is influenced by the 7th century Buddha Doha sung by the 'Buddha avadhootis', the Bhatiali river songs of Bengal and the Sufi Zikrs, she said.
"My mother was a devotee of Ramakrishna. I have been through all the phases in life. I became an atheist till I discovered Baul," Parvathy recalled.
She encountered the music in a suburban train to Shantiniketan as a student when she heard a mendicant sing. It set her off in the quest of a guru.
Parvathy evokes the love of Radha for Lord Krishna in her music and composes her own "Dohas"- sonnets about life and death inspired by the Bauls of Kenduli in Bengal and the religious scriptures she has read in the south.
"I am married to Krishna. He is my man and I am the Gopi. Even my husband is a Gopi… Every Baul, whether a man or woman, is a Radha seeking her mate, Krishna. A 'Baulgrihi' (Baul householder) has a certain detachment," Parvathy said, enumerating the essence of Baul music and lives of musicians from Bengal.
"Baul captures the awareness about what is happening here and now. It is a living tradition," Parvathy said.
The musician, who was in the capital to perform at the Delhi International Arts Festival, is now collaborating with artists from Sri Lanka and Australia.
Source: IANS
URL: https://www.newageislam.com/spiritual-meditations/bengal-folk-keralas-spirituality-merge/d/118734