By Hasnain Abdulhussein
7th October 2020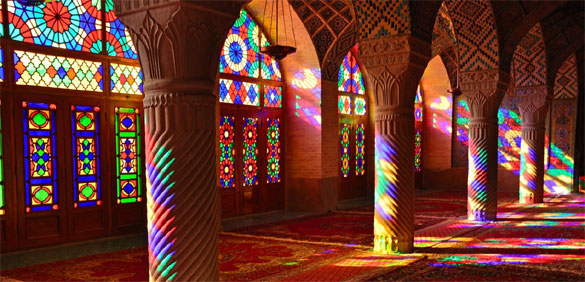 Imagine you are walking down a path and the path splits into two, one of the paths leads to a dangerous place, and the other leads to a place of joy. You choose a path and reach the corresponding destination.
This is what happens when you think.
The reason I am writing about this is that it will allow those with enough awareness to explore their hearts and plant the seeds of Allah's love in the darkest parts of their hearts.
When you are following a certain line of thought you are walking down a path in your heart. As you are walking through your heart, you will see the associations you have built up with that line of thought. Some associations will carry goodness and others evil.
As with many lines of thought they have branches shooting off them, so you can explore your heart using your mind as a vehicle. You may start off thinking about a garden full of fruits but end up thinking about weeds. This is the danger of the process.
This is why some scholars of particular paths forbid their followers from reading certain books. They fear that their followers will reach places foreign to their own 'accepted' ideology. Although this is the path of the weak, as well as the path of cowards, there is some validity in their thinking.
Those that strive in the way of Allah, while being cautious, are not afraid of entering the dark parts of their hearts, because through the fragrance of Allah's beautiful names, these dark areas become full of light, and with the rain of the mercy of Allah, plants grow again in those desert-like areas of the soul.
So now you know there are at least two ways to see the world, one with your body and the other with your mind, both revealing previously unchartered, at least consciously, parts of your souls.
I want to touch on one area of thinking in particular, that affects our lives deeply. Our thinking about Allah. Remembering Allah is meant to bring tranquillity, isn't it? Well, why is it, that for many people, albeit to different extents, it doesn't have this effect?
The reason is that the paths in our heart that relate to thoughts of Allah are littered by dangerous branch paths that are dark. This is what we have created for Allah. So, whenever we think about Allah, the all Beautiful, we quickly stray into thoughts of why Allah didn't do something for us, or thoughts of why Allah doesn't answer our prayers, or thoughts of why Allah oppresses His creation. May Allah forgive me for mentioning these lies. These thoughts and darkened areas of our hearts, in turn, come from the improper handling of difficulties that we faced in the past.
Let me ask you, friends, if thinking of Allah doesn't bring tranquillity, what hope is there of experiencing joy?
If the paths of your heart associated with Allah's names are riddled with darkness, you are an oppressor and you have oppressed your Best Friend and Mother, Allah. You must change how you treat Allah, the Exalted.
We have to become defenders of Allah, not because He needs to be defended – He is all Powerful. But because we need to do this to attain goodness.
Now for the wayfarers, approach these dark parts of your heart with caution, but know that if you are with Allah, then Allah is definitely, 100%, with you. Approach what you fear and illuminate it with the light of Allah. When you do this keep reminders of Allah with you – you can wear a ring with His name on it or carry prayer beads you frequently use to remember Allah.
A message for the fear mongers: Allah is the best of protectors, and if you want science, this practice is a conscious practice for those with awareness, and so it is much safer than the unconscious lives many around us are leading.
Allah Bless You All.
Original Headline: A New World You Can Visit Just By Thinking: Remembering Allah and His Names
Source: The Muslim Vibe
URL: https://newageislam.com/spiritual-meditations/approach-fear-illuminate-with-light/d/123077
New Age Islam, Islam Online, Islamic Website, African Muslim News, Arab World News, South Asia News, Indian Muslim News, World Muslim News, Women in Islam, Islamic Feminism, Arab Women, Women In Arab, Islamophobia in America, Muslim Women in West, Islam Women and Feminism