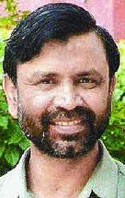 By Father Dominic Emmanuel
Dec 25, 2014 -
The first intimation of the first "Christmas" by the heavenly hosts, when Mother Mary gave birth to her only beloved son Jesus in a stable, surrounded only by cattle and their fodder, was to the shepherds minding their sheep in the field. They woke up by the flashing of shining lights and were told, "For unto you is born this day in the city of David a Saviour, which is Christ the Lord. Glory to God in the highest, and on Earth peace, good will toward men"!
The one certain message that was conveyed to all on earth on the first Christmas was that of peace and goodwill. One of the main reasons for Jesus coming to the world was to share God's peace and love with everyone on Earth. And that is why one of the titles conferred on Jesus is the "Prince of Peace".
While departing from this earth, Jesus told his disciples, "Peace I leave with you; my peace I give to you. Not as the world gives do I give to you. Let not your hearts be troubled, neither let them be afraid".
The peace bequeathed by Jesus is inseparable from His presence. Christmas celebrations, often mistaken with material gifts that Santa Claus brings along, is really about the gift from God of the "Prince of Peace", who can transform our selfish hearts and life of conflicts with generosity and peace.
Peace is not a gift for God; it is for us human beings, just as Jesus' birth is not for God but for us. It comes from heaven, to be received, preserved and enjoyed on Earth. Thus, our belief in a God whose birth brings the gift of peace and whose parting reward to his disciples was that of peace, can best be had by letting God make His abode in us.
No person can be at rest to the very roots of one's being, in the absence of the consciousness that he is at peace with God. And there can be no peace with God unless we are at peace with ourselves. And we can be at peace with God when we believe and are ready to receive the gift of peace from Jesus and to rest in Him. As St. Augustine famously said, "Our hearts are restless O God, until they rest in Thee".
Father Dominic Emmanuel, a founder-member of Parliament of Religion, can be contacted at frdominic@gmail.com
Source: http://www.asianage.com/mystic-mantra/gift-peace-783
URL: http://www.newageislam.com/spiritual-meditations/father-dominic-emmanuel/the-gift-of-peace/d/100676