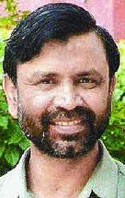 By Father Dominic Emmanuel
Mar 20, 2013
Can a woman forget her nursing child, or have no compassion for the child of her womb? Even if the mother may forget; I'll never forget you," pronounces God in the Bible. He then continues, "Look! I have inscribed you on the palms of my hands, and your walls are forever before me." (Isaiah 49: 15-16)
Christians have spent the last five weeks trying to renounce certain things of their liking as well as to dedicate a little more time for prayer and charitable works. The Bible verses mentioned above, however, remind us that notwithstanding the life of renunciation and prayer accompanied with good works info the season of Lent, we must also equally concentrate on God's unconditional love for us.
It would not be an exaggeration to say that our religious gurus keep repeating and reminding us of all the negative things that are happening in society. "It is because," they say, "we have turned away from God and spiritual matters and have become more selfish and materialistic." Very few of them, however, take the trouble to tell us why things have taken this shape.
My belief is that it is because we do not care to focus on and drink the sweetness of God's love that He keeps pouring out to us. God's love, when accepted and allowed to rule our lives, has the definite capacity to transform us. For instance, Prophet Jeremiah says in another place in the Bible, "The Lord appeared to him from far away (saying), 'I have loved you with an everlasting love; therefore I have continued my faithfulness to you. Again I will build you, and you shall be built'…" (Jeremiah 31: 3-4a)
While it may be true that we have some degree of self-centredness and an inclination to run after material things, such tendencies cannot be got rid of just by pointing at their existence in us. They can be removed only when we start filling ourselves with God's love. Renunciation, prayer and works of charity during the Lenten season do help us turn towards things divine, but if they are observed only for six weeks as Lenten practice, they may come back later.
The central message of all the events of the coming Holy Week culminating in the death of Jesus on Good Friday forcefully demonstrates God's ultimate love for us human beings. It is this everlasting love that both Prophet Isaiah and Jeremiah are speaking of.
God's love is certainly a transforming force. And because we ourselves are not used to loving people unconditionally, we find it hard both to imagine and indeed to experience that God can and does love us without expecting anything in return, totally unconditionally and freely!
Father Dominic Emmanuel is the director of communication of the Delhi Catholic Church.
Source: http://www.asianage.com/mystic-mantra/god-s-eternal-love-717
URL: http://www.newageislam.com/spiritual-meditations/father-dominic-emmanuel/god's-eternal-love/d/10822