By Belinda F. Espiritu, New Age Islam
4 January 2016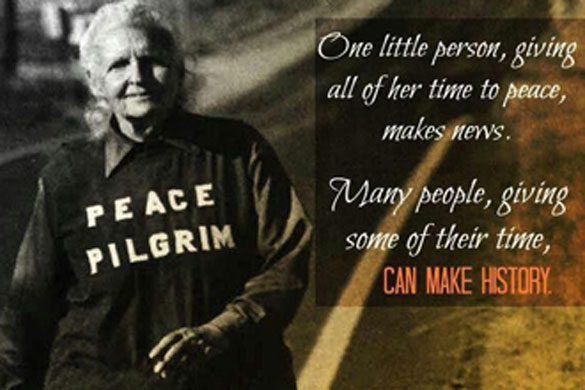 The message left behind by an American woman named Peace Pilgrim (? – 1981), who had the extraordinary calling of making a pilgrimage for peace by walking thousands of miles in all the fifty states of America, the ten states of Canada, and some parts of Mexico, remains as needed today, in these chaotic, suffering-filled times, marked by war, conflict, and terrorism, as before. Her simple message was: "Overcome evil with good, falsehood with truth, and hatred with love."
Peace Pilgrim renounced her former identity and did not wish to be known other than as 'Peace Pilgrim'. She started her pilgrimage on foot for peace through America on January 1, 1953 and was on her seventh pilgrimage in 1981 when she was killed in a head-on collision while on her way to a speaking engagement. She did not tell her age, but she must have been around 81 when she died, still full of health and energy.
Peace Pilgrim walked till she was offered shelter, fasted till she was given food, and prayed as she walked. Her complete faith in God's presence and protection and her complete renunciation of material wealth and personal status were absolutely striking. She walked with boundless energy, praying ceaselessly as she did so. She wore a tunic with the inscription 'Peace Pilgrim' in front and '25,000 miles for Peace' at the back. Her only possessions in her pockets were a foldable toothbrush, a comb, and papers with her message of peace for distribution.
Hers was an extraordinary calling, as called for by the turbulent times during which she lived. By the time she started her pilgrimage in 1953, people all over the world had been traumatized by the two World Wars. It was also a time when the Korean War was raging, the Vietnam war, and the Cold War between America and Russia.
Peace Pilgrim describes her preparation for her calling, which she said took 15 years, and invites everyone to take up these steps for spiritual growth. The first preparation is about having a positive approach towards life's problems, by following the Golden Rule of doing unto others what you would like them to do unto you, and by overcoming evil with good as Jesus Christ and the other spiritual teachers have commanded. The second preparation consists of aligning our lives to God's will and bringing our lives into harmony with the laws that govern the universe. The third preparation consists of doing our part in the life pattern by doing all of the good things we feel motivated towards. The fourth is simplification of life and bringing it to the level of needs.
With these preparations, we need to undergo purification of the body, desire, and motives such that nothing negative and harmful will stay within us. It means living a healthy lifestyle, thinking only of positive and loving thoughts, and doing everything in the spirit of service in accordance with our God-centered nature. These purifications come with relinquishments of self-will, of the feeling of separateness, of all attachments, and of all negative feelings.
Peace Pilgrim, or simply "Peace", explained that inner peace can be had when our God-centered nature takes over. There are two natures within every person: the self-centered nature and the God-centered nature. The body, mind and emotions, as Peace explained, can be used either by any of these two natures. But when the God-centered nature takes over a person, one has found inner peace.
Peace's spiritual message is for all of us to completely align ourselves to the will of God, and to follow the way of love as the way of peace. War is contrary to God's laws. It is caused by immaturity of those who engage in it. As she says: "In our immaturity, we do not know the laws of the universe, and we think evil can be overcome by more evil. One symptom of our immaturity is greed, making it difficult for us to learn the simple lesson of sharing…." Accordingly, we can therefore say that those who engage in war and terrorism of any kind are very immature people—with immature thinking and very low level of spiritual growth.
Peace identifies the lack of spirituality as the cause for the world's problems in the following words: "We are so lacking in the spiritual side: whenever we discover all the technological advances, the first thing we do is to turn them into weapons and use them to kill people. This is because our spiritual well-being lags so far behind."
What is needed to achieve peace in the world? Peace comes at a price. Peace Pilgrim's message on the price for peace is very simple yet profound: "The price of peace is to abandon hate and allow love to reign supreme in our hearts – love for all fellow human beings over the world." She adds that peace comes when we abandon arrogance and greed, replacing them with humility, repentance and giving.
The way of love is the way of peace, which means overcoming evil by good. She explains:
Evil cannot be overcome by more evil. Evil can only be overcome by good. It is the lesson of the way of love. The contest in the world today is between the old way of attempting to overcome evil with evil, which with modern weapons would lead to complete chaos, and the way of overcoming evil with good, which would lead to a glorious and mature life.
Peace rightly notes that "we live at a crisis period in human affairs, and those of us who are living today face a very momentous decision: A choice between nuclear war of annihilation and a golden age of peace."
Peace has great faith in little, peace-loving people to make a change in the world. If enough people ask together and work together for peace, then even big things like world disarmament and world peace will be granted.
Among the many wonderful things that endear Peace Pilgrim to me was her ceaseless praying. She explained that part of her prayer is a feeling of thankfulness and a feeling of love for all of God's children and all of God's creation. I love her form of prayer of visualization which is done by visualizing God's light each day and sending it to someone who needs help, lifting up that person until that person is bathed in God's light and raises his/her arms to God. She saw everyone as having a divine nature, something we could all learn from: "All people look beautiful to me; they look like shining lights to me. I always have the feeling of being thankful for these beautiful people who walk the earth with me."
On giving and receiving, Peace has this to say:
Everything is given to me and I pass it on. You must give if you want to receive. Let the center of your being be one of giving, giving, giving. You can't give too much, and you will discover you can't give without receiving. This kind of living is not reserved for the saints but for little people like you and me – if we reach out to give out to everybody.
The insights left behind by Peace Pilgrim are inexhaustible treasures we can all draw from and practice in our lives. We can all be peace pilgrims, although not necessarily walking on foot through different places, cities, and states. We can be peace pilgrims by following the simple but profound and enduring message of the way of love as the way of peace.
Peace desired neither fame nor honor. She passed on to God whatever praise she received. By her life, she touched thousands of lives and left an enduring legacy of an inspiring life well-lived; a life lived above the din and clamour of this world. She walked with God and prayed as she did, and now her spirit lives on as she shines in the kingdom of God, praying ceaselessly for peace in our war-weary world.
(This essay draws on the book Peace Pilgrim: Her Life and Works. It is made available in a free downloadable form at www.peacepilgrim.org)
Belinda F. Espiritu teaches at the University of the Philippines, Cebu.
URL: https://newageislam.com/spiritual-meditations/peace-pilgrim-her-enduring-legacy/d/105862
New Age Islam, Islam Online, Islamic Website, African Muslim News, Arab World News, South Asia News, Indian Muslim News, World Muslim News, Spiritual Meditations