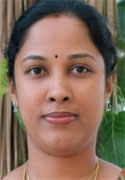 By Asha Iyer Kumar
12 December 2014
Much as we would like to wax in moments of heightened philosophy and dispassion that acclaim is an ephemeral object that one would rather give a pass in our path to natural progress, we all harbour a secret desire for recognition. It is the least that we expect as returns on our efforts to etch our name in Time's hall of fame and leave a mark.
Whether we accept it or not, a majority of our actions is inadvertently directed toward this goal of winning public approval and acceptance, even though we frequently insist, as if to convince ourselves, that 'self–satisfaction' ranks above all objectives of human endeavour. Our craving for material returns pales before our need for praise, no matter how vehemently we deny it to maintain moral propriety.
For all our love of praise and compliments, I am surprised how ill equipped we are to handle it when we are presented with a word of admiration, well deserved or otherwise. This is truer of us whose names and identities aren't larger than ourselves, whose claim to fame lay confined to achievements of modest denomination.
Our clumsiness, I guess, is a result of a conflict within us that on one hand avers that we are worthy of the praise, and on the other hand induces a lingering sense of self doubt that time and again raises questions about our capabilities. Even the most powerful, successful and motivated man will have to grapple with these sporadic emotions, for feelings of insufficiency are as common as any other fluid human emotion. Alongside the knowledge of our merits lurks the apprehension about our deficiencies. It is probably this that makes us visibly 'embarrassed' when we hear veiled eulogies or open adulation in our name, and we utter a bashful 'thank you' before we either switch the subject or scoot from the scene.
My manner of accepting a compliment is as ungainly as anyone else and it makes me oddly self-conscious. I will be lying if I said that it doesn't please me to know that my efforts have been noticed and appreciated. However, what gives me greater satisfaction is the fact that my work has not been in vain; that its effect has not dissipated mid way and has after all, touched someone.
The response that I receive to my endeavours is often a test of my inner wiring, which I am perpetually watchful about. I train myself to be constantly aware of the fact that my fuse wires cannot be allowed to blow owing to a surge in praise, nor be allowed to die because of a lack of external motivation. It is an exercise that helps me find a balance between the joys of attaining humble worldly objectives and the equanimity that is warranted while gently relishing those joys.
It serves to remember that genuine praise often is an act of generosity and is distinct from nauseating flattery. Let us be sincerely thankful for being lavished with earnest words of kindness whenever we are treated to it, but at the same time be conscious that those who praise us are equally endowed with capabilities and there is no room for one-upmanship here. Scratch the surface and we shall know that the truth — that which deserves credit isn't even actually us.
Airing such views of objectivity can be strange and be often taken as pretentious modesty.
We need not be ostensibly loud in ascribing our worldly accomplishments to the Supreme Order, but recognising it in the deepest reserves of our conscience can help us take that lone compliment or those thundering rounds applause with poise. We need not openly rubbish ourselves as 'undeserving' and belittle the praise that we have been handed.
Let us be grateful and graceful in our acceptance of it, whether it is for rustling up a delicious meal, painting a portrait, penning a story or singing a song.
Asha Iyer Kumar is a freelance writer based in Dubai
Source: http://www.khaleejtimes.com/kt-article-display-1.asp?xfile=data/opinion/2014/December/opinion_December19.xml&section=opinion
URL: http://www.newageislam.com/spiritual-meditations/asha-iyer-kumar/are-we-really-praiseworthy--how-to-cope-with-genuine-praise-and-nauseating-flattery/d/100451