Kairana: (Md Yousuf Tyagi)
May 21, 2013
Urdu Daily Sahafat, Translated by New Age Islam News Desk
'The Ulema have put the importance of jihad in the present day behind them. The Ulema of Deoband have become cowards. Muslims should always keep weapons with them according to the Sunnah. They should keep a sword or a dagger even at the time of Namaz'. These views were expressed by the national president of Majlis-e-Ahrar Maulana Habib ur Rehman Sani Ludhianvi here today. He was addressing a big audience at the Tahaffuz-e-Khatam-e-Nabuwwat Conference (Conference on the protection of finality of prophethood) at Eidgah Maidan here. He said to the audience, "Prepare your children to fight the enemies of Islam". Attacking Sufism, the Maulana said, "Becoming Sufi will not do you any good. Sufism does not pose any threat to the British. If there is any threat to them it is from people like us."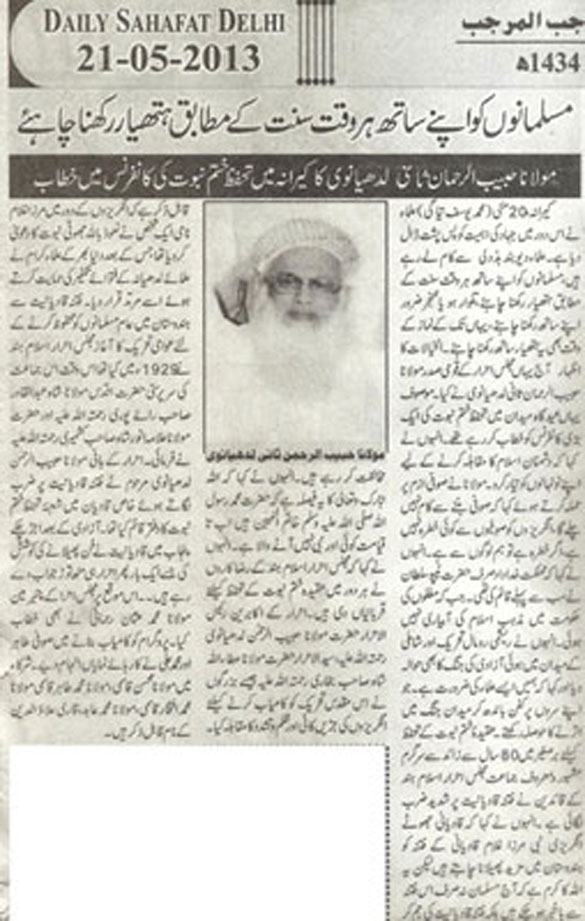 He said that the first Islamic state was established by Tipu Sultan whereas the religion of Islam did not flourish during the reign of the Mughals. Referring to the Reshmi Rumal Movement and the battle of freedom at Shyamli, he said that today we needed such Ulema who have the courage to fight. The leaders of the Majlis-e-Ahrar-e-Islam Hind have been wielding a severe blow to the mischief of Qadianism for the last 80 years. He said that the Qadianis want to spread the mischief of the false English prophet Mirza Ghulam Ahmad Qadiani but with the grace of God, the Muslims today are not only aware of this mischief but also fighting it with all force.
He said that it is the decision of God that Prophet Muhammad (pbuh) is the final prophet and no prophet will come after him till the Day of Judgment. He said that the activists of Majlis-e-Ahrar-e-Islam have rendered sacrifices for the protection of the finality of Prophethood in every age. The great leaders of Ahrar, Maulana Habib ur Rehman Ludhianvi, Ataullah Shah Bukhari and others struck at the roots of the British and made this sacred movement a success and faced violence and persecution.
It should be recalled that a man called Mirza Ghulam Ahmad Qadiani had claimed false prophethood (perish the thought). Subsequently, the Ulema from all over the world supported the fatwa of Kufr issued by Maulana Habib ur Rehman against him and declared him apostate. To protect Muslims in India from the mischief of Qadianism, the Majlis-e-Ahrar had launched a public movement in 1929. During that time, Maulana Shah Abdul Quadir Raipuri and Maulana Anwar Shah Kashmiri patronised this group. Wielding a severe blow to the mischief of Qadianism, the founder of the organisation, Ahrar, Maulana Habib ur Rehman Ludhianvi had opened its office of the department of 'Tahaffuz-e-Khatam-e-Nabuwwat' (protection of finality of prophethood) in Qadian. After the independence, Qadianism again tried to spread its tentacles in Punjab but the Ahrars have been giving them a tough fight once again.
The Chairman of Majlis-e- Ahrar, Maulana Md Usman Rehmani also addressed the conference. Sufi Tahir and Md Ali made all efforts to make the programme a success. Maulana Muhsin Qasmi, Maulana Muhammad Tahir Qasmi, Maulana Md Iftikhar Qasmi, Maulana Muhammad Abid and Qari Alauddin were among other participants.
Source: Sahafat, New Delhi, May 21, 2013
Related article: Prepare Muslim Youth to Behead Ahmadis through Suicide Bombing, Demand Radical Mullahs in Punjab: Preventing Radicalisation of Muslim Youth in India No Less Challenging Than It Is In Pakistan
https://newageislam.com/radical-islamism-and-jihad/new-age-islam-edit-desk/prepare-muslim-youth-to-behead-ahmadis-through-suicide-bombing,-demand-radical-mullahs-in-punjab--preventing-radicalisation-of-muslim-youth-in-india-no-less-challenging-than-it-is-in-pakistan/d/11895
URL: https://newageislam.com/radical-islamism-and-jihad/urdu-daily-sahafat,-tr-new-age-islam/muslims-should-always-keep-weapons-with-them-according-to-sunnah,-prepare-your-children-for-jihad--maulana-habib-ur-rehman-sani-ludhianvi/d/11868