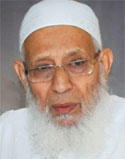 By Qari Syed Usman Mansoorpuri
(Excerpts Translated by New Age Islam Edit Desk)
09 September 2020
Presented below is a part of the presidential speech delivered by Qari Syed Usman Mansoorpuri at Deoband's three-day national convention that began on Nov. 1, 2009
Respected Audience!
The whole world is worried about terrorism and its effects. Terrorism, whether committed by individuals, an organization or any state, is reprehensible and needs to be curbed. No country or society can develop but only in a peaceful environment. In a state of terror and fear, people's attention shifts from the basic issues of life to their own security and the social system remains in disarray.
Since 9/11, the global phenomenon has entirely changed on the issue of terrorism. What has peculiarly happened is that religions and ideologies have also come under attack along with the increase of hatred, distancing and enmity among numerous sects. In this regard, the human relations and their role have also become a topic of discussion. Particularly Islam, the Prophet of Islam and Muslims are the most targeted. In view of this, Jamiat Ulema-e-Hind has been campaigning for the last 9 years to improve the situation and especially to present Islam in its true form.
Relatively Jamiat Ulema-e-Hind has held small and large meetings, conferences etc. in several parts of India, notably Delhi, Hyderabad, Mumbai, Bangalore, Bhubaneswar, Azamgarh, Ahmadabad, Palanpur and Chennai. These conferences have produced good results at national and international levels.
There is changing in the tone and actions of the government, the media and the administration. However we believe that our fight against terrorism and terrorists is not over. It is just the beginning. God willing, we will continue our campaign and struggle until the situation turns right for peace.
Today a large number of people are being persecuted in the name of counter-terrorism. Efforts are being made to tarnish the image of Islam and the Prophet of Islam. It is being said and written that Islam is hindrance in the path of human unity, peaceful and global society. An idea is thus aired among the common people that the practical Muslims cannot be a patriot because Islam teaches Muslims hatred and that they should stay away from other sects. It is a dangerous and vicious propaganda that we must fight vigorously and seriously in all possible ways.
The first Prime Minister of India, Jawaharlal Nehru had said that it is absurd to say that there cannot be good Muslims. But it is unfortunate that by propagating the same absurdity and baseless talk, attempts are being made to damage social unity and sectarian harmony. Islam and the Prophet of Islam are being targeted in connection with Jihad. We are well aware of this and feel that there are a number of misunderstandings and problems in our society about interrelationships among different religions and sects. We need to make all possible efforts through scientific talks and seriousness in order to remove such misunderstandings. But it is noteworthy that, by attributing wrong things to inspire hatred, one cannot hold a place in any civilized society.
Islamic literature on all the necessary subjects is widely available. The Qur'an and Hadith have been translated into multiple languages ​​and the relative work is being done in different ways. We invite you to study them seriously and try to know the real situation.
Islam strongly prohibits disruption of peace and spreading corruption. Those who spread terror through destructive acts in the society and target innocent people, whether they belong to any religion or sect, are not Mujahidin in the eyes of Islamic Sharia but mischief-mongers. Yes, Islam teaches mutual harmony, tolerance, kindness and good treatment with non-Muslims. Under normal circumstances, mutual dealings with non-Muslims, business and general social matters related to the necessities of common masses are not hindered at all. The Qur'an and Hadith contain clear rules and instructions in this regard.
In Islam the killing of an innocent person is considered the murder of the entire humanity and saving a human being is tantamount to saving the whole of humanity. Islam has shown humanity even in war situations and forbidden the killing of women, children, old people and the hermits. Similarly killing worshipers, cutting down fruit trees and mutilating the bodies are criminal offenses according to Islamic sharia. The forces and individuals that link Islam with terrorism are killers of truth and justice and traders of hatred.
Seeing the issue of terrorism in the context of sect and religion weakens the fight of peace activists against terrorism. Considering terrorism a curse and a torment for a peaceful society, all civilized peace-loving people, irrespective of religions and sects must fight terrorism. A state, organization, police administration, media circles and investigative agencies, all must play their respective part in building a peaceful and prosperous society.
We especially appeal to the government, the media and our compatriots to take the issue of terrorism seriously and try to counter it in such a way that it does not turn sectarian. We also appeal to the Muslims to come out with peace-loving Indians, fight terrorism and make every possible effort to address the shortcomings in this regard. Praise be to Allah, the constant struggle of the Jamiat Ulema-e-Hind is weakening the accusation that Islam is responsible for terrorism.
In the last few years, the Jamiat Ulema-e-Hind has paid more attention to stop the efforts being made to tarnish the image of Islam and its Prophet (peace be upon him). It is hoped that we have succeeded to an extent in this mission and have to take this campaign further. The protection of Islamic Sharia and improvement of Islamic image will definitely result into improvement and protection of Muslims themselves.
We also want to bring to the notice of the people of authority, governance and the well-wishers of the country that terrorism emanates from the cradle of sectarianism and injustice. Therefore effective measures are needed to combat sectarianism, injustice and deprivation. There needs to keep a close eye on the sectarian activities taking place in the country under various headings.
We, the Jamiat Ulema-e-Hind, appeal to all people, irrespective of religions and sects, to work together for the development and peace of the country. We need to work together for the good reputation of India, and for bringing the India of our dreams into being. The Jamiat Ulema-e-Hind has repeatedly called for all Indians to strive for the development and peace of the country in such a way that it gets included in the list of developed countries by 2020.
We believe that sectarianism, instability and terrorism are major obstacles to our progress, an obstacle that must be removed for all Indians.
URL for Full Urdu speech: https://www.newageislam.com/urdu-section/qari-syed-usman-mansoorpuri/terrorists-are-criminals-president-jamiat-ul-ulema-e-hind-دہشت-پھیلانے-والے-فسادی-ہیں/d/2034
URL: https://www.newageislam.com/radical-islamism-and-jihad/qari-syed-usman-mansoorpuri-tr-new-age-islam/elimination-of-terrorism-is-our-shared-responsibility/d/122822
New Age Islam, Islam Online, Islamic Website, African Muslim News, Arab World News, South Asia News, Indian Muslim News, World Muslim News, Women in Islam, Islamic Feminism, Arab Women, Women In Arab, Islamophobia in America, Muslim Women in West, Islam Women and Feminism