By New Age Islam News Bureau
27 August 2013
After the Arab countries, Afghanistan, Pakistan and some African Muslim regions, the radical Wahhabi/Salafi Ideology is now aggressively engaged in radicalizing new Muslim generations of India. It is about time for the silent majority of peace-loving mainstream Muslims to speak up and give up remaining silent onlookers. An overwhelming majority of Indian Muslims are peaceful, nationalistic, patriotic and followers of the Sufi saints. Given this, it is quite shocking and shameful that Wahhabi extremism has started sweeping across this country too.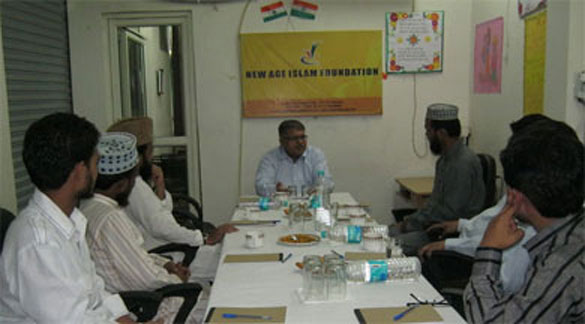 New Age Islam Foundation organised a brainstorming session in its own premises in Delhi on Saturday, 24th of August, with a number of Islamic scholars, Sufi ideologues, social activists and grassroots workers with an aim to finding newer ways of checking the growth of hard-line ideology in the country and spreading the Islamic message of peace and tolerance as a counterattack on the ideological extremism that seems to be fast overwhelming Indian Muslim mindset too.
The meeting was part of a broad agenda of New Age Islam Foundation to foster global peace by ideologically countering extremist, militant ideologies. The agenda was to determine how New Age Islam Foundation can further contribute to reducing the deleterious impact of religious extremism, doctrinal conservatism, and theological radicalism penetrating into the mindset of the global Muslim community in general and the new generation of Indian Muslims in particular.
The meeting was chaired by Mr. Sultan Shahin, Editor, New Age Islam and the founding president of New Age Islam Foundation. A Sufi-minded Islamic scholar associated with New Age Islam Mr. Ghulam Rasool Dehlvi introduced the guests.
The meeting started with Mr. Shahin's presidential remarks in which he unfolded the agenda of the meeting. He explained to them his own motivations and why he was devoting all his time and energy to the task of deradicalisation of Muslim society. He recounted various related experiences he has had in his interaction with radical Muslims in different parts o the world. He also detailed how this was leading to Islamophobia among non-Muslims and giving Islam a very bad image in the global society.
Mr. Shahin expressed his anguish at the growing radicalisation of Muslim society in India. He found it difficult to believe, he said, some extremist Muslims publicly make horrible statements and no cognisance is taken by the larger Muslim community, it's leaders or ulema. He cited the example of a recent statement by national president of Majlis-e-Ahrar Maulana Habib ur Rehman Sani Ludhianvi in which he asked Indian Muslims to take to the path of Jihad so that "we can eliminate Ahmadis from India." He came up with a fresh fatwa that it was incumbent upon all Muslims to carry a sword with them all the time even during prayers, as it was sunnat (following an example of the prophet). One Mullah can go crazy, said Mr. Shahin and utter such profanities and his stupid audience can listen to it with growing reverence, but what about the larger Muslim community, he asked. Not one person protested. No political leader, no intellectual, no journalist. The news was published by the Muslim press but no editorials denouncing the condemnable statement emerged.
Similarly Mr. Shahin cited the example of recent demonstrations in Kolkata organised by the Indian wing of the South Asian scourge called Jamaat-e-Islami in support of militant Islamic war criminals in Bangladesh who were being finally punished by the courts in Dhaka. In cahoots with Pakistan army, these anti-national war criminals were instrumental in the large-scale killings of their fellow Bengali Muslims who were demanding independence from Pakistan in 1970-71. Indian wing of the Jamaat-e-Islami clearly showed its anti-national character as Bangladesh's war of Independence had been supported by India. But no protest came from any quarter in the larger Muslim community.
Any Indian should be forgiven for believing that the entire Indian Muslim community supports Majlis-e-Ahrar and Jamaat-e-Islami. Mr Shahin said he knew that was not the case, but, he asked, "how can we convince the world that all of us have not gone crazy, if we maintain complete silence when such statements are being made in our name and in the name of our religion and being reported in our own press."
He asked the scholars present in New Age Islam Foundation's premises to share with him their thoughts on how to further New Age Islam's continuing campaign against further radicalisation of Muslim society, with particular reference to India.
A number of moderate Islamic scholars, Sufi writers, social workers, and representatives of leading Sufi shrines participated in the round-table meeting with members and volunteers of New Age Islam Foundation. The most noted among them were:
1) The spokesperson of All India Madrasa Co-ordination Committee, Maulana Khushtar Noorani, chief editor, Jaam-e-Noor (an Urdu monthly magazine) and the managing trustee of the New Age Media and Research Centre
2) Maulana Zishan Ahmad Misbahi, a trainer and mentor in Jamia Arifia, Khanqah Arifia, Allahabad, U.P and the editor of the research-based Sufi magazine "Al-Ihsan" and the Khanqah organ Khizr-e-Raah (an Islamic Urdu monthly magazine)
3) Mohammad Azeem, the founding president of Foundation for Global Peace and Prosperity
4) Maulana Ashraful Kausar Misbahi, research scholar at Jamia Millia Islamia and the founding director of Ideal Education Centre, Jamia Nagar, New Delhi
5) Arman Neyazi, a columnist with New Age Islam, devoted to spiritual meditations
6) Ghulam Ghaus, an Islamic scholar with a Sufi background associated with New Age Islam
7) Mohammad Yameen Ansari, former producer in the television channel, Alami Sahara, and News Editor, the Urdu daily, Roznama Inquilab, Delhi.
All the participants made categorical statements on behalf of their concerned organizations and institutions denouncing Islamic radicalism and extremism . The main point made by the majority of them was their potential contributions to the New Age Islam Foundation's struggle towards deradicalisation of the Muslim society, countering religious extremism and terrorism.
Most of them laid stress on the launch of a fresh initiative at grassroots level to counter the religious extremism and fanaticism promoted by radical Muslim groups and sects claiming to be carrying out "global jihad" to establish the sovereignty of God on the earth.
The discussion was focused around the extremists' madrasas, seminaries, mosques and makatib (local madrasas) that they are now running as their militant enclaves, discussing the ways to put an end to violence perpetrated in the name of Islam. The participants also condemned, in clear, categorical and unequivocal terms, the extremists' fatwas that incite religious hatred, sectarian strife and communal bloodshed, affirming that the root cause of these pernicious efforts was the misinterpretation of the rulings of the Quran, especially those concerning jihad and takfir (Muslims accusing other Muslims of apostasy).
The participants spoke out, in unison, against the wave of global salafist violence and Wahhabi destruction of Sufi shrines and mausoleums in Saudi Arabia. Maulana Khushtar Noorani said that, "Sufi shrines are a part of our religious and national memory in its cultural and civilsational depth. So we cannot allow anyone to attack and burn them down just on some controversial religious and doctrinal justifications. This issue, however, has never been a matter of concern for Indians who are known for their moderation in thought and balance in faith and behaviour."
Adding to this point, a Sufi social activist Mohammad Azeem outlined that Wahhabis and extremists are applying their strategy to change the country according to their radical vision and extreme interpretation of Islamic Shariah. Though himself wearing a beard, he said, "It's just the beginning; they are on the lookout to creep into each nook and corner of our country, and will also force all Indian Muslim men to grow beard and women to wear the niqab." Though Sufis too grow beard and their women wear niqab, they don't force others to do so, but rather they frown upon the extremists such as Wahhabis who force others to grow beard and wear niqab, and go to the extent of killing of those who refuse to do so. This is one of the striking difference between the Sufi-minded Muslims and Wahhabis.
Speaking again, Maulan Khushtar Noorani further elaborated his point. He said, "the extremists especially target young impressionable minds of the Muslim youth and children. They also focus on ordinary and common Muslims and indoctrinate them into being religious zealots and fanatics. They lure unaware and naive Muslims to extremism by comparing the Fiqh, Imams and Sufi saints to the "Salaf" (first generations of Muslims) and calling them to give up following the former and return to the latter. For instance, if a common Muslim calls himself Hanafi (attributed to Imam Azam Abu Hanifa) or Nizami (attributed to the great Sufi saint Hazrat Nizamuddin Auliya), Wahhabis reject it outright and ask them to call themselves "Salafi" or "Muhammadi", telling them that our Prophet Muhammad (pbuh) and Salaf (his companions and early Muslims) are higher in status and more deserving to be followed in comparison to any Sufi saints." He outlined the importance of grassroots-level efforts to uproot the seeds of religious fundamentalism, referring to Wahhabi missionaries' focus on ground works being carried out in madrasas, Muslim schools, public meets, religious congregations etc.
In his concluding statement, Mr. Noorani put forward a proposal to organise an international Sufi conference bringing together the heads of more than a hundred major Sufi shrines of India and other parts of the Muslim world on one stage to openly denounce the acts of terrorism and violence perpetrated in the name of Islam by a handful of Muslim extremists and Wahhabi terror outfits.
Reflecting on the above proposal by Maulana Khushtar Noorani, Maulana Ashraful Kausar Misbahi suggested inviting religious and political leaders from other communities to the proposed conference and giving it the maximum media coverage in order to spread the Sufis' message of peace and tolerance far and wide. This way, he opines, leaders of other communities will also know who actually the representatives of the mainstream Muslims or moderate Islam are.
Taking this point further, Maulana Zishan Misbahi reminded the participants of what he thought were mistakes committed by the organisers of the All India Ulama and Mashaikh Board Conference held in 2011 in Murdabad, U.P with an aim to publicly denounce Wahhabi extremism and radicalisation of Muslim youths in India. He advised not to use the name of Wahhabis, otherwise, he said, they will counterattack and will prove more dangerous and harmful than they are today, as they possess huge petrodollar resources than that of the entire peace-loving mainstream Muslim community. He added: "countering religious extremism and terrorism through a website and literary works, which NewAgeIslam.com is engaged in, will definitely bear fruits, but they can be doubled by reaching out to the common Muslim masses and raising awareness among them about the creeping extremist ideology. He also emphasised the importance of the translation works that New Age Islam.com is doing in English, Arabic, French, Urdu and Hindi to spread the peaceful message of Islam and to refute the Wahhabi/Talibani fatwas that seek to justify wanton killing of innocent non-Muslim civilians and non-Wahhabi Muslims.
Mr. Abdul Lateef laid emphasis on initiating efforts to bridge the gap between moderate Ulema and the Muslim youth in general, and university students in particular. He also appealed to Ulema to encourage and exhort the Muslim youth, especially the madrasa graduates, to get enrolled in universities and modern educational institutions so that they can broaden their intellectual horizon and keep themselves abreast of the dangers of religious extremism.
Mr. Lateef also expressed grave concern over the "talk much and do little" attitude of the Muslim organizations saying that "it would be sheer wastage of time and energy, if we keep organizing such big-scale programs and don't implement our plans and resolutions in the field." We talk much about Sufism, he said, but do little when it comes to render selfless service to humanity which is the true essence of Sufism.
In this context, among others he too appreciated the grassroots work New Age Islam Foundation is doing in introducing madrasa students and other needy children to computer education.
The group also discussed ways of achieving more holistic and inclusive goals such as educating womenfolk, empowering and employing Indian Muslim youth, eradicating communal hatred and violence, eliminating illiteracy and poverty and framing a broad nationalistic agenda to uplift the downtrodden sections of the Indian societies.
At the end of the session, Mr. Sultan Shahin extended vote of thanks to all the participants, invitees and volunteers of the program.
URL: https://www.newageislam.com/radical-islamism-and-jihad/new-age-islam-news-bureau/sufi-minded-islamic-scholars-brainstorm-new-ways-to-further-new-age-islam-foundation-s-multi-dimensional-campaign-against-islamic-radicalism/d/13245
New Age Islam, Islam Online, Islamic Website, African Muslim News, Arab World News, South Asia News, Indian Muslim News, World Muslim News, Women in Islam, Islamic Feminism, Arab Women, Women In Arab, Islamophobia in America, Muslim Women in West, Islam Women and Feminism