By Karan Pradhan
Jul 8, 2016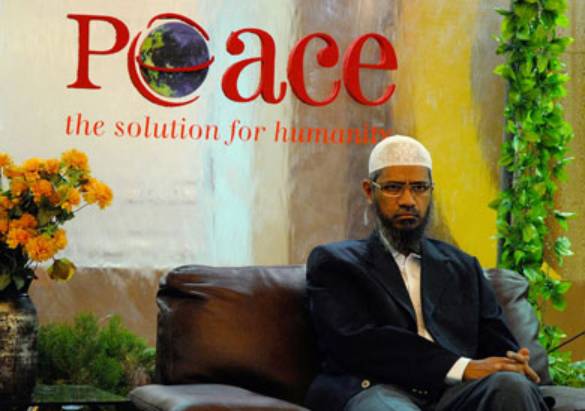 Zakir Naik is not a terrorist.
Not till the moment there is hard evidence to prove his direct involvement in any of the terrorist activities either in India or abroad. The preacher and televangelist from Dongri, who connects with his young followers in English unlike the paan-chewing mullahs, can at best be booked for hate speech. But, here lies the danger Naik poses to India, including its 160 million-strong Muslim population. Naik thrives in the minds of thousands of young-terrorist aspirants, seeding the Taliban philosophy. That, certainly, is deadlier for a secular society than the threat a 'terrorist' poses.
Naik isn't Omar Mateen carrying an AR type rife.
But his speeches spit the venom of hatred to millions of minds through his 'peace' channel and public engagements. That give rise to a thousand Mateens, wrecking their minds and convincing them that fight against 'Islam's enemies' is the sole goal in their lives. When the suit-clad doctor-turned-preacher and self-proclaimed expert of comparative religious studies, proclaims Islam's supremacy and exhorts 'every Muslim' to become a terrorist, Naik is morphing himself into a polarising weapon.
An analysis of his previous speeches by the 51-year old shows two clear dangers.
Naik's illogical argument, rather ignorance, about the relation between religion and the idea of a secular nation are flawed but convincing enough to those who believe in Islam's supremacy. In a February 2012 video, addressing a large crowd, Naik implored Muslims to 'fight for Islam' and 'disobey the law of the land if it goes against the law of the creator'. Saying "Vande Mataram', Naik said, is not desirable not just Muslims, even Hindus. Why? Because, Hinduism, Naik says, speaks against the concept of idol worship and hence, it is wrong to bow to the land.
A Muslim Is Only Obliged To Bow To The 'Creator', Naik Said.
In a democracy, everyone does have the freedom to do or not do what he or she wishes, provided it doesn't breach the law of the land and cause disrespect to the constitution. But, only an ignorant mind would make a comparison of one's religious beliefs and his patriotic feelings in a secular, democratic setup.
Naik's reasoning could be applied in a country that is run with Sharia law, wherein Islam is also a political entity and there is hardly any separation between religious and temporal powers. But, that isn't so in a secular society, where the constitution is the sacred text and the motherland is the goddess above all religions. So when Naik is saying, "We (Muslims) are not ready to worship the country," he is disrespecting the Constitution of India and the motherland.
In his speeches, Naik randomly quotes chapters and versus from Hindu, Christian and Islamic religious texts to embolden his arguments. But, a closer look at Naik's speeches shows that the right phrase to describe his speeches isn't 'comparative studies', but 'misinterpretation' of almost all religions including Islam to enforce his idea of religious superiority and suppression of disbelievers.
Tactful Preacher
But, despite the media hullabaloo and widespread anger against him within his community itself, there may not be a strong case against Naik that would stand strong before the court of law. Even when Naik advocates the false notion of religious supremacy, the merits of Taliban-like social codes, offers a defence of Osama bin Laden, pledges allegiance to Islamic terrorists, argues against girls' education and the LGBT community, he does it through carefully-worded and clever caveats. Naik's allegiance to terrorism before the camera isn't unconditional.
Take one instance where Naik endorses Osama Bin Laden and Taliban as fighters of Islam and argue why Taliban and bin Laden are not necessarily damaging the Islam. In one his videos, Naik says:
"If he (Osama bin Laden) is fighting the enemies of Islam, I'm for him. I don't know what he is doing. I'm not in touch with him. I don't know him personally. I read newspapers. If he is terrorising America, the terrorist, biggest terrorist, I'm with him. Every Muslim should be a terrorist. The thing is that if he is terrorising the terrorist, he is following Islam. Whether he is or not, I don't know. Now don't go around outside saying Zakir Naik is for Osama bin Laden. If he is terrorising the terrorist I'm with him. I don't know what he is. I cannot base my judgment only on news. But, you as Muslims, without checking up laying allegations is also wrong. I'm with those people who are holding the Quran. Even the full world is against them, I'm with them (sic)"
Here, Naik offers his unconditional allegiance to one of world's biggest terrorist groups in their "fight' against Islam's enemies but his speech is full of caveats. Clearly, Naik is unlike Hafiz Saeed or Anwar al-Awlaki, who does not mince words to advocate terrorism without caveats.
Compared to them, Naik is timid and, somewhere inside, is aware and so worried against the repercussion of his own doings. He doesn't want the investigators to nail him in a court of law, hence, cleverly distances him from bin Laden et al. This is where Naik's clever strategy works and proves that he is deadlier than a terrorist masquerading himself in his oratory tricks to fool the law. No Indian court can convict someone for defending his or her religion or airing his views on a terrorist in a foreign country.
In another video, answering the question of a young man in the audience, Naik strongly advocates suicide bombing as a permitted proposition in Islam "if the situation demands" ie if it is a fight against the enemies of Islam or Prophet Mohammed, but says committing suicide for personal reasons is forbidden. Here again, Naik ascribes the view to set of Islamic scholars who stand, for and against, the idea of suicide attacks against the "enemies of Islam". That's Naik's way of taking anticipatory bail, but at the same time effectively convincing the young questioner that if wanted to go and become a suicide bomber and become a martyr, that is permitted in Islam.
Remember, Naik has been doing this for years. But, his name has surfaced only now in this fashion after the Bangladesh attacks and after the National Investigation Agency (NIA) busted an Islamic State module in Hyderabad. In both cases, the accused (Rohan Imtiaz and Ibrahim Yazdani respectively) have confessed to the investigators that they were 'inspired" by Naik's speeches.
Though Bangladesh has sought action against Naik, there is no real case for investigators to arrest Naik or punish him tagging a terrorist. But, a terrorist is born and grow deeper in one's mind first. That's where the likes of Zakir Naik thrives. But, that charge is difficult to prove.
According to a CNN-News18 report, Naik's Mumbai-based organisation, Islamic Research Foundation (IRF) is the only South Asian Centre listed on the website of Jamaat-ud-Dawa (JuD), the organisation led by the mastermind of the 26 November, 2008 Mumbai attacks, Hafiz Saeed. If the government indeed has evidence against Naik, it should ask the Information and Broadcast Ministry to ban Naik's television channel and then his public engagements to ensure he doesn't 'inspire' the terrorist-aspirants.
Beyond that, there isn't a strong case against him so far.
Source: firstpost.com/india/zakir-naik-bigger-threat-than-terrorists-but-no-strong-case-against-him-2880944.html
URL: http://www.newageislam.com/radical-islamism-and-jihad/karan-pradhan/zakir-naik-a-bigger-threat-than--terrorists-/d/107885