By Gideon Levy
Aug. 24, 2014
After the first child, nobody batted an eye; after the 50th not even a slight tremor was felt in a plane's wing; after the 100th, they stopped counting; after the 200th, they blamed Hamas. After the 300th child they blamed the parents. After the 400th child, they invented excuses; after (the first) 478 children nobody cares.
Then came our first child and Israel went into shock. And indeed, the heart weeps at the picture of 4-year-old Daniel Tragerman, killed Friday evening in his home in Sha'ar Hanegev. A beautiful child, who once had his picture taken in an Argentinean soccer team shirt, blue and white, number 10. And whose heart would not be broken at the sight of this photo, and who would not weep at how he was criminally killed. "Hey Leo Messi, look at that boy," a Facebook post read, "you were his hero."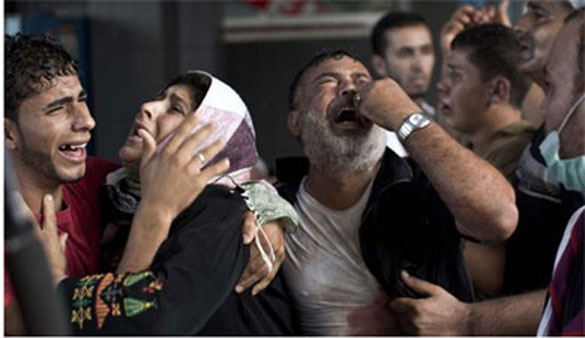 Palestinian mourners cry at Gaza City's al-Shifa hospital after an explosion killed at least seven children in a public playground in the beachfront Shati refugee camp on July 28, 2014. Photo by AFP
--------
Suddenly death has a face and dreamy blue eyes and light hair. A tiny body that will never grow. Suddenly the death of a little boy has meaning, suddenly it is shocking. It is human, understandable and moving. It is also human that the killing of an Israeli boy, a child of ours, would arouse greater identification than the death of some other child. What is incomprehensible is the Israeli response to the killing of their children.
In a world where there is some good, children would be left out of the cruel game called war. In a world where there is some good, it would be impossible to understand the total, almost monstrous unfeelingness in the face of the killing of hundreds of children – not ours, but by us. Imagine them standing in a row: 478 children, in a graduating class of death. Imagine them wearing Messi shirts – some of those children wore them once too, before they died; they also admired him, just like our Daniel from a kibbutz. But nobody looks at them; their faces are not seen, no one is shocked at their deaths. No one writes about them: "Hey Messi, look at that boy." Hey, Israel, look at their children.
An iron wall of denial and inhumanness protects the Israelis from the shameful work of their hands in Gaza. And indeed, these numbers are hard to digest. Of the hundreds of men killed one could say that they were "involved"; of the hundreds of women that they were "human shields." As for a small number of children, one could claim that the most moral army in the world did not intend it. But what shall we say about almost 500 children killed? That the Israel Defense Forces did not intend it, 478 times? That Hamas hid behind all of them? That this legitimized killing them?
Hamas might have hidden behind some of those children but now Israel is hiding behind Daniel Tragerman. His fate is already being used to cover all of the sins of the IDF in Gaza.
The radio yesterday already talked about "murder." The prime minister already called the killing "terror," while hundreds of Gaza's children in their new graves are not victims of murder or terror. Israel had to kill them. And after all, who are Fadi and Ali and Islaam and Razek, Mahmoud, Ahmed and Hamoudi – in the face of our one and only Daniel.
We must admit the truth: Palestinian children in Israel are considered like insects. This is a horrific statement, but there is no other way to describe the mood in Israel in the summer of 2014. When for six weeks hundreds of children are destroyed; their bodies buried in rubble, piling up on morgues, sometimes even in vegetable refrigeration rooms for lack of other space; when their horrified parents carry the bodies of their toddlers as a matter of course; their funerals coming and going, 478 times – even the most unfeeling of Israelis would not allow themselves to be so uncaring.
Something here has to rise up and scream: Enough. All the excuses and all the explanations will not help – there is no such thing as a child that is allowed to be killed and a child that is not. There are only children killed for nothing, hundreds of children whose fate touches no one in Israel, and one child, just one, around whose death the people unite in mourning.
Source: http://www.haaretz.com/opinion/.premium-1.612085
URL: https://www.newageislam.com/radical-islamism-and-jihad/gideon-levy/the-difference-between-children/d/98742