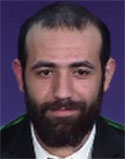 By Abdalaziz Alhamza
July 6, 2017
I grew up in Raqqa, a small Syrian city on the banks of the Euphrates. The city of my childhood was little known. They didn't even include Raqqa in the weather forecasts on local news.
In January 2014, Islamic State militants took control of Raqqa and cut it off from the world, submitting its citizens to abuse and horror. The Islamic State claimed Raqqa as the capital of their caliphate and began to publish slick videos calling the city a paradise and seducing new jihadists into joining their cause.
Even though we had no formal training, my friends and I became citizen journalists to expose the atrocities committed by the Islamic State. We called the group Raqqa is Being Slaughtered Silently (RBSS).
We started inside Raqqa, plastering walls with anti-ISIS graffiti and posters. We even created a local magazine called Dabaq, a name similar to that of the ISIS magazine Dabeeq. We would go out at night and place copies of Dabaq at cafes, shops, and mosques. The cover of our magazine was the same as the Islamic State magazine, but inside we published information to discourage residents from joining the terrorist group.
But we also wanted the rest of the world to know what was happening in our home town, so we snuck covert footage and photos out of the city, publishing them on social media and ultimately sending to various news organizations to show that Raqqa was not the utopia that ISIS claimed. Now, when people search for Raqqa on the Internet, instead of finding ISIS propaganda, they find our website listing the abuses carried out by ISIS.
Last week, the U.S.-backed Syrian Democratic Forces seized the final road into Raqqa, tightening a siege on the militant de-facto capital. But reclaiming the city will not be enough; we must continue to fight against the ideology of ISIS. Our group works diligently to point out the hypocrisy and the lies of ISIS' media campaign — an act of resistance that the terror group does not like. They have killed several members of our group and continue to track us down and threaten us online. In the three years since leaving Raqqa, several members of RBSS have come out of the shadows to put a human face to the campaign. We continue our mission in the hope that one day our words and images will defeat their weapons.
Abdalaziz Alhamza (@3z0ooz), a co-founder of Raqqa is Being Slaughtered Silently, is featured in Matthew Heineman's documentary CITY OF GHOSTS, which will be released July 7 in New York City and July 14 in theatres around the country.
Source: nytimes.com/2017/07/06/opinion/bombs-will-not-defeat-isis-but-maybe-the-internet-will.html
URL: http://www.newageislam.com/radical-islamism-and-jihad/abdalaziz-alhamza/bombs-will-not-defeat-isis-but-maybe-the-internet-will/d/111809