By Urooj Jawed
June 28, 2016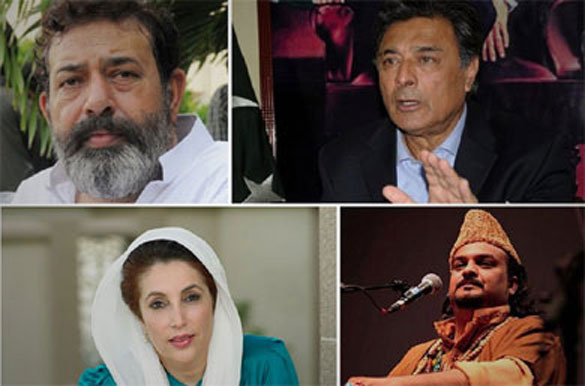 Terrorist groups would have you believe they are doing God's work when they attack parks filled with children or gun down Sufi artists, such as Amjad Sabri. They're not. Terrorism has no religion.
In the past decade, terrorism has claimed the lives of Pakistan's most brilliant minds, our most outspoken activists, our most valiant politicians, and above all those who challenged the extremist mindset.
Over the past decade, we have lost several exceptional personalities to targeted terrorist attacks. People we mourned for; people who united us as a nation in outrage and resolve; people who we have now forgotten. This is nothing but a small tribute to them.
June 2016: Amjad Sabri
The legendary Qawwal's life came to an end when unidentified armed motorcyclists shot him dead in broad daylight. Thousands of supporters, fans and friends gathered to mourn Sabri's tragic death and to pay their last respects. The famed Qawwal was buried next to his father at Paposhnagar graveyard, Nazimabad.
Amjad Sabri's Coke Studio debut: The legendary Qawwal's parting gift
It was as if the Sufi singer knew his time had come. Hours before his death, Sabri appeared on a Sehri transmission, where he recited his last Naat, requesting Prophet Muhammad (pbuh) to come to his rescue when he arrives in his grave.
May 2016: Khurram Zaki
Known for his outspoken stance against the Taliban and other radical militant groups, rights activist Khurram Zaki was shot dead by unidentified assailants in Karachi, last month.
Zaki was vocal against extremist elements and had started a campaign against Maulana Abdul Aziz when the latter refused to condemn the December 2014 Peshawar attack which claimed the lives of over 130 schoolchildren.
An editor for the blog 'Let Us Build Pakistan' and a former television journalist, he had been actively campaigning against sectarian violence.
August 2015: Shuja Khanzada
In an alleged retaliation for the killing of Lashkar-e-Jhangvi (LeJ) chief Malik Ishaq and a senior al Qaeda commander for Punjab, Punjab Home Minister Col (retd) Shuja Khanzada was killed along with 16 others in a suicide blast at his political office in Shadi Khan near Attock.
Khanzada was reportedly trapped under the rubble along with 24 other people as the entire structure of his office building collapsed. 16 other people lost their lives in the attack.
A year on, a suspect believed to be involved in the attack is yet to indicted because the government has not appointed a prosecutor for the special court set up under the Protection of Pakistan Act (PPA), 2014.
April 2015: Dr Syed Wahidur Rehman
An assistant professor from the University of Karachi, Dr Syed Wahidur Rehman, was driving his green Suzuki Cultus when he was shot multiple times in Federal B Area.
Popularly known as Yasir Rizvi, police reports revealed the murder could be a case of mistaken identity and, hence, sectarian killing. In August 2015, an anti-terrorism court released Rehman's suspected killer over lack of evidence.
April 2015: Sabeen Mahmud
The nation was left in a state of shock when founder of The Second Floor (T2F) café and social activist Sabeen Mahmud was shot dead on her way home from work.
Sabeen was shot five times and was pronounced dead on arrival at the National Medical Centre. Her mother suffered injuries. Months after the incident, Sabeen's driver and a prime witness to her murder was also shot dead.
Last month, army chief General Raheel Sharif signed the death warrants of 'hardcore terrorists' for their involvement in Mahmud's murder.
September 2014: Dr Muhammad Shakil Auj
The 54-year-old outspoken dean of Islamic Studies Faculty at the University of Karachi was silenced by a single 9mm bullet in Gulshan-e-Iqbal in September 2014.
Muhammad Shakil Auj, known for his liberal views, had been labeled a 'blasphemer' in a text message campaign. He was shot dead while driving to an Iranian cultural centre where he was invited as guest of honour.
July 2014: Syed Mubarak Raza Kazmi
Senior lawyer Syed Mubarak Raza Kazmi, 60, was killed in a suspected sectarian attack in Karachi's Gulshan-e-Iqbal area.
According to police reports, Kazmi, the son-in-law of scholar Allama Talib Jauhri, was buying fruit from a local market when four men riding two motorcycles ended his life.
59 most powerful images in Pakistan's history
In August 2014, the District West police claimed to have apprehended a suspect allegedly involved Kazmi's murder case.
May 2014: Rashid Rehman
Human rights activist Advocate Rashid Rehman died on the spot after two armed men opened fire at him in his private chamber near Kutchery Square, Multan.
Rehman, who was also the coordinator for the Punjab office of the Human Rights Commission of Pakistan (HRCP), had been facing death threats for pleading the case of a blasphemy suspect. He had been threatened by the prosecution during a court hearing.
In January 2016, Rehman's sister Lubna Nadeem told a Senate panel that she was trying in vain to bring to justice the culprits who were allegedly involved in her brother's murder.
January 2014: Chaudhry Aslam
A suicide bomb blast by the Taliban killed arguably Pakistan's best known police-commander, Superintendent of Police (SP) Crime Investigation Department (CID) Chaudhry Aslam, near Essa Nagri at the Lyari Expressway in Karachi.
The Tehreek-e-Taliban Pakistan (TTP), which had also carried out an attack on Aslam's house in 2011, claimed responsibility for the blast.
A year later, police officials arrested two suspects identified as Dawood Mehsud and Azeem Mehsud, who had planned the attack on Aslam's house.
March 2013: Perween Rahman
Known as 'Karachi's mother', Perween Rehman was killed in a targeted attack in Orangi Town.
Director of one of Pakistan's most celebrated socially responsive organisations, the Orangi Pilot Project Research and Training Institute, Rehman's death left a vacuum in the metropolis.
In May 2016, three years after the prominent social worker was shot dead, Karachi police claimed they had finally apprehended the prime suspect in Rehman's assassination.
March 2013: Sibte Jafar
In March 2013, Karachi lost another professor at the hands of terrorists. Poet and former principal of Liaquatabad College Professor Sibte Jafar was shot dead by unidentified armed men.
Jafar was a lawyer, renowned poet, educationist and a scholar and apart from his educational duties, he was well known for his Sozkhani and Marsiya recitals.
In April 2013, police arrested two suspects involved in Jafar's murder, from Karachi's Surjani Town area. The suspects belonged to the banned Lashkar-e-Jhangvi (LeJ).
December 2012: Bashir Ahmed Bilour
K-P Senior Minister Bashir Ahmed Bilour was killed when a suicide bomber allegedly detonated his explosives during an Awami National Party (ANP) rally.
Bilour was shifted to Lady Reading Hospital in critical condition, where he succumbed to injuries. Taliban claimed responsibility for the attack.
Commending Bilour for his bravery, his elder brother recalled that Bilour never fussed much about security, but he was always accompanied by one or two guards.
January 2011: Salmaan Taseer
An assassination which Pakistan will never forget. The high-profile governor of Punjab was gunned down in Islamabad's Kohsar Market, by his guard Mumtaz Qadri.
Qadri, a former police commando claimed that he killed Taseer because of his support for an individual accused for blasphemy.
Months after Taseer's murder, his son Shahbaz Taseer was abducted from Lahore. However, things changed for the Taseer family when the self-confessed killer of Salmaan was hanged in Adiala Jail in February this year, a month after which, Shahbaz too, returned home after five years in captivity.
June 2009: Maulana Sarfraz Naeemi
Principal of the Jamia Naeemia and a renowned religious scholar of Pakistan, Maulana Sarfraz Naeemi was killed in an alleged targeted suicide attack at his seminary's office in Lahore.
Maulana Naeemi was the son of former chairman of the Ruet-e-Hilal Committee and founder of Jamia Naeemia, Mufti Mohammad Husain Naeemi. Hundreds of protesters came out on the streets of Lahore after his death.
Maulana Naeemi was known for his moderate view of Islam as well as his strong opposition to the Taliban. Naeemi was of the view that the current Taliban are not Islamic, but are rather supported by the West.
December 2007: Benazir Bhutto
The first female prime minister of an Islamic Republic, Benazir Bhutto was killed during an election rally in Islamabad when an unidentified assailant shot at her. The attack was followed by a bomb blast.
One of the witnesses in Benazir's murder case, American journalist Mark Siegel told an ATC in October 2015 that days before she travelled to Pakistan, slain prime minister Benazir Bhutto received threatening phone calls from the then president Pervez Musharraf, warning her of threats to her life should she choose to return before the 2007 elections.
Source: tribune.com.pk/story/1129232/gone-soon15-pakistanis-silenced-terrorism/
URL:
https://www.newageislam.com/radical-islamism-and-jihad/urooj-jawed/looking-back--15-pakistanis-silenced-by-terrorism/d/107798