A Lethal New Class Of British Jihadi: Second Fanatic In ISIS Recruitment Video Went To Same Cardiff College As The First And Once Dreamed Of Becoming Prime Minister. Now He Says: 'Muslims Who Don't Join Us Will Die a Painful Death'
By Simon Murphy, Nick Craven and Sam Webb
21 Jun 2014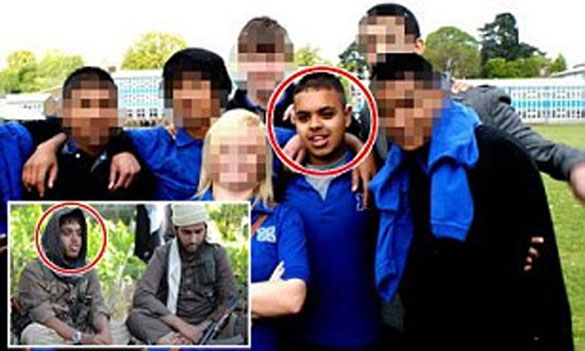 Once he dreamed of becoming the first Asian Prime Minister, but now this British-born Jihadi spouts only hatred as he boasts of his allegiance to the murderous terrorists of ISIS, on their killing spree in Iraq and Syria.
Identified today by The Mail on Sunday, Reyaad Khan, 20, sits with a Kalashnikov assault rifle against his shoulder alongside two other British Islamists in a chilling recruitment video, urging British Muslims to take up arms.
Reyaad, who former school friends in Wales recall as a studious pupil who loved sports, is the second man to be identified in the video. He has joined the estimated 500 Britons who have been radicalised and gone to fight in the Middle East.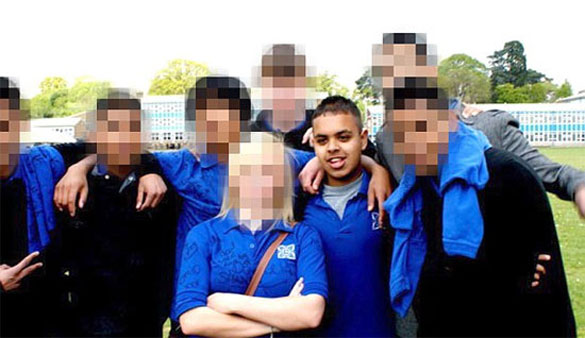 Schoolboy to jihadist: Reyaad Khan, now 20, is pictured at school with friends in Cardiff in 2010. He has now travelled to the Middle East to fight alongside Islamist militants
----------
The 20-year-old's mother tearfully told Sky News: 'Please come back before it is too late. You are my only one son.
'We can't eat and sleep Reyaad. Please come back before it's too late. I love you so much.'
Yesterday, after seeing his photograph in the media, at least five people on Twitter named him as Reyaad Khan, a former pupil at Cardiff's Cantonian High School.
From there he went to St David's Catholic sixth-form college in the city, attended by 20-year-old gap-year student Nasser Muthana – also seen in the video urging Britons to join ISIS militants in Iraq and Syria.
Last night at his home in Cardiff, Nasser's father, engineer Ahmed Muthana, 57, confirmed that Reyaad was the second man on the video.
Mr Muthana said: 'I have driven my son around to Reyaad's house in Cardiff, but he would always get me to drop him in the street rather than outside the front door, so I don't know which house he lived in.'
He told Sky news today: '(Nasser) was a very soft person, very nice. why he left his family I don't know. It's devastating for me and my family.
When asked where he believes his son became radicalised, he said: 'In the mosque. We don't know which one.'
He also had a message for teachers of extremism in the UK: 'Send your own children first. Don't send other people's children to make a problem for other countries and for me in the UK.'
In the 13-minute recruitment film, taken as the men were about to cross from Syria into Iraq, Khan appears under the name 'Brother Abu Dujana al Hindi – from Britain', saying: 'This is a message to the brothers who have stayed behind.  .  . you need to ask yourselves what prevents you from coming to the land of Al-Sham [Syria], what prevents you from joining the ranks of the Mujahideen.'
The Gathering Storm: Impact of Returning British-Born Militants Will Be Felt For 'Many Years'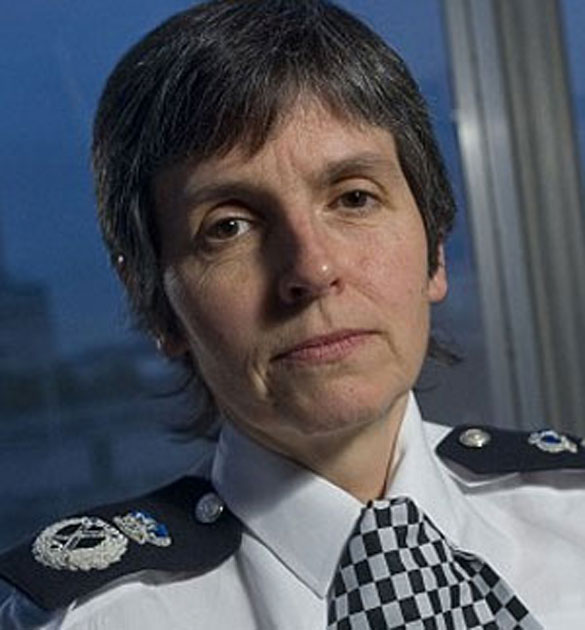 Warning: Assistant Commissioner of the Met police Cressida Dick says the consequences of Syria will be felt in the UK for many years
---------
Britain will feel the repercussions of Syria and the rise of Islamic extremism within its own borders for 'many years' to come, a top counter-terrorism expert has said.
Cressida Dick, the Metropolitan Police's assistant commissioner and head of specialist operations, warned that Britain would feel long-term consequences of the conflict.
She told the BBC it represented a terrorist threat to the UK, and that young British Muslims who have travelled to the war-torn country to fight might commit violence when they return.
Ms Dick told BBC Radio 4's The World This Weekend: 'I'm afraid I believe that we will be living with the consequences of Syria - from a terrorist point of view, let alone the world, geopolitical consequences - for many, many, many years to come.'
Her warning came after footage of the Muthana brothers emerged online. Two other men were arrested in March and April in the UK after they returned from Syria.
The pair, aged 19 and 23 and both also from Cardiff, were held on suspicion of receiving terrorist training and attending a place used for terrorist training, but were later released without charge.
Police across the UK have made 65 Syria-related arrests over the last 18 months, including 40 in the first three months of this year alone.
Khan sits with Muthana and another British Jihadi in a white turban. Last night, South Wales police sources confirmed a man named Reyaad Khan had travelled to Syria with Nasser Muthana and two other men. The two unnamed men had since returned home and been arrested, but Khan and Muthana were both still believed to be abroad.
Last night, a friend who went to school with Khan told The Mail on Sunday: ''He was clever and loved watching his sports, which is why we got on well. He was a Muslim but nothing this extreme, although over the last couple of years you could see he was becoming more of a stronger Muslim through his Facebook posts.'
One classmate, who did not want to be named, said that he had lost touch with Reyaad. He said 'I wasn't aware he was going but I was aware when he arrived there.'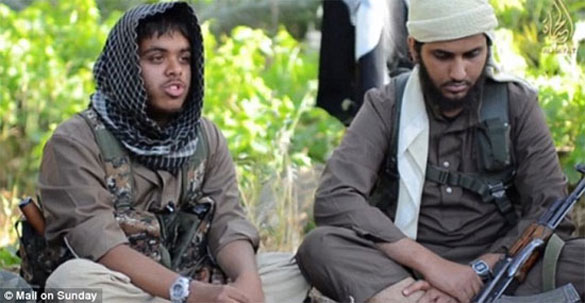 Transformation: Khan (left) sits alongside Nasser Muthana, with a rifle resting on his knee, urging Britons to travel to Iraq and Syria
-------
The acquaintance said Reyaad had posted messages on Facebook about Iraq and others had written good luck messages. The friend sent him a concerned message saying: 'Are you stupid?'
Khan was an A-grade student and advertised on the internet for a maths tutor while studying at the same sixth-form college as the other British Jihadi in the video.
He wrote: 'I'm 17 and a student at St David's Catholic College. My GCSEs consist of 2 A*s, 6 As, 1 B, and 3 Cs including grade A in Double Science, Maths and English.
'I would like tuition for A-level Maths.' On his Facebook page he reveals that he is a fan of Chelsea FC, and enjoys playing computer games FIFA 12 and Call of Duty. Until recently, his page reveals a typical teenager's life – complaints about homework, chores and his mother nagging him.
In October 2010 he wrote: 'I need 2 become the 1st Asian Prime Minister!'
Khan appears on a list of Britons accepted to study at Madinah University in Saudi Arabia in 2013/14 and his Facebook profile picture is now a jihadist symbol. But in recent times his posts began to take on a sinister edge as he referenced his new life as an extremist.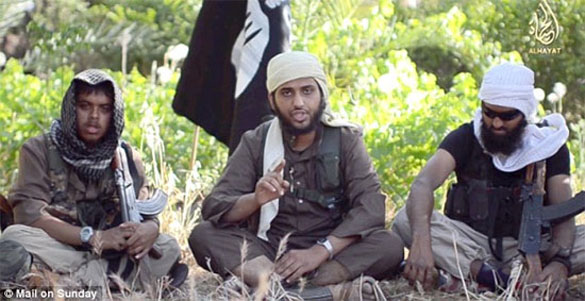 Recruitment video: Reyaad Khan, Nasser Muthana and another Briton in Syria
-------
On March 9 this year he posted a comment, writing: 'This video is of ad-Sawlat ul Islamia fil Iraq wa ash-Sham (ISIS). We are an Islamic State.
By the permission of Allah we control all of Raqqa in Syria all the way to Fallujah in Iraq. Only we are implementing the Sharia of Allah swt [glory to God]. So Allah has opened up the lands for us Alhamdulillah [thanks be to God].
With everyone against us Allah swt separated the Munafiqeen [hypocritical Muslims] from us and purified our ranks and made us stronger.'
On March 7 he wrote: 'Don't listen to what the enemies of Islam tell you about your State. By the permission of Allah we are at the doorstep of Khilafah [an Islamic state].'
On November 11, 2013, he added: 'When Allah loves people, He tests them, and whoever accepts it gains the pleasure of Allah and whoever complains earns His wrath.'
In a post two days earlier he urged a friend to join the fight, writing: 'Come join us Akhi [brother].' In the same month he wrote: 'Wallahi [I swear to God] this place is amazing, make Dua, ima start training soon. Trust the Imaan of the Ikhwa [brotherhood] here is on another level, trust Bashar [Al Assad} and the enemies of this Deen [army] are finished soon, no way they can resist.
'People from all over the world, from countries I've never heard of are here answering the call.'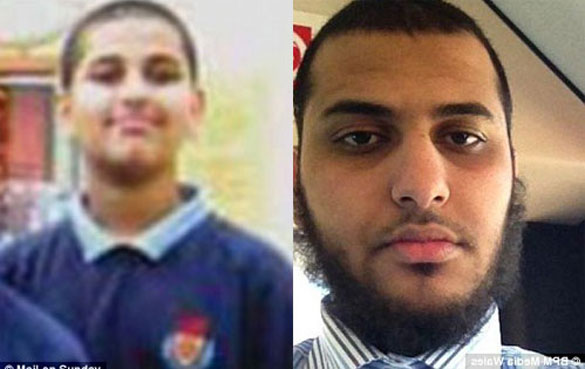 Nasser Muthana, who went to the same Cardiff sixth-form as Reyaad, is one of the Britons who have been radicalised

---------

In a video, Khan declares: 'What prevents you from obtaining martyrdom and the pleasure of your lord? Ask yourself what prevents you and keeps you behind. If it's your wealth … when death reaches you and it's a certainty, your wealth won't be able to delay death.

'Know that if you fear death, death will reach you anyway but it will be more painful for you. So death is what they fear for you, it will be worse.'

He adds: 'The child who got beheaded for being a Muslim, it will be bought before you. The brothers that gave their lives, their bodies will be shown in front of you. Allah will ask, where were you?'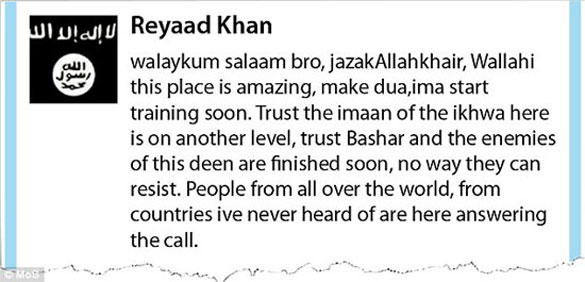 Ranting: Khan's Facebook posts reveal his increased fanaticism
------

A school friend of Khan said: 'Over the last couple of years you could see he was becoming more of a stronger Muslim through his Facebook posts'
Security officials estimate that upwards of 400 people from Britain have travelled to Syria and that around two-thirds have returned, travelling there through Turkey, a common holiday destination.
South Wales police last night said: 'We are increasingly concerned about the numbers of young people who have or are intending to travel to Syria to join the conflict.
'Travelling abroad for the purpose of engaging in terrorist related activity is an offence and we will seek to prosecute anyone engaged in this type of activity.'
Was Young Welsh Muslim Radicalised By The Internet?
The young Welsh Muslim in a terror-recruiting video that has stunned his family was radicalised over the internet, a senior figure at his mosque has said.
Muslims in Cardiff were in shock yesterday as former medical student Nasser Muthana, 20, from Cardiff, was revealed to be one of the men in a video posted from Syria by accounts with links to Islamist militant group ISIS.
A second man from Cardiff is also believed to be in the video urging young British Muslims to join the fight in Syria alongside Muthana's younger brother Aseel, 17.
Saleem Kidwai, general secretary of the leading Muslim body, said he believed there were as many as five Welsh Muslims already fighting in Syria and Iraq with the now-outlawed terror group Isis.
The mosque where Muthana worshipped yesterday denied being a source of radicalism and said that young people were being turned to extremism through the internet.
Barak Albayaty, a trustee at the mosque, the Al Manar Centre, said that Muthana had been 'just like any other guy' and he had been shocked to see him in the video.
He said: 'What I'm sure of, being part of here, it's not to be taken as a source of radicalism. 'We're against going to Syria for the armed struggle and have spelt this out on many occasions.'
He added: 'It is worrying. We have to do something collective about the media and how these youths are getting affected.
'They're affected by the internet. It's not just Cardiff; it's all over the UK. I'm told the numbers could be in the hundreds all over the UK.'
Mr Albayaty said there would be a meeting between trustees who will discuss the issue. He added that he felt for Muthana's parents and added that members of the mosque were out in the community yesterday, picking up litter.
Mr Albayaty said: 'It's very important to show that we're open.'
Source: http://www.dailymail.co.uk/news/article-2664668/A-lethal-new-class-British-jihadi-Second-fanatic-ISIS-recruitment-video-went-Cardiff-school-dreamed-prime-minister-Now-says-Muslims-dont-join-die-painful-death.html#ixzz35UYkuzWt
URL: https://www.newageislam.com/radical-islamism-and-jihad/simon-murphy,-nick-craven-and-sam-webb/a-lethal-new-class-of-british-jihadi/d/97710