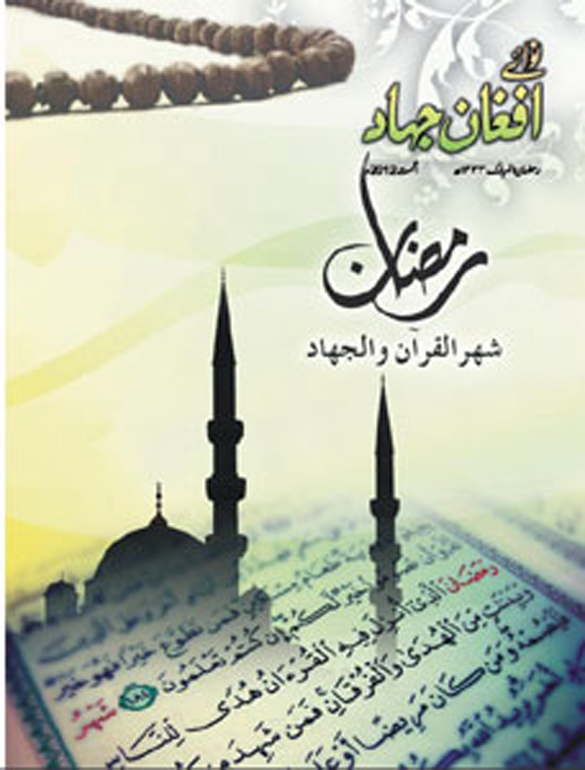 Some Muslims just love being in denial. They read newspapers, watch television, see the Taliban and other Jihadists perpetrating unspeakable horrors in the name of Islam, quoting verses from Quran all the time. But they refuse to see, even if pointed out, any connection between a certain intolerant interpretation of Islam and their dastardly conduct. This intolerant interpretation of Islam has been with us all through last 14 centuries of history, in one form or another, under one name or another. They were called Khwarij or Kharjis (seceders from Islam) then, and are called Wahhabis today, though themselves prefer to be called Salafis (believers in fundamentalist Islam as it was practiced by first few generations of Muslims) and Muwahhids (strict believers in oneness of God). Their apologists in the media want them to be simply known as Muslims, so as to implicate all Muslims in their nefarious activities.
Muslims, aware of this game, however, want to disassociate themselves with Jihadi ideology and practice. Thankfully, Wahhabis are still a small minority sect, though they are gaining in influence with the massive injection of petrodollars in the propagation of their ideology in the last four decades. It is important that we mainstream Muslims keep exposing their ideology, highlighting and countering it so that the propagators and apologists of Wahhabism, Salafism and related ideologies like Ahl-e-Hadeesism, Qutubism, Maudoodism, Deobandism, etc, are not allowed to pose as mainstream Islam.
In view of this urgent need New Age Islam is reproducing an article from the Taliban mouthpiece Nawa-e-Afghan Jihad (July 2012). This is the first part of a continuing article in this monthly magazine explaining why Wahhabis believe that killing innocent civilians – men, women and children - among infidels (all non-Wahhabi Muslims, ex-Muslims and non-Muslims including ahl-e-Kitab) is permitted in their version of Islam. It is imperative for all mainstream Muslims to realize the real, murderous nature of Talibanism, and unequivocally denounce this ideology on the basis of Quran and Sunnah for the sake of world peace as much as for preserving the good name of Islam. Those Wahhabis who do not subscribe to these extremist ideas generated by the founder of this sect, Mohammad Ibn-Abdul Wahhab and his ideological mentor Ibn-e-Taimiyya should disassociate themselves with the sect completely. If you are Wahhabi not because you appreciate the intolerance and extremism of this ideology but simply because you abhor visiting Sufi shrines and showing respect to the Sufi saints, you must understand that you don't have to be a Wahhabi to abstain from vesting shrines. There are many non-sectarian Muslims or even Muslims belonging to other sects who do not visit shrines but are also not Wahhabis. You don't have to be a Wahhabi or Salafi to be a Muwahhid. – Sultan Shahin, Editor, New Age Islam
----------
Circumstances in which the slaughter of common people among the infidels is justified --- Part 2
By Sheikh Yousuf Al-Abeeri (RA)
Translated from Urdu by New Age Islam Edit Desk
Nawa-e-Afghan Jehad, August 2012
So, the verse demonstrates that practicing maslah is a taboo but when taking revenge, this prohibition stands annulled though the verse is general in nature. Therefore, it is permissible for Muslims to mete out the same treatment they received from the infidels.
Thus, if the enemy has killed women and children intentionally, they (the Muslims) have got the right, by virtue of the general nature of the verse, to give them like punishment by killing their women and children intentionally.
Quoting Sheikhul Islam Ibn-e-Taimiyyah in Al Faro'a vol 6 p 218, Ibn-e- Maflah writes:
"Of course, to resort to maslah is their (Muslims') right. Therefore, they have the right to take full revenge while they have the discretion of not resorting to it as enduring patience is better for them. And observance of restraint should be in such a situation when it neither contributes to their act of jihad nor they have the instruction to do it. But if general assault is a part of invitation to the infidels to imaan (faith) and prevents them from aggression, it will be considered as a step towards establishing the jihad and the Islamic Shariah."
Sheikhul Islam Ibn-e-Taimiyyah writes in his book 'Al Ikhtiyarat' vol 5 p 512:
"Although maslah (mutilation of dead bodies) has been forbidden, God has declared it mubah (discretion) for Muslims to resort to maslah against the infidels in case they have resorted to maslah against Muslims. Thus, God has said:
"And if you punish (your enemy, O you believers in the Oneness of Allah), then punish them with the like of that with which you were afflicted. But if you endure patiently, verily, it is better for As-Sabirin (the patient ones, etc.). "(Al Nahl: 126)
This verse is indeed a justification of retaliatory punishment for slashing nose and ears and slitting the stomach but does not prove that it is a transgression or excess because 'al masal' (mutilation) is synonymous with justice. Now for the justification of maslah, there is a tradition that is narrated in Masnad Ahmad in the hadith of Simrah bin Jundab and Imran bin Hiseen. He said, 'Whenever holy Prophet (PBUH) delivered any sermon to us, he would exhort us to pay 'sadqa' (charity) and forbid us to resort to maslah."
The question can also be raised if one would hit an infidel twice if he does not die in one strike as the infidel had struck only once and so striking twice will be a transgression. In this situation it is not justice. The answer is that he will be killed with a sword. Therefore, if he does not die after a strike on his neck, we have the right to strike at him twice and even thrice until he dies. Ulema have unanimity on this."
Some people may raise the question how one can kill the women and children among the infidels who killed women and children among the Muslims. How can we avenge those who have not committed this crime at all? God has said:
"And no bearer of burdens will bear the burden of another. " (Al Isra: 15)
So this point of view is wrong. If we apply this even to the combatants, we will see that the holy Prophet (PBUH) fought with the fighters of the Quraish whereas the truth is that the agreement was violated either by Bani Bakar bin Wayl or the sardars of Quraish.
The holy prophet (PBUH) fought with the men, the elderly people and labourers of Bani Qarizah whereas they did not violate the agreement but their elders and decision makers had violated the agreement. The holy Prophet (PBUH) took about 700 lives and enslaved those who survived. That's why ulema deem it permissible to practise maslah on the enemies. For execution of maslah, the condition of holding only the leader responsible is not put forth.
If someone kills the other, why is his family held responsible for the payment of ransom or compensation and why are they fined whereas the person who has actually committed the crime is only a member of the family and the others had not joined him in the crime? Despite this, they pay the price for his crime.
Similarly, on the issue of making deposition in a case of murder, fifty relatives of the murdered person who have not even witnessed the murder have been given the right to name a suspected person and on their deposition the suspect is handed over to them so that they can kill him despite the fact that the accusation is not real as is in the case of confession or the statement of the witnesses.
The matter of suspicion cited above is rejected by the generality of God's ordainment cited below:
"And fear a trial which will not strike those who have wronged among you exclusively, and know that Allah is severe in penalty."(Al Anfal:25)
On another occasion God says,
"And when We intend to destroy a city, We command its affluent but they defiantly disobey therein; so the word comes into effect upon it, and We destroy it with [complete] destruction."(Al Isra:16)
Shariah has proposed these punishments for the situations where innocent people too are afflicted with the torment because these punishments are for collective sins. If these groups or communities had realized that they would also be punished, they would have prevented those people from committing these crimes. That's why Shariah punishes the community for the crime of the individual so that the society or community is encouraged to hold the hand of the criminal before he commits the crime. However, God knows best.
The verses quoted above do not only cover the rule of tit for tat but apply to the Muslims, the dhimmis, the warring factions and the signatories of a peace accord alike but with some conditions and exceptions that have been culled from other arguments and logics. However, there is no room for their mention here.
Imam Qurtubi has said that God says "And if you punish [an enemy, O believers], punish with an equivalent of that with which you were harmed. But if you are patient - it is better for those who are patient. "(Al Nahl: 126). He further says, '[Fighting in] the sacred month is for [aggression committed in] the sacred month, and for [all] violations is legal retribution. So whoever has assaulted you, then assault him in the same way that he has assaulted you. And fear Allah and know that Allah is with those who fear Him.' (Al Baqara: 194).
The ulema agree on the opinion that this (the verse) covers all the situation and support their inference with the hadith that says that the holy prophet (PBUH) retained the cup which was broken by Hadhrat Aiyesha (R.A.) and returned an unbroken cup saying 'a cup in lieu of a cup and food in lieu of food'. This hadith has been narrated by Abu Dawood. Ulema have no difference of opinion on the fact that this verse is the basis of the rule of masla (tit for tat). Therefore, the killer will be killed in the same way or with the same tool he has used to kill his victim, unless he has committed the murder in an immoral way, say, through sodomy or by forcing the victim to drink wine. In that case, the killer will be killed with a sword. The Shafayites are of the opinion that he should be killed in the like (immoral) manner. Therefore, a resembling wooden shaft will be pushed into his anus till he dies. Instead of wine, he will be forced to drink excessive water to cause his death. And Ibnul Maajisoun has said that the person who commits murder by burning or giving poison will not be killed in the same way because of the saying of Hadhrat Muhammad (PBUH) that "no one but Allah has the authority to punish someone by torment of fire."
Source: Nawa-e-Afghan Jehad, August 2012
URL of Part 1 of the Series: https://www.newageislam.com/radical-islamism-and-jihad/taliban-fatwa-on-terrorism-that-needs-to-be-refuted--circumstances-in-which-the-slaughter-of-common-people-among-the-infidels-is-justified-----part-1/d/9355
URL: https://www.newageislam.com/radical-islamism-and-jihad/taliban-fatwa-on-terrorism-that-needs-to-be-refuted--circumstances-in-which-the-slaughter-of-common-people-among-the-infidels-is-justified-----part-2-–-tit-for-tat/d/9368