By Rudroneel Ghosh
June 14, 2016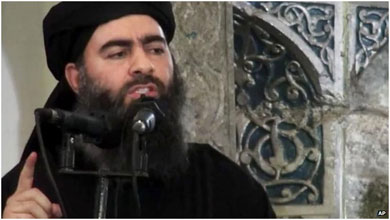 Abu Bakr al-Baghdadi
Reports have emerged that the chief of the Islamic State (IS) terror group, Abu Bakr al-Baghdadi, has been killed in a US-led coalition airstrike on the group's Syrian stronghold of Raqqa. The Iranian state media and a Turkish daily put out the news citing a release by IS-affiliated news agency al-Amaq. According to the latter, Baghdadi was killed on Sunday or the fifth day of the ongoing Muslim holy month of Ramzan. While the US is yet to confirm the news, Baghdadi's death would mark a significant milestone in the campaign against IS.
That said, it doesn't mean the end of the threat posed by IS. True, Baghdadi's demise might speed up the disintegration of the so-called IS caliphate in Iraq and Syria. But this would see IS revert back to its earlier avatar of a clandestine terror outfit. Plus, by all accounts Baghdadi appears to have prepared the second-rung IS leadership to carry forward the activities of the organisation in his absence. For Baghdadi had to be aware of the threat posed to his life from the international military action against IS. The latter, in its current form, isn't an organisation that hides in the mountains. It openly controls significant swathes of territory in Iraq, Syria and even Libya.
Hence, death in combat is something that IS operatives are open to. In fact, the IS death cult sees this as the surest route to heaven. But the real challenge for the international community is combating the legacy that people like Baghdadi are leaving behind. That IS has been able to establish a 'caliphate' – even though it might be short-lived – is hugely symbolic for ultra conservative/radical Muslims. This has also set the bar for other militant Islamist groups that might succeed IS – they will all now try to create their own caliphate.
But IS's real success lies in creating a narrative of global Muslim victimhood and formulating the goal of winning back Muslim pride through armed struggle. This powerfully resonates across many sections of the global Muslim community. This is exemplified by the numerous incidents – including the recent Orlando shooting – where people from different walks of life, spread across different countries, have taken recourse to violent activities or plotted terror attacks in the name of IS. The very fact such disparate people have related to the IS phenomenon means that the group has been successful in creating an attractive idea. And ideas are far more difficult to kill than members of a particular outfit.
Thus, Baghdadi's demise, if confirmed, will be a blow to IS and vindicate the international military actions against the group. But the international community should also work together to eliminate the conditions that led to the rise of IS in order to kill the idea of destruction that the group stands for.
Source: timesofindia.indiatimes.com/talkingturkey/al-baghdadi-killed-more-efforts-needed-to-erode-conditions-that-created-islamic-state/
URL: http://www.newageislam.com/radical-islamism-and-jihad/rudroneel-ghosh/al-baghdadi-killed--more-efforts-needed-to-erode-conditions-that-created-islamic-state/d/107643